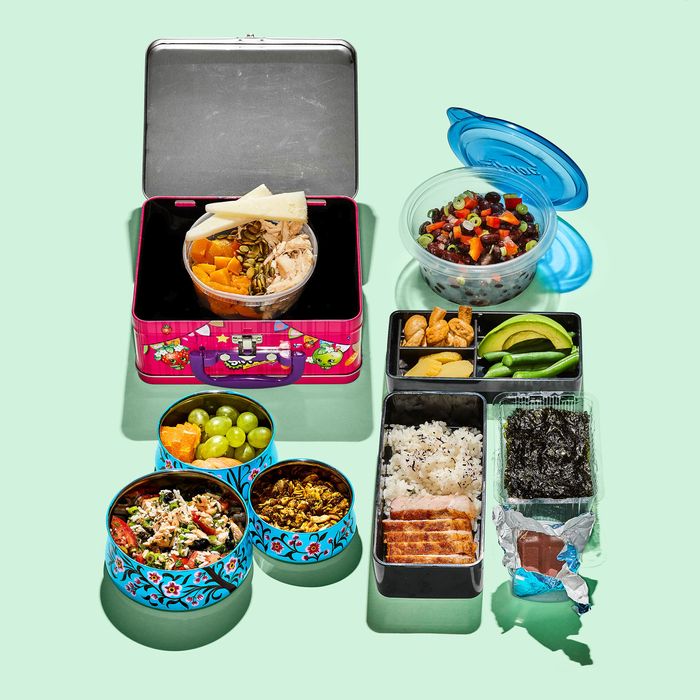 The packed brown-bag lunch can be virtuous — you're probably saving a little cash and eating something not that terrible — but doing it day in, day out, all while parked in front of a computer screen, can start to feel a little workaday. You could inhale a fast-cazh lunch in about the same amount of time it takes a Sweetgreen speed-demon lineup to whip it up, or you could do like a few food editors and make an occasion of it. Because while the desk lunch (lunch al desko as Bon Appétit has coined it) is kind of a bummer, it can be made less sad when a box of Maldon salt or a little something to spice it up (a near-universal food ed move) is in a nearby drawer. Here, more than a few ways to make the best of a working lunch.
"I spend most afternoons regretting my lunch decisions and all of them regretting my inability to be the food editor most people imagine I ought to be, with a secret stash of Matouk's hot sauce and crunchy Amagansett sea salt in the pantry next to my desk at the New York Times. I'd like to be the guy with a place mat and good silver, my own steel chopstick-and-spoon set for my Thursday bibimbap, a little candle for when it's dreary out and I have good soup in my Klean Kanteen, a little heel of bread from Bien Cuit to eat with it. But I am not that guy. Every morning I plan on an excellent lunch from out in the world because out in the world is where the stories are. They are not found at my desk. But then something happens (a story!) and I miss that lunch, and I wonder if I can run out for a quesadilla or a bánh mì or a quick slice from the corner instead. And then I miss that too and have a banana and some Fritos, and that's a hell of a meal. Journalism's so romantic, no?" —Sam Sifton, the New York Times food editor
"Maldon sea salt forever. Specifically, this little slide-y travel tin, which someone gave me as a joke because I've never met a dish I didn't want to put yet more salt flakes on top of. (Example: For years I worked in Alice Waters's office at Chez Panisse, where desk lunches were breathtaking and the stuff of dreams, and even then I kept Maldon sea salt stashed in my desk. And used it. And never regretted it.) Because what doesn't Maldon sea salt improve? Even sweets — sprinkle it on whatever sad after-lunch cookie you have acquired and it becomes 10,000 times classier and better. The tin lives in my bag and has come in handy in dire food situations." —Cristina Mueller, food writer
"I am having a harissa love affair right now. It is a delight — the particular smokiness of the chilies makes plain brown rice or Israeli couscous way more interesting, or it works as a little dipping sauce for thinly sliced leftover steak or lamb, or as a counterpoint to a cool savory yogurt sauce, or as an addition to chickpeas … the list goes on. It's pretty hot, but not searingly so — a little toothpaste-squeeze for a lunch is usually enough. Are there better harissas than this one? Probably. I mean, I could also make it from scratch I suppose … but I don't. I have what might be an invented memory that Christopher Kimball once reviewed a bunch of harissas and this one ranked near the top. —Mueller
"The new desk sriracha is Ssäm Sauce from David Chang and Momofuku. It's a Korean chili sauce with gochujang, soy sauce, rice wine vinegar, miso paste, cayenne, dried red pepper, and a lot more. It comes in original, spicy, and smoky! Maybe warn your co-workers before you break it out, though." —Nikita Richardson, Grub Street staff writer
"There is literally nothing more depressing than eating out of Tupperware, so I keep a wide, shallow bowl from Mondays Projects at my desk — it's so pleasurable to eat out of that it actually feels like motivation to bring my lunch. And the shape is suitable for everything from soups to grain bowls to toast-based lunches. A proper set of silverware is clutch, too; I have a nice matching vintage setting for one that I keep at the desk." —Amiel Stanek, Bon Appétit senior web editor
"A cloth napkin never hurt anyone, either. I usually just have one of these at my desk. They're the best cheap combo kitchen towel–bistro napkin around." —Stanek
"Keeping a supersharp (and sheathed!) petty knife at my desk — I love this one from Knifeworks, and no, I didn't pay for it — really changed the game. It's perfect for slicing up farmers' market produce for a midafternoon snack, and is also always on hand for the inevitable office birthday-cake situation." —Stanek
"One of my chef colleagues, Sohla El-Waylly, made an enormous batch of her chili crisp for us a few months ago. Her version is inspired by the time-honored Lao Gan Ma sauce with a few additions, like extra-large slivers of fried shallots and garlic chips. Most of my work friends like to generously spoon the salty, spicy, tingly sauce on everything come lunchtime because it brings all the food it touches a whole lot of life, especially leftover fried chicken. If you don't have time to prep Sohla's recipe, you can always go for the original jar. It may have MSG in it, but TBH that shit is not bad for you at all." —Ariel Kanter, Serious Eats marketing director and Strategist contributor
"I was given this spice mix years and years ago as a present, and now I buy it by the pound. (Literally, it's $23 for 16 ounces.) One issue with sad desk lunches and boring salads is that they're often under-seasoned. If your lovingly prepped grain bowl needs a little something, the Spice House's mix of paprika, garlic, shallots, Hawaiian sea salt, and grains of paradise will most definitely help. The best part is that Hyde Park Seasoning tastes good on everything, whether it's roasted vegetables or chicken, meat, or fish. Just please, for everyone's sake, don't reheat that fish in the office microwave." —Kanter
"Eating your desk lunch with plastic: Unnecessarily wasteful and it makes even a delicious meal feel kind of tawdry. I like to keep a set of utensils from home handy and also a stainless-steel straw for any cold beverages. The paper-straw movement is great, but a metal version is more durable and stands up to smoothies and shakes that much better." —Fiorella Valdesolo, Gather Journal editor
"A little bit of spice goes a long way. If it's not a bottle of hot sauce, I will always have some variety of chile powder around. My latest favorite is Chilean merquén (not to be confused with merkin) chile powder." —Valdesolo
"I'm of the mind-set that a few glugs of good olive oil and/or a generous squeeze of lemon act as a magic bullet for upgrading otherwise blah desk lunches. If the olive oil comes in easy-on-the-eyes packaging (like Wonder Valley or Brightland) even better." —Valdesolo
"Coconut Cilantro Chutney from Basbaas Sauce makes everything taste better and brighter. We always have it in the fridge at Cherry Bombe HQ, and we go through jars of it every month." —Kerry Diamond, Cherry Bombe editorial director
"We use pink Le Creuset plates and bowls. We have a lot of those in the office, too. [Editor's note: The pink version is sold out, but this cherry one is still available.] It's amazing what a little color can do for your mood. And it always feels nice to eat lunch off actual dishware." —Diamond
Photo: Rick
But if you need them in pink, we like these from Rina Menardi.
"This Japanese spice blend gives anything a little kick. Made with sesame seeds, orange peel, chilies, and more, you can sprinkle it on avocado toast, add it to a soup, or toss it with a salad; it's very versatile. I picked up the blend I have in Tokyo, but it's just as easy to make at home or nab at a specialty store like Kalustyan's or Sunrise Mart." —Samantha Weiss-Hills, food writer
"Oddly, this is the only seasoning I keep on my desk. I don't have a box of salt; when something doesn't taste good enough and I'm too lazy to walk 30 feet to grab some salt, I shake on some Frank's RedHot." —David Tamarkin, Epicurious editor
The Strategist is designed to surface the most useful, expert recommendations for things to buy across the vast e-commerce landscape. Some of our latest conquests include the best women's jeans, rolling luggage, pillows for side sleepers, ultra-flattering pants, and bath towels. We update links when possible, but note that deals can expire and all prices are subject to change.
Every editorial product is independently selected. If you buy something through our links, New York may earn an affiliate commission.