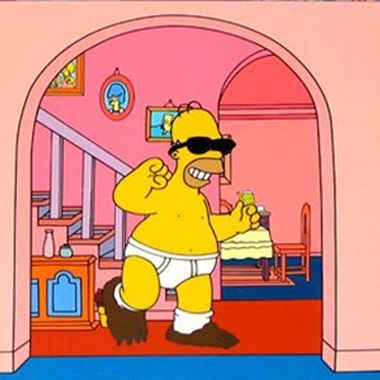 While we've written before about all sorts men's underwear — including the best boxer briefs, the best underwear according to stylish men, and the best exercise underwear — here, we've rounded up the best men's underwear as praised by the most enthusiastic reviewers on Amazon.
Related Article: Best Men's Underwear
Best-rated men's underwear
"I have been wearing these same Hanes briefs since I was in junior high school, and I am 80 years old now," writes one longtime fan. "I still find this particular brief to be the best of the Hanes lines and far better than any other brands on the market." Many other reviewers agree that these briefs are especially comfortable, and nearly 40 percent of reviewers are impressed with the fit. "They fit great, no pulling or tugging at all," one says. "Often feels as if I am not wearing any at all." Another says, "They don't pinch the boys or cause any discomfort." And while they are stretchy, they aren't loose, and many describe them as being plenty supportive. "After wearing briefs that were too loose in the crotch and were too loosely fitted around the elastic bands where your legs go through, I finally have underwear that fits perfectly and offers the 'support' I need so I don't feel like a cow with a dangling milk sack when I walk," one reviewer says.
Best-rated (less expensive) men's underwear
"Hate to say it, but white Hanes underwear fits like it should, wears like it should, and is as inexpensive as it should be," one reviewer writes of this less expensive seven-pack of men's briefs. And though there's nothing superspecial about this pair, they have a great fit at an affordable price, and they're reliable. "They're always the same — perfect fit, perfect comfort," says one reviewer who has tried "spendy brands" but always comes back to these, explaining, "I'll stick with my Hanes tighty-whities at a couple of bucks a pair that last me a year or more." And even though many describe them as "tighty-whities," they "don't pinch in delicate places." They are also appropriately thin, which means "they breathe better and collect less moisture." They're so comfortable, one reviewer is pretty sure that "God wears Hanes tighty-whities."
Best briefs with large gusset for men
One reviewer who has tried countless brands of underwear says, "At last, I stumbled upon these Amazon Essentials, ordered, and they fit great, are comfortable, nice soft material, and look great, too." More than 25 percent of reviewers describe these as comfortable, and a couple chalk that up to the extra fabric between the legs. "I also noticed that the area between the legs in the gusset is roomier/wider than in a lot of other briefs, which means no pinching or binding," writes one reviewer. Another who had been scarred by another pair of underwear that didn't have "enough cloth between the legs to keep vital parts from falling out," says Amazon Essentials solved that and more. "The sizes are consistent, the waistband is comfortable, the seams are well sewn, and, most important of all, they have enough of a pocket between the legs to comfortably hold vital parts." About 10 percent of reviewers also love the wide waistband on these briefs. One says "the thick waistband is awesome if you're tucking in an undershirt." Many agree that it also does a god job of not rolling, and they appreciate the simple design. Simply put by one reviewer it has "no big logos, looks great, and no tags to bother you."
Best bamboo briefs for men
Reviewers rave about the bamboo-rayon fabric of these briefs, which many say makes for a uniquely "soft" and "breathable" pair of underwear. "These keep my skin amazingly dry," one shopper writes. "Even other so-called 'breathable' cotton underwear still allow sweat to accumulate. With these, the bamboo material is pulling the moisture right off of my skin." Another says, "Can't believe I'm writing this, but: I LOVE THIS UNDERWEAR," explaining that "the pouch is just the right shape, they don't ride up, there is no scratching or chafing, and the fabric is very soft." And one reviewer says these have made him a convert: "I have always been a trunk man, but these have made me a briefs man."
Best boxer briefs for men
"These briefs are quite a bargain," writes one of over 1,300 five-star reviewers. "They fit well and hold everything nice and snug." Another calls them "excellent boxer briefs for the money. They're comfortable, the fly stays closed, and they fit great." One shopper enthuses that these provide "some of the best comfort and support I've ever experienced," adding that "the legs stay in place and don't bunch up toward the crotch area. It's a plus that the waistband is tagless and doesn't chafe." As one happy purchaser puts it, "They fit great, feel great, and I don't have to adjust them AT ALL during my workouts. They're perfect."
Best boxer-brief multipack for men
Many satisfied reviewers say these boxer briefs excel at comfortably staying put on their legs without "riding up" or "bunching up." One reviewer writes, "I was skeptical about buying 'cheap' boxer briefs, but these don't ride up; they keep their elasticity throughout the day and don't get 'baggy' near the end." Another describes them as "ridiculously comfortable. I love the waistband, as it doesn't dig or press tightly into the skin." Many express how pleased they are with how well these have held up over time. As one wearer explains, "others loosen around the leg, and waistbands start to roll after the first wash, but not Hanes."
Best modal boxer briefs for men
"The modal fabric is so nice and comfortable," says a reviewer, one of dozens who specifically call out the modal fabric. "My frugal side isn't thrilled, but the rest of me is. I just want to replace all my boxer briefs with these." Another adds, "These are so soft it's unbelievable. Wearing these is more comfortable than wearing nothing at all, while simultaneously supporting the goods." And in one particularly poetic review, a very satisfied customer writes, "It's like a benevolent wisp giving my manhood and buttocks a gentle and knowing caress."
Best travel boxer brief for men
With over 3,400 five-star reviews, these ExOfficio boxer briefs have many passionate fans, hundreds of whom say the quick-drying, breathable fabric makes them excellent for any sort of traveling or hiking. "These are certainly going to be my go-to travel underwear, whether I'm sitting in business class on the way to Singapore for 20 hours or hiking the Camino," one shopper writes. Perhaps the biggest selling point, according to scores of reviewers, is how easy they are to "handwash" in practically any situation. "You can wash them in the hotel sink with some bar soap or shampoo and hang them to dry overnight," says one. Another claims the drying time is even faster: "Hand wash them and throw them on the towel rack and have dry, clean underwear in half an hour."
Best boxer briefs with comfortable waistband
"These are simply the best men's underwear ever made," writes one reviewer, just one of over 2,000 reviewers who give these boxer briefs a five-star rating. Dozens call out the comfortable waistband as a major bonus. "Wider waistband is awesome," one wearer writes. "No slipping down. I have a little 'chub chub' going on, and they still stay up." Another says, "The waistband stays tight and straight and doesn't deteriorate over time the way a lot of brands do." In general, reviewers say these hold up well over time. One reviewer who bought these for her husband almost a year before writing her review says, "He is very active, and they have held up. No holes and are very comfortable. They are some of his favorites."
Best boxer shorts for men
"In a perfect world, I would go commando every day, but this world isn't perfect and such things are frowned upon. Instead, all I can hope to find is a boxer that makes me feel like I'm not wearing anything at all. And that's precisely what these boxers do," writes one satisfied owner of these Hanes boxers. They're also praised by men who prefer looser-fitting underwear. "I wore briefs for so many years I didn't know what I was missing," writes one boxer-shorts convert. "You briefs wearers, try them. You will like them. No more uncomfortable feeling between the upper-thigh area and the groin." If you want to stock up on boxer shorts at a good price, purchasers say this multipack is a great choice. As one recommends, "buy four packs and don't buy underwear again for several years."
Best silk boxer shorts for men
"Add a little luxury to your life with a silky secret under your shorts. These boxers are 100 percent silk, feel smooth on your nether regions, and breathe easy," writes one purchaser. Reviewers love how "soft" and "smooth" these silk boxers are, and many call attention to the quality of the fabric. "I've had many silk boxers, but these are the best," says one. "The fabric is at least twice as thick as any others I've tried." Some point out that they may not be the most practical option for everyday wear, but, as one puts it, "for lounging around the house, these can't be beat. They wash well and are not fussy to care for."