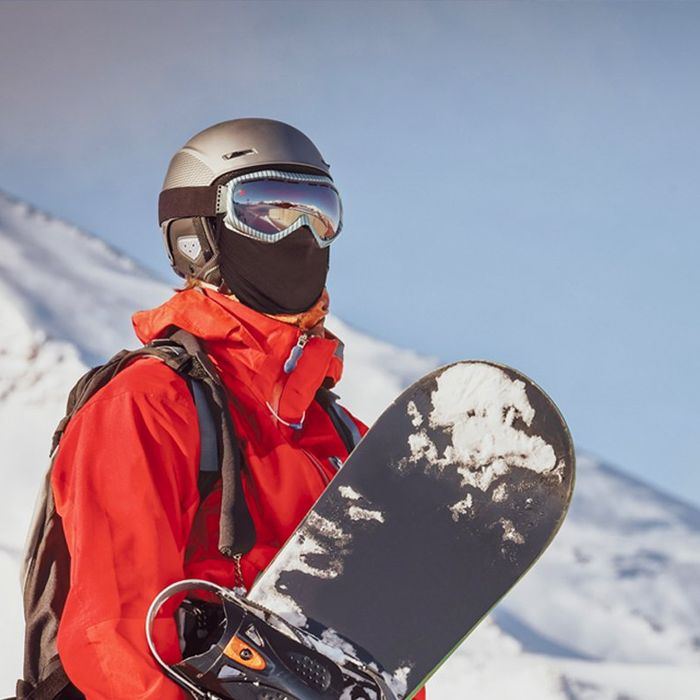 The Tough Outfitters balaclava in action.
Photo: Courtesy of Tough Outfitters
I live just outside of New York City, which means that (especially right now) the weather can be less than hospitable for outdoor activities. Nevertheless, I will not let little things like single-degree temperatures, heavy snowfall, or freezing rain keep me from getting in a run. To get through these jogs, I rely on a heavy rotation of face-protecting balaclavas, which cover my head in ways that even the warmest clothing layers can't (and are much less cumbersome than a hat and scarf).
Named for the Crimean Peninsula town of Balaklava, balaclavas are basically hats/masks that cover the entire head and face save for the eyes. Sometimes there are holes for the nose and mouth, sometimes there aren't. I don't even necessarily wear them all the way — I can roll them up and wear them like a hat, or push the top down under my chin to wear it around my neck like a scarf. With a pair of ski goggles, it means I'm pretty much ready for anything. Over the years, I've bought plenty, and these are the five I use again and again — they cover pretty much any situation.
Best wool balaclava
Best balaclava with sun protection
Best balaclava for heavy sweaters
Best balaclava for rain and snow