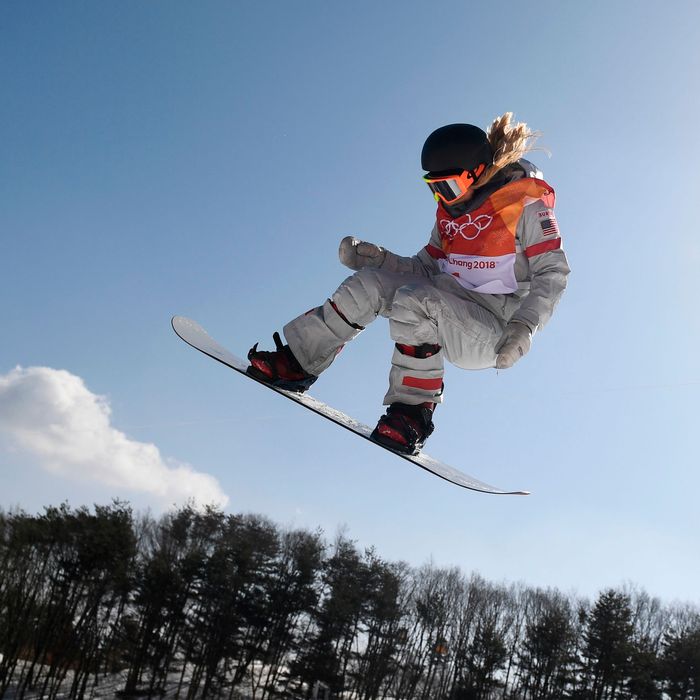 Photo: Martin Bureau/AFP via Getty Images
For a long time, the biggest difference between snowboarding jackets and ski jackets was the design. Ski jackets had a more streamlined look, while snowboard jackets went for looser, boxier cuts. Today, however, the styles cross over. The one feature you may want to look for if you're buying a jacket specifically for snowboarding is a longer back panel, or tail. "It can be useful for snowboarders who spend more time sitting in the snow," says Mike Donohue, co-owner of Outdoor Gear Exchange, a Burlington-based outdoor-adventure store. Otherwise, you'll want to look out for the same technology and features as you would with ski jackets: waterproof and breathable materials, insulation (depending on where you ride — see below), and venting zips and pockets.
Finding the right snowboarding jacket is similar to picking your skis, ski boots, or snow pants. Before you start looking for specific technical features, the experts we consulted recommend that you first think about how you'll be riding. If you're doing most of your snowboarding at resorts with chairlifts, you're better off finding warm, insulated jackets with built-in comforts like internal pockets to hold your phone. But if you're more of an off-trail rider, a splitboarder, or someone who's only happy going down a mountain they had to climb up, you'll want a jacket that can help you manage your temperature. That's when you look for features like pit zips and chest ventilation, packability, and pockets or clips to hold avalanche beacons, radios, and other safety equipment.
No matter the type of snowboarder you are, there's one more factor to keep in mind: style. In this golden age of snowboarding gear, it's now possible to find jackets that perform on the mountain, but also won't make you look like a slouchy teen on winter break when you walk the streets of Beaver Creek.
We asked ten professional snowboarders and skiers, shop owners, and ski patrollers to break down the different options and lead you to the snowboarding jacket that's right for you. Here are their picks.
Best overall snowboarding jacket
Our experts brought up the Patagonia Triolet more often than any other jacket for having excellent on-mountain performance. According to Jackie Kearney, a ski patroller at Tahoe's Kirkwood Resort, many of the other patrollers wear it on their days off because "it's sturdy and waterproof." Although she mentions that it's more of a resort-specific jacket, she says it also "has a few technical features, like pockets and pit zips, which are nice to get some more ventilation." This is a lightweight jacket that helps you keep cool when the sun is out, but when night comes (or when it's mid-February and the temperature peaks at 17 degrees), it's also great for layering up and staying warm. When Mac Huelster moved to the warmer West Coast, he replaced his beefy snow jacket with the more versatile Triolet. "It's nice to have that flexibility to put whatever you want underneath," he says. Although he's since moved back East, he still wears the Triolet.
Best snowboarding jacket for beginners
If you're looking for something with great style and features, Donohue suggests the Burton Saxton parka: "It's something with a little more street appeal, and it's longer in the back, which is nice for beginners, because you end up sitting in the snow. A lot." Along with a good-looking, simple flat front and fur hood, the jacket also has microfleece-lined pockets and 650-fill 80/20 RDS Grey Duck Down. What does that mean, other than that this jacket will keep you warm and comfortable? The fill rating, 650, tells you the down quality — the cubic inches of loft produced by that particular down. So the higher the number, the less down it takes to fill the same amount of space. The next number, 80/20 is the down-to-feather ratio. The higher the down number, the warmer the jacket is. RDS means responsible down standard, which is the industry's way of making sure that the animals that provide the fill for your jacket are treated humanely.
Editor's note: The Saxton Parka from Burton is only available for women, but this Gore-Tex Putnam Parka for men has the same fill rating and down-to-feather ratio (650 80/20 RSD), and a comparable parka style.
Best jacket for experienced snowboarders
While the jackets above will keep you warm — great for newcomers who may spend more time standing still and listening to an instructor than traversing the mountain — they might be too warm for advanced snowboarders who are riding more athletically. If you fall into this category, you may prefer a lightweight shell jacket from Burton's AK line (named for Alaska). These two jackets feature a tough Gore-Tex outer layer to keep out wind and snow, but also have zippable, mesh-lined underarm vents that you can open up if you're working up a sweat. (Depending on the temperature, you can vary the layers you wear underneath the shell for warmth.) Jeremiah Beach, owner of the ski and bike shop Pro Tune in New Hampshire's White Mountains, says the Burton AK line has been a favorite among snowboarders for two decades and calls it "proven and well-designed." Johannes Ariens, CEO of outdoor travel company Loge agrees, saying, "It's hard to not give a nod to Burton's AK line. It's one of the most iconic lines in the sport."
Best jackets for intermediate snowboarders