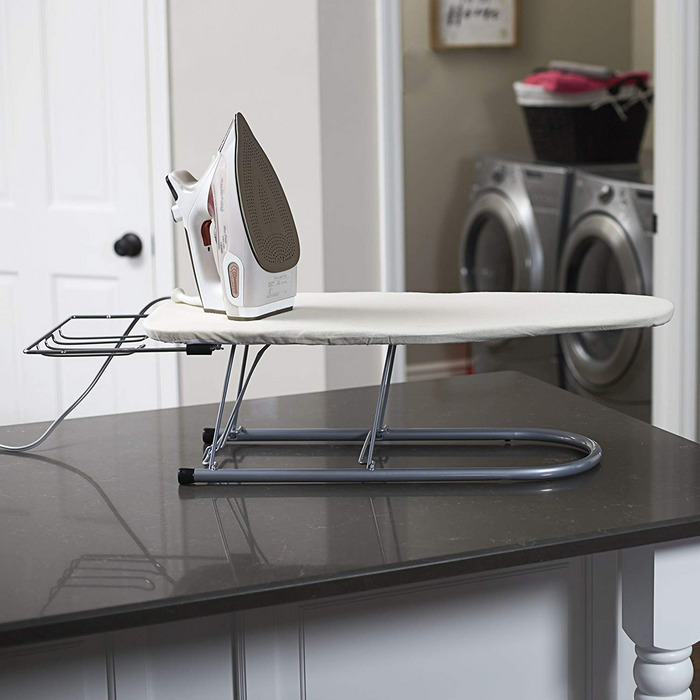 Photo: Courtesy of the retailer
Here at the Strategist, we like to think of ourselves as crazy (in the good way) about the stuff we buy, but as much as we'd like to, we can't try everything. Which is why we have People's Choice, in which we find the best-reviewed products and single out the most convincing ones. (You can learn more about our rating system and how we pick each item here.)
And while we've written about the best irons and garment steamers, here, we've rounded up the best ironing boards, as praised by the most enthusiastic reviewers on Amazon.
Best-rated ironing board
Nearly 200 reviewers rave about how sturdy and stable this ironing board is. Says one, "This puppy is rock solid with no shifting when pressed on. Substantial without being overpowering in weight." Another agrees: "I looked at a lot of ironing boards before deciding on this one. In short, very solid construction and stable." It works on a variety of surfaces, too: "The board is stable, on carpet and hard flooring, with sound engineering and thought put into it." Others love how wide it is, making ironing large pieces that much easier and more efficient. This reviewer, who does a lot of ironing of church linens says, "the larger surface area is fantastic" and that the board "cut my time in half." It also comes with a steam iron rest, which this reviewer says "provides more room for me to iron a folded queen-sized sheet without having to shift the sheet on the board. Also, the extra width provided by the size C-board reduces the number of times I have to move the sheets to complete the ironing process. As this reviewer sums it up, "If you are a serious quilter/sewist/ironed-clothing-wearer you should really consider the Brabantia ironing board."
Best-rated (less expensive) ironing board
In addition to how inexpensive this tabletop ironing board is — "This ironing board exceeded my expectations. For the cost and the quality as well as functionality, I am pleased in every way," says one — reviewers love how well it works despite its compact size. "I bought this thinking it might be too small to adequately do the job, but it works beautifully," says a reviewer. It's stable, too, she adds: "Even when I'm ironing on my bed, and is wide enough to iron a fairly large swath of fabric before having to move the garment." The compact design also makes it great for small spaces, as many reviewers pointed out, like this one, who says, "We live in a small one bedroom apartment and not having to worry about it taking up space is awesome." Agrees another, "Loved ease of use and that it can hang out of the way when not using in our condo. Much nicer than a full size ironing board for us." It's the attached hanger that makes all the difference for several others in need of more creative storage options. Writes a reviewer, "One of the best features of this ironing board is that it has a built in hanger to store it away. This creates so much space after I am done using it."
Best ironing board with iron rest
According to one reviewer, who is "almost 70 years old and [has] been ironing for 60 of those years," using this Brabantia ironing board is "a new experience." That's because, "This board DOES NOT ROCK. It DOES NOT SCREECH." More than a third of reviewers are also impressed by how sturdy this ironing board is. "You could knock it over if you really wanted to but it's plenty sturdy for normal use, no worrisome wobbles or creaks," one writes. Reviewers are also impressed with the large surface area, as well as the built-in iron rest. "The heavier metal ironing surface and frame provide great support for ironing bigger pieces like sheets and duvet covers," one explains, adding, "The iron holder keeps my steam iron handy and secure while in use and during cooling." The iron rest can also be positioned for a lefty, and the board can be adjusted to different heights, which reviewers appreciate.
Best extra-wide ironing board
This highly rated ironing board has nearly 300 five-star reviews, and nearly half of them recommend it for how sturdy it is, like this reviewer who says that it's "a beautiful, sturdy very well built ironing board, that doesn't rock from side to side due to the extra wide feet keeping it stable." The solid construction and the wide size makes this reviewer "fantasize about ironing," saying that they "love the size. Being able to spread my fabric out over it to iron a large piece is fab. It does not wobble. I love using it." The width makes ironing faster, too, as this reviewer notes that "it's sturdy, balanced, and has a surface area that reduces my ironing time." Another reviewer agrees, calling this, "the best ever ironing board! Sturdy and stable and the looks are amazing. Seems to make the ironing process easier." Says another, "this is sturdy, extra large and a joy to use. I hate ironing a little less after using this board." Others note that it's a breeze to use, too, like this reviewer who says that it's "Easy to adjust, with no metal-on-metal screeching; it also collapses easily if you need it out of the way," and this one who explains, "By pressing a lever under the board, I can smoothly and easily adjusts the board to any height I want." The iron holder is just another feature that makes this iron a favorite among reviewers.
Best extra-wide ironing board with shoulder wings
The main draw of this extra-wide ironing board is the shoulder wing attachment. "I love the retractable shoulder wings; they make everything so much easier," says a reviewer. They're ideal for ironing shirts, as this reviewer notes: "The wing extensions enable ironing of entire shirt backs in one shot." Another calls it a "game changer": "Dress shirts get done in about ONE THIRD the time. By far this is the best ironing board I've ever used." Dozens of reviewers like how solid it is: "It is so sturdy that it does not wobble," says one, and another agrees, saying "This is the absolute BEST ironing board I have ever owned. I iron every day, so I was looking for a good sturdy ironing board. This one exceeded my expectations. It doesn't wobble at all — not even on carpet." Another reviewer notes, "There are also several thoughtful features, such as a cable guide for the iron's power cable, and a small pouch to store accessories by the side of the ironing board." As this customer concludes, "No screeching metal parts, smooth operation, a wide surface with optional shoulder extensions all add up to a superior product. The extended bar is great for holding shirts and cord management. If you want a serious tool for doing the job, this is a great choice."
Best ironing board with adjustable height
Reviewers were impressed with the height on this ironing board, like this one who says that it's "very well designed, and the extra height adjustment gives my back a rest, as I'm five-foot-11 and like to have the board up high." This reviewer agrees, saying that "it features a greater adjustable height than most ironing boards," while this one says, "the adjustable height is fantastic. I have it as high as I can make it." Others like it for how easy it is to set up: "It's easy to fold and open," says one. "It's really ergonomics and easy to use," says another. Reviewers also note that it makes ironing clothes feel less like a chore. "My ironing time (I iron a shirt and pants everyday) has been cut in half and the clothes come out so much better than with a cheap board," says one. Another agrees: "It is like the ultimate ironing board. Sturdy and smooth. Actually makes ironing a lot less of a hassle. Love it."
Best tabletop ironing board