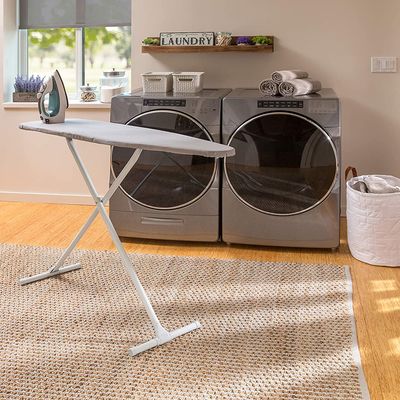 While we've written about the best irons and garment steamers, here, we've rounded up the best ironing boards, as praised by the most enthusiastic reviewers on Amazon.
Related articles: How To Iron a Sheet | A Professional Shirt Press
Best-rated ironing board
Nearly 200 reviewers rave about how sturdy and stable this ironing board is. Says one, "This puppy is rock solid with no shifting when pressed on. Substantial without being overpowering in weight." Another agrees: "I looked at a lot of ironing boards before deciding on this one. In short, very solid construction and stable." It works on a variety of surfaces, too: "The board is stable, on carpet and hard flooring, with sound engineering and thought put into it." Others love how wide it is, making ironing large pieces that much easier and more efficient. This reviewer, who does a lot of ironing of church linens says, "the larger surface area is fantastic" and that the board "cut my time in half." It also comes with a steam iron rest, which this reviewer says "provides more room for me to iron a folded queen-sized sheet without having to shift the sheet on the board. Also, the extra width provided by the size C-board reduces the number of times I have to move the sheets to complete the ironing process. As this reviewer sums it up, "If you are a serious quilter/sewist/ironed-clothing-wearer you should really consider the Brabantia ironing board."
Best-rated (less expensive) ironing board
"This is a compact, sturdy wooden ironing board with a bit of padding on top," explains one reviewer. There isn't much more to it than that — but that's exactly what reviewers love about it. "I wanted something small enough to place on top of my work desk but also big enough to cover enough material I need to iron. This does both," one writes, and more than a quarter of reviewers say this is perfect for small spaces. "I put it on my kitchen island and it's perfect," one says. "The little legs fold down for easy storage." Another writes that it's "perfect for quick ironing and not bulky like the bigger ones that need folding." Since it is small, reviewers aren't attempting big jobs with it, but as one concludes, it's a "wonderful, little size, table top, all I needed for occasional ironing."
Best ironing board with iron rest
Reviewers are seriously impressed with how well made this ironing board is, specifically the iron rest. "I really like the little stand to place the iron," one writes. Another says, "I also like how well welded the iron rest is, as the last board I tried had an iron rest so rickety that I was scared to use it with even a lightweight iron." The rest also doubles as a place where "I could hang my ironed clothes on the side then bring everything into the closet once I'm done." Reviewers like how versatile this ironing board is, too. The incline bar is reversible, so one reviewer says "being a leftie, I appreciated that the iron stand can be set up for left-handed use." The height is also adjustable, which one reviewer likes because "I can raise it higher than most boards, which means no more hunching over." 70 percent of reviewers describe this ironing board as sturdy. "You could knock it over if you really wanted to but it's plenty sturdy for normal use, no worrisome wobbles or creaks," one user says. And perhaps best of all, it lasts: One reviewer notes theirs is "still working fine after 18 months."
Best extra-wide ironing board with shoulder wings
The main draw of this extra-wide ironing board is the shoulder wing attachment. "I love the retractable shoulder wings; they make everything so much easier," says a reviewer. They're ideal for ironing shirts, as this reviewer notes: "The wing extensions enable ironing of entire shirt backs in one shot." Another calls it a "game changer": "Dress shirts get done in about ONE THIRD the time. By far this is the best ironing board I've ever used." Dozens of reviewers like how solid it is: "It is so sturdy that it does not wobble," says one, and another agrees, saying "This is the absolute BEST ironing board I have ever owned. I iron every day, so I was looking for a good sturdy ironing board. This one exceeded my expectations. It doesn't wobble at all — not even on carpet." Another reviewer notes, "There are also several thoughtful features, such as a cable guide for the iron's power cable, and a small pouch to store accessories by the side of the ironing board." As this customer concludes, "No screeching metal parts, smooth operation, a wide surface with optional shoulder extensions all add up to a superior product. The extended bar is great for holding shirts and cord management. If you want a serious tool for doing the job, this is a great choice."
Best ironing board with adjustable height
Reviewers were impressed with the height on this ironing board, like this one who says that it's "very well designed, and the extra height adjustment gives my back a rest, as I'm five-foot-11 and like to have the board up high." This reviewer agrees, saying that "it features a greater adjustable height than most ironing boards," while this one says, "the adjustable height is fantastic. I have it as high as I can make it." Others like it for how easy it is to set up: "It's easy to fold and open," says one. "It's really ergonomics and easy to use," says another. Reviewers also note that it makes ironing clothes feel less like a chore. "My ironing time (I iron a shirt and pants everyday) has been cut in half and the clothes come out so much better than with a cheap board," says one. Another agrees: "It is like the ultimate ironing board. Sturdy and smooth. Actually makes ironing a lot less of a hassle. Love it."
Best ironing board for occasional ironing
If you don't iron your clothes on a daily basis — or not at all and you just want one because it is the adult thing to do — reviewers say this is a great ironing board for lightweight jobs. "If you're just doing a little ironing here and there, this is easily the ironing board for you," one writes. "It's light, it's sturdy, and folds up quick to put away." Almost one-fifth of reviewers specifically mention how lightweight it is, which they prefer because it's "easy to set up and take down." That doesn't mean it's flimsy, though. One reviewer explains, "I bought the cheapest ironing board and expected just basic but the construction is pretty solid." Another sums it up thusly: "It is sturdy, with a good quality pad."
Best tabletop ironing board
More than 70 percent of reviewers give this ironing board five stars, and many love how compact it is. "We live in a really tiny apartment with no counter space and very little storage space," one user says. "We ended up storing it in the gap between the refrigerator, but it's small enough to slide under a low bed. You get a lot for your money with this board. It's sturdy, well-made, and pretty." And while it is compact, one reviewer says, "This is much larger than I anticipated, but that's perfect for my craft/sewing needs." They add, "The height is also enough for me to work with and I absolutely love the pull out iron rest." Others agree that it's perfect for a seamstress, and really any use, because it is so well made. "The entire frame, including the legs, moving parts and clamps are sturdy metal, screwed into place with good screws," one reviewer says. "The board is thick particle board … The board doesn't move at all because of good quality plastic feet."
The consensus among reviewers is this ironing board is ideal for small spaces. One user on a military base in northern Afghanistan was "fed up with wearing wrinkled clothes" so they purchased this. "It is small enough I can use it in what little space I have, but it still is big enough to really get the job done," they say. Another reviewer in a small apartment says, "I can put this on my table, and it works great." Not only is it compact while in use, but it's compactly stored, too. "This folds up and hangs inside a closet door (hook is included)," one explains. And even though it's small, many attest to its sturdiness. "This board is sturdy and doesn't wobble or bend," one writes, while another says "It is made of sturdy metal rather than plastic." Reviewers do agree with this one who says, "The only downside is that the ironing pad isn't thick enough," but many solve that buying an additional cover.
Best foldable tabletop ironing board
All of the tabletop ironing boards on this list are praised for being compact, but this one saves even more space because it folds up and "fits neatly in a small place such as a closet or under a bed. Will even fit into a larger drawer," writes one reviewer. Another points out that it is easy to store in its original packaging. "I purchased for my small apartment and am able to store it easily out of sight on the back of a closer door with a command hook," they write. "The bag it comes in is handy because of the large, sturdy handle." And while it folds up, it won't collapse while in use, according to one user, who says "the board is firm enough to press even heavy fabrics." Reviewers also say it is easy to fold, and they love that it still comes with an iron rest while still being compact.
Best over-the-door ironing board
"I was so sick of storing our full-sized ironing board, wrestling it out of the closet and then trying to maneuver around it until the iron cooled and I had a chance to put it away," writes one reviewer, but all their problems were solved when they got this hanging ironing board. "It fits over our bedroom door. It's accessible, gets the job done, and goes right back up when we're done with it." Nearly 70 percent of reviewers give this over-the-door ironing board five stars, many because of how easy it is to use. "My favorite thing is that it doesn't take up any space and I'd out of sight until I need it," one reviewer reports. And while it's not a full-size one user says, "It offers just enough ironing space to iron shirts pants and suit jackets."
Best ironing board cabinet
If you are looking for a completely concealed ironing board, this ironing board cabinet is for you. Reviewers love it; one even says, "Once you have had one of these, you won't know what you did without it." They recently bought their second one after moving into a new house, and note that it's discreet enough that you can hang it outside of a laundry room without it looking out of place. "The best part is that all your ironing stuff goes inside too," the reviewer says. "I have a steamer and that fits along with my iron, spray bottle, [and] starch." Not only does it have storage, but it's on a swivel. "I especially like that the ironing board rotates so if you are using it and it is down, it doesn't block the pathway," says one reviewer.
Best ironing board alternative
The ironing mat is a nice space-saving alternative for many reviewers who don't have room for a more traditional ironing board. One reviewer who lives in an efficiency apartment says, "Using this, I can iron on my countertop or even my wood-finish TV tray without scorching the surface." But about 15 percent of reviewers secure it to their washer or dryer with the included magnets. The only surface that seems to be a real no-go is hardwood: "There are silver spots from where the material transferred onto the table," one reviewer warns. Even if space isn't an issue, dozens echo this reviewer's sentiments: "I don't have to worry about dragging out some heavy awkward iron board."
The Strategist is designed to surface the most useful, expert recommendations for things to buy across the vast e-commerce landscape. Some of our latest conquests include the best acne treatments, rolling luggage, pillows for side sleepers, natural anxiety remedies, and bath towels. We update links when possible, but note that deals can expire and all prices are subject to change.
Every editorial product is independently selected. If you buy something through our links, New York may earn an affiliate commission.