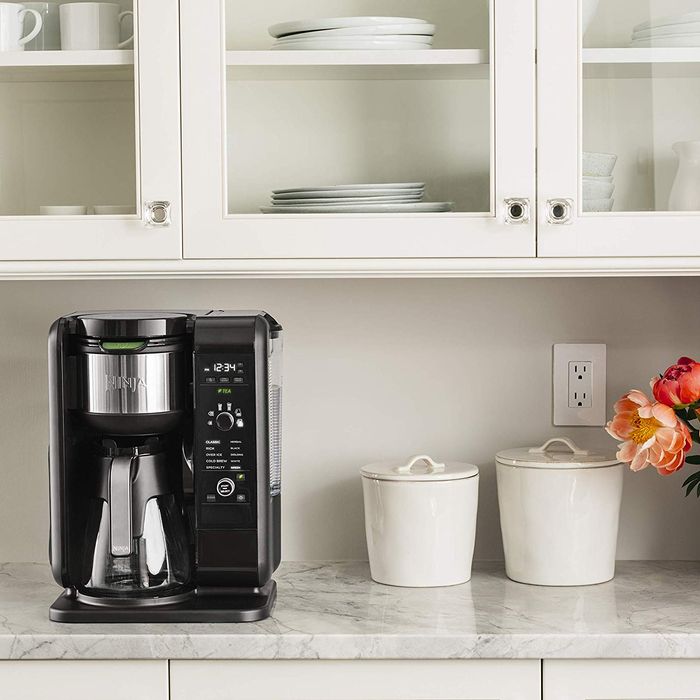 We've written about lots of ways to drink coffee — including travel coffee mugs, French press coffee makers, and coffee grinders — but here, we've rounded up the best drip coffee makers, as praised by the most enthusiastic reviewers on Amazon.
Related Article: Best Coffee Makers
Best-rated coffee maker
With well over 6,000 five-star reviews, the best-rated coffee maker on Amazon offers two ways to brew: a full carafe or single-serve, direct-to-mug function, which one reviewer calls "a great alternative to those expensive pods." Another writes, "I also needed a coffee maker for company, and I wanted one that makes individual servings without those K-Cups. This is a simple machine that is easy to use and quick to clean." One who describes themselves as living in a household of "avid coffee drinkers" sums it up: "We absolutely LOVE this coffee maker! Simple, functional, cost effective, affordable, easy to clean, durable and makes an excellent cup of coffee."
Best-rated (less expensive) coffee maker
Many five-star reviewers call this five-cup coffee maker easy to use, including one who calls it "the best designed that I've tried." He goes on to say that it's "very simple and easy to clean and use," especially for just a casual coffee drinker. He even thinks that "a genius designed the part where the steam comes out," because "it is a circle that fits directly over the basket and comes down when you close the lid. I don't see any splashing mess with it." Another bought this for her husband "who drinks a minimum amount of coffee." She says that she "was tired of him making a full pot with the 10-cup machine" because it was "such a waste." This pot is a nice alternative. She calls it "easy and simple," and specifically calls out the mouth of the pot, which is "wider than most, making cleaning a lot easier."
And now for some micro-picks for every type of coffee maker you might be looking for.
Best mini coffee maker
"It's perfect," writes one happy customer. "A cup of coffee for me is filling the machine up to 2 cups since its tiny. But it works great since its just for me, so I usually only drink 2 regular sized cups of coffee a day anyway. I love it so much." And several others agree that this is an excellent personal-size coffee maker. One keeps it as their personal java fix at the office, writing, "I have this at work for when I need an extra cup to get through the day." Another called it a "small, nice-looking coffee maker" and wrote, "I'm the only one in my family that drinks coffee, therefore, the 4-cup maker is perfect for me." As a bonus, one reviewer mentions, "This coffee maker is a snap to clean."
Best programmable coffee maker
"Works and looks great," says one reviewer of this Cuisinart coffee maker, noting, "I used the automatic on setting for the morning coffee, and the 1-4 cup setting for a maximum flavor." But others appreciate the many ways they can dial in their coffee-brewing preferences on this 12-cup model, like one reviewer who writes, "The best thing about this coffee maker is the temperature at which it brews. There are settings which include 'hot' and 'very hot,' and the very hot setting is, in fact, VERY hot."
One reviewer liked its simple controls and stay-warm-all-day setting: "If you were born before 1970 and have been searching for a machine that can make a full pot of coffee and keep it hot all day, this is the machine for you!" Another replaced a 12-year-old older model of the same machine with this coffee maker and was satisfied, writing, " I'm happy to report the new version has been improved upon … For the price, features and improvements, I couldn't ask for a better coffee maker." It can't be preprogrammed and lacks some fancy features, but, as one reviewer writes, its purpose is to have "no real frills, just gets the job done."
Best simple coffee maker
Dozens of satisfied reviewers actually prefer this machine because it doesn't have all of the "bells and whistles" of more sophisticated, programmable machines. One went as far as to call it "literally, the simplest design." Another reviewer writes, "It is inexpensive and you don't have to spend a fortune for a nice hot cup of coffee." Another speaks to the ease of use of this coffee maker, explaining: "Anyone can use this. Befuddled uncle? Yes. Old guy in your office? Yes. Mom who hates programming 'the computer?' Yes."
Best compact coffee maker
This machine is small but mighty. As one reviewer writes, "There are lots of fancier systems and makers out there, but I would put a cup of this coffee up against those any day." Another reviewer, who complained of frequent Starbucks trips due to a lackluster coffee machine, was an instant convert with the Zojirushi: "This coffee maker brewed a coffee so strong, deep and full bodied it retained the taste of the fresh bean. It was delicious." The small size is also a selling point for many, with one reviewer writing, "The primary feature I wanted was a very small coffee maker that is light and easy to port around if needed, which it definitely is." Some reviewers noted the lack of features like pause-to-pour and automatic shutoff, writing, "I have never had a maker that didn't auto turn-off so I need to train myself." But many find the ease of use to be a benefit of this small coffee maker: "I really like the simplicity of the appliance. It is well designed, compact and yet attractive enough to leave out on our kitchen sideboard, next to the toaster oven."
Best (less expensive) compact coffee maker
"This is a good coffee maker if you want one without all the bells and whistles," one reviewer says, summing up the general consensus around this Proctor Silex coffee maker, and many reviewers rave about this plug-and-play coffee maker as "a small and functional purchase." Another praised its ease of use: "Exactly what I wanted. A coffee pot that I could set up by just plugging it in, pouring water, coffee grounds in filter, turn it on. COFFEE!!" Another reviewer bought multiples, praising its low price and dependability: "Love it so much I bought two: 'His' in black and 'Hers' in white to make regular and flavored coffee at the same time." It lacks programming and other features but does have a pause-to-pour feature, which reviewers praised for the price, one writing, "The stop/start feature works flawlessly."
Best coffee maker with water reservoir
Nearly 150 reviewers call out the water reservoir feature on this coffee maker, many of whom seem to be neat freaks. "I've always been bothered by not being able to see where the water is hanging out overnight when I set it to brew in the morning. Even with regular cleaning with vinegar, I always have a sense it is dirty because I can't see it," she explains. This one gives her peace of mind, since the reservoir is right on the side. And the coffee machine actually "makes a decent, and hot, cup of coffee with pretty minimal fuss," she adds. Another thinks that the water makes the machine "a lot easier to load" than other coffee makers she's had in the past. "It's clear and detaches so you can fill it in the sink and see if there is gunk in it," she explains." Plus, one more is "thoroughly impressed with the noticeable difference in the flavor of the coffee" compared to other models and the reservoir makes it "easy to use."
Best hot and iced coffee maker
This coffee and tea system makes "every possible combination of tea and coffee beverages," as one reviewer describes it, complete with milk frother, separate tea system, and cold brew capability, leading one reviewer to say, "I feel like a barista (without any training). Even the frothing and cleanup is a breeze." Another writes, "This truly is a machine that does almost anything we could want for coffee or tea."
Best professional-grade coffee maker
"We are loving this coffee pot. It is a simple and logical design that makes a great cup of coffee. This design makes it easy to access the water tank to fill and easy to replace the filter and grounds. In all ways, just a big improvement over several other brands and designs that we have tried through the years. We are really glad that we decided to spend the money for this product this time around. We have gladly traded all the 'bells and whistles' — which are the features that always seem to malfunction — for this really dependable coffee pot that produces great-tasting coffee. From a purely aesthetic standpoint, it also looks pretty cool on the counter!"
Best personal coffee maker with travel mug
Many reviewers appreciate this coffee maker that brews directly into a travel mug. "We bought this because my son started a new job and is too rushed for coffee in the morning. I cut back to one or two cups in the morning so it doesn't pay to get out the big coffee maker. This makes better coffee than the big one!" one reviewer gushes. Another brought it on a vacation where there weren't coffee machines in their hotel room, calling it an "unexpectedly great little coffee machine … lightweight and physically small." Another traveler fit it into a packing cube and called it "just what I needed." Others love the machine for its environmental benefits, with one writing, "Got this to replace the landfill hogging K-Cup machine."
Best coffee maker with a dripless spout
One customer of this Cuisinart coffee maker appreciates that it "brews very hot coffee." (He says his last coffee maker required him to "microwave the cups of coffee," especially after adding cream, because it was never hot enough.) But for him, the carafe was the standout. "The dripless spout truly is dripless," he reports. That's because the spout is much wider than other carafes, which allows for the coffee to seamlessly flow into the cup without any mess. Another reviewer, who "lost [her] $150 Belvita to an uncoupling," says that this much less expensive replacement "brews a very tasty full pot from home-ground beans in about ten minutes." She's impressed — and also doesn't regret giving her ex the more expensive coffee maker.
Best K-Cup coffee maker
Keurigs and K-Cups come up fairly frequently in reviews of other coffee makers on Amazon, but reviewers of this K-Elite coffee maker swear by it. "Makes great coffee, hot chocolate, hot cider and even hot water for oatmeal, soup or whatever. Large reservoir and 5 cup sizes. Even makes iced coffee if that's your thing," one satisfied customer writes, adding, "single-serve so no more burnt and bitter coffee from sitting in a pot heating. Always fresh and great tasting." And this model, with easy-to-press buttons and a large water reservoir, has converted at least one skeptical reviewer: "I had put off buying a Keurig for years, simply because I'm a tea drinker and not a coffee drinker, and, after all, how hard is it to make tea? But I had experience with a Keurig from when my mom lived with me for a couple of years several years ago and brought hers with her. I finally broke down and bought one for myself. Now I'm kicking myself for not purchasing one for myself sooner. The convenience simply means that I will drink more tea and less (or no) sodas."
Best K-Cup coffee maker with milk frother
With nearly 1,000 five-star reviews, this Keurig is often described as easy to use, and the built-in milk frother is one feature that gets a lot of attention in the comments. "True, it does not make a 'legit' espresso," admits one reviewer, "but the 'strong' option on the machine gives me the next best thing with a dark or espresso roast." Plus, they describe the milk frother as "wonderful. My mother is VERY picky about her latte foam, and she was amazed at how good it is." Dozens of satisfied customers even go so far as to say that this multifunctional coffee maker will help them cut down on trips to the coffee shop: "It is simple to use and makes lattes so quickly. Clean up is a breeze and I love being able to make myself a latte rather than spending $5 for a small one at a coffee shop! Make sure you recycle the K-cup though."
The Strategist is designed to surface the most useful, expert recommendations for things to buy across the vast e-commerce landscape. Some of our latest conquests include the best women's jeans, rolling luggage, pillows for side sleepers, ultra-flattering pants, and bath towels. We update links when possible, but note that deals can expire and all prices are subject to change.
Every editorial product is independently selected. If you buy something through our links, New York may earn an affiliate commission.

Get The Strategist in your inbox