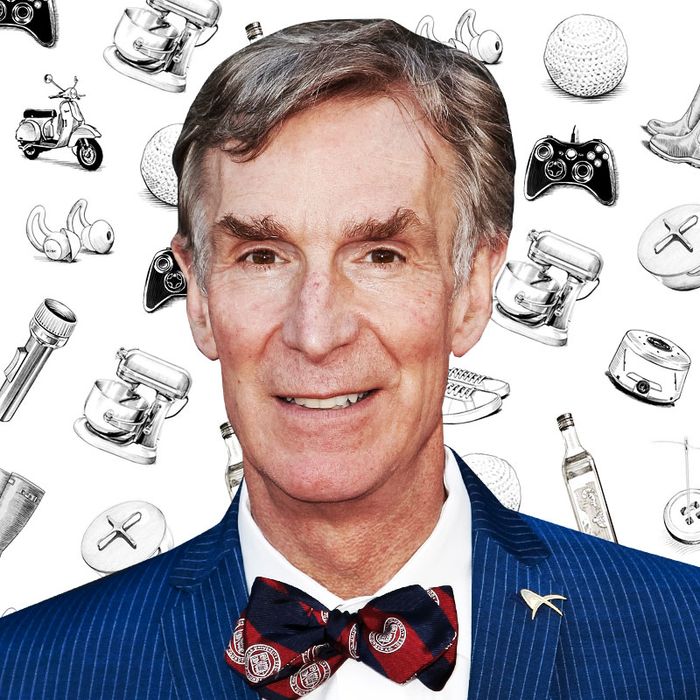 Photo-Illustration: Getty
If you're like us, you've probably wondered what famous people add to their carts. Not the JAR brooch and Louis XV chair but the hair spray and the electric toothbrush. We asked Bill Nye — most famously known as the Science Guy, who recently partnered with Bombay Sapphire — about the fountain pen, coffee maker, and wall clock he can't live without.
Some people — including my own flesh and blood and dear friends — will leave a sponge at the bottom of a sink. When it sits flat at the bottom of a sink, a sponge doesn't drain for crying out loud! Bacteria on the sponge has a party and its waste products release smells that we all find so unpleasant. If you put a sponge in the caddy, you don't get that. This is not rocket surgery. This caddy has a dial that allows you to secure its suction cup way more effectively than if you were just pressing it against a surface. It's a more sophisticated mechanism.
I have had issues with dandruff my whole life. Head and Shoulders works best for me. There's nothing better — I'm open minded, but there's nothing better. I've tried Selsun Blue but it doesn't work as well. Without doing my own microscopic analysis, I believe the reason is that the particles of zinc pyrithione in Head and Shoulders are smaller. So it's easier for them to find their way into the funnel-shaped parts of your skin where your hairs grow. Fifty percent of people on earth have dandruff or have the fungus that causes dandruff, the globosa fungus. This fungus has been around since the beginning of humans. It has been chasing us around for a hundred thousand years and originally came from shallot flowers called Persian Shallots in the U.S. The fungus grows on your skin, feeding on your sebaceous oils, and the waste product of the fungus irritates your scalp. That's why your scalp sheds skin cells. Zinc pyrithione inhibits the fungus. Every dandruff shampoo brand uses zinc pyrithione but Head and Shoulders does it better.
I'm wearing one of my Brooks Brothers shirts right now. I like the feel of the fabric. It's crisp: a mixture of cotton and some synthetic fibers that is just a great, very comfortable blend. It also has collar stays — you know, those plastic things in the collar.
The Moccamaster is the best. It has nine holes or orifices instead of one, so the water spreads out over the whole area of a coffee filter. Plus the heater works very fast. You get coffee much faster. Then there's another innovation: The lid is funnel-shaped, which greatly reduces the evaporation rate while the thing's sitting there on the burner. Why doesn't every machine have this? One drawback that some people cannot accept is that it doesn't have a timer. But I have found that the thing works so fast that you don't need it. You get up, turn it on, go do your morning ablutions, and by the time you come back the coffee's ready. It takes four or five minutes.
I'm very fond of Lamy pens. I like the width of the nibs. You want a fountain pen to have the right ink flow. You want it to be wide, but not too wide. You want the ink to be a color that appeals to you. I'm not a black-ink person. Blue is more original.
I love Sirius XM because there are no commercials. I have worked in commercials and made my living off of them, but I don't miss them. I like to listen to Willie's Roadhouse, then with one click I'm playing Elvis. I listen to Hits 1 to try to stay current with the young people. I also listen to quite a bit of late night shows. I do like Colbert. But without Letterman, who even cares?
Each time I walk up to the Geochron clock and look at it, which is every day, I see or notice something I haven't noticed before. One of the most fascinating things to me is that we have seasons on the earth. The Geochron shows you why that is — it shows you a manifestation of the effect that creates seasons. The thing I emphasize to everybody about the Geochron is to notice the figure-eight pattern the sun follows over the course of the year as observed from the earth surface. It's called the anil, which comes from the Latin word for sundial pedestal. The clock has this mechanism, this beautiful mechanism, that is just so elegant. The company is phasing out the mechanical ones, but I have two of them and they still work. I love them.