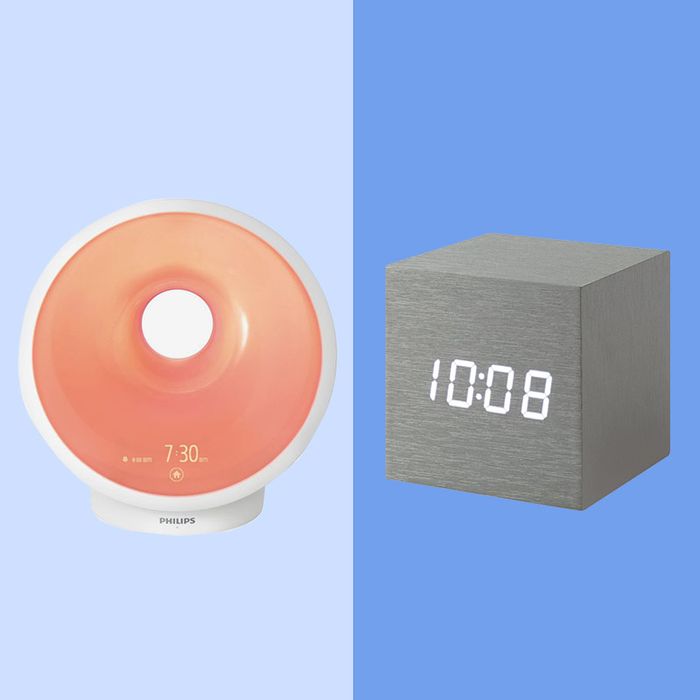 Photo-Illustration: retailers
In our advice column, Ask the Strategist, we take your most burning shopping questions and survey friends, call up experts, and draw on our own personal experience to answer them. If you have an online-shopping question of you own, please send it to strategist@nymag.com with the subject Ask the Strategist. We're here to help.
I recently broke my lover's alarm clock from middle school. They had no sentimental attachment to it other than it lasted nearly three decades. We both need something with a large type since we wear glasses and want to read the time while waking up. Any suggestions that don't completely embody the 1990s sharper image aesthetic?
As a glasses wearer, I feel you on the frustration of trying to read the time when waking up. But as someone born in the '90s, it took me a minute to figure out what you meant by Sharper Image aesthetic. After some Googling, I see that you don't want a clock that looks like Star Trek's idea of the future. After some more searching after that, I also have good news: There are a lot of great options to choose from. Some are modern, and some are more classic. There are even some analog options. None look like they came from Sharper Image.
This elegant and inexpensive wooden clock has big, bright numbers that, if you're sensitive to light while you sleep, can be dimmed or even turned off entirely. (When you want to see the time, just make a noise or tap the clock.) It also lets you program up to three alarms.
The second version of this cube clock is basically a rubberized version of the first. Both clocks have automatic dimmers and alarms. To show the time, date, and temperature when the display is off, just snap your fingers (or, with the Alume, you can also tap the top).
This stylish clock comes recommended by Jeannette Purdy at the aesthetics-focused retailer Ameico. Designed by Arne Jacobsen, a mid-century Danish designer, it has large, easy-to-read numbers and uses a less-intense digital version of a classic alarm bell to wake you up.
I'm also a big fan of this Sony Alarm Clock that projects the time onto the wall. It has a 180 degree rotation so you can point the projection anywhere within your room. You can also adjust the focus, set up two different wake times, and enjoy a variety of five different morning nature sounds. Even without glasses, a large projection of the time on your ceiling is hard to miss.
In case this inexpensive alarm's jumbo-sized display isn't big enough, it also has a projector — along with FM radio, a USB charging port and dual alarm settings.
If you prefer something with a pop of color, the iHome alarm clock has six wake-up color modes, a bright LED number display and dual alarms.
For a different aesthetic, this wooden alarm clock has a simple but bold number typeface that is easily visible, with a large hour and minute hand.