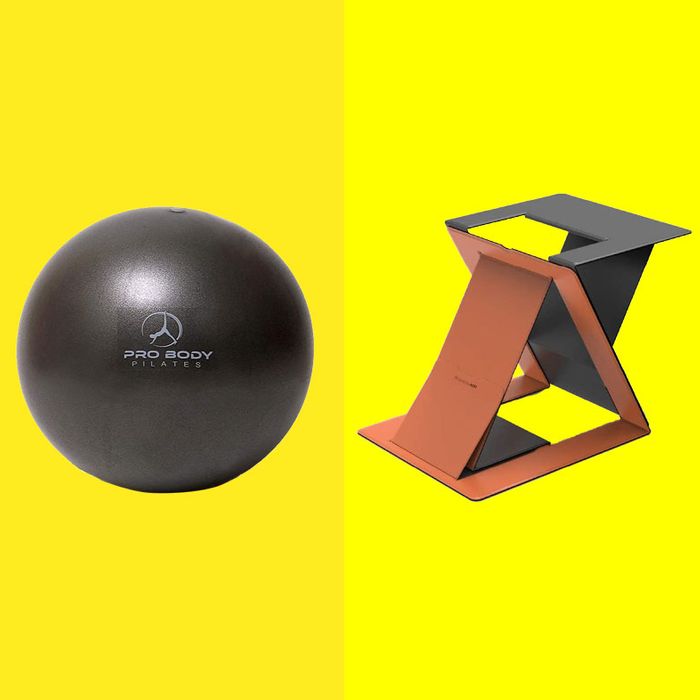 The difference between working ergonomically or not more or less depends on two things: your chair and your desk. Like many people, I was fortunate enough to be able to move back home with my parents amid the pandemic. But as a migraine sufferer whose headaches are often triggered by neck and shoulder pain, which is often triggered by poor posture, it didn't take long before I could (literally) feel the difference between my makeshift WFH setup and the office chair and desk I left behind, both of which are designed to be sat at all day.
While I needed a more ergonomic situation, I knew I didn't need bulky furniture or other things I couldn't easily take with me when I moved back out. I also knew that I'd rather spend my money on stuff I could easily bring with me to, say, an Airbnb rental or (eventually) a coffee shop or even the office to make whatever seat and surface I sit at that much more comfortable to work at. Hours of research and Reddit sleuthing led me to the below gear, which I've now been using for about five months. Together, the pieces weigh about seven pounds (but just one of the things is responsible for much of this weight) and total around $260, which isn't cheap but is less than what you'd spend on most proper ergonomic office chairs and desks. Importantly, all can be packed inside a medium-sized tote bag — so when the next pandemic hits, they should be just as easy to carry wherever I might find myself working from. Depending on your budget and what part of the body you're looking to target, you may not need all this stuff, but after reading about each thing below, you should be able to pick and choose the accessories that may work best for you.
For lower-back support on any chair (even backless stools)
The S'portBacker is the most portable of all my gear because it weighs less than a pound and folds up compactly. In the same way certain upper-back braces use tension to pull your shoulders back to encourage better posture, the S'portBacker uses tension to tilt your pelvis slightly forward and prop you up to encourage better posture while seated. You attach the pad portion around the base of your spine using a Velcro belt, then slip its two long loops around each knee. Once around your knees, you tighten the adjustable loops to create enough tension to pull you more upright as you sit. Because the pad can always be firmly secured by the Velcro straps, moving around is as simple as standing up — yes, the loops will hang loose from it, but that might make you feel more like a rock climber than a posturally challenged desk jockey. (That's what I tell myself, at least.)
My favorite thing about the S'portBacker is how it transforms the experience of using low-back chairs or stools, seating options that may be ergonomic enough for folks who've perfected walking with a book on their head, but have always been off-limits to me. I have a hard time maintaining an upright posture in a chair without a back; no matter how hard I try to keep my core engaged, I typically (subconsciously) end up slouching and rounding my shoulders or overarching in a way that gives me lower-back aches. But the S'portBacker makes it easier to keep my core activated (without overcompensating in my back) while seated on backless stools or chairs.
To make any surface one you can (easily) sit and stand at
Regardless of the furniture or accessories at your disposal, experts say the most ergonomic way to work involves a combination of sitting and standing. That's why the best standing desks should always be adjustable, making it easy to switch back and forth throughout the workday or week. But even at their cheapest, any full-standing desk is a commitment when it comes to space and hardly, if at all, portable. Proper standing-desk converters can be as pricey as some full desks themselves (and no easier to transport); cheaper laptop stands, while more portable, often aren't adjustable enough.
As a product, the Moft Sit-Stand Desk falls somewhere in between a traditional standing-desk converter and a laptop stand, with a price that is closer to the latter. It has five different configurations, the highest being a so-called "standing mode" that lifts your laptop about ten inches off a surface, making it a helpful and more affordable way to ease into the sit-stand working routine that experts recommend. (Its four other configurations elevate and position a laptop at different angles.) To really use the Moft in standing mode, you will need to pair with your laptop a wireless keyboard and mouse; when I don't have those with me, I use the Moft's lowest configuration, a 25-degree angle, which allows me to rest my palms on the computer for more ergonomic typing and still raises my laptop screen some four inches off whatever surface the stand is on. As far as portability, the Moft, which weighs less than a pound (and claims to support as much as 22 lbs), is very easy to transport: When folded up, it's the size of a magazine and half an inch thick.
For making any chair's seat supportive enough to sit on all day
While the S'portBacker prevents slouching (and thus relieves pressure on your lower back) by keeping your pelvis tilted forward, it doesn't do much to improve the experience of sitting on an uncomfortable chair or stool. Before working from home, I never really experienced knee or hip pain from my work setup. But once I started sitting on hard seats not meant for eight hours of sitting, I developed a host of aches — particularly in my hips and knees — I'd never felt before. That's why I splurged on this Strategist-recommended Royal Cushion from mattress brand Purple. It promises to (and really does) turn any chair into one that lends itself to prolonged sitting, which is essential for working ergonomically.
The two-inch-thick gel cushion is perfectly supportive (it feels squishier to your hand than it will once you're sitting on it) and keeps its shape. You can use it for hours without having to fluff it up and you can even put it on the floor to cushion your feet while in the standing portion of your sit-stand routine. It also works well in combination with the posture-correcting S'portBacker above and exercise ball below. At six pounds, it is by far the heaviest single thing on this list. But it can still be squeezed inside a tote and its price includes a cushion cover with handles, which makes it easy to carry on its own, too. The cushion has one fleeting, but notable, downside: a pungent, plastic, chemical-like smell that almost drove me to return it until I found out the funk disappears once you air the thing out for a few hours after unboxing it.
For even more support on chairs with rigid (or low) backs
There are many ergonomic tools out there for lumbar support, but I only came across a handful that target the upper back, an area I am especially aware of because it's where most of my headaches originate. For that reason, I initially purchased another Strategist-recommended attachment, the Easy Posture, which weighs less than a pound and makes many chairs with rigid backs feel more like Herman Miller's beloved Aeron for a fraction of the price. (The Easy Posture markets itself as lumbar support, but I found it can be used to target the upper back, too.) While I loved the way the accessory felt like a cradle for my back, I learned that it really only works on chairs with higher and full backs. Its straps would repeatedly slip off my parents' low-back stools, for instance, or collapse into the gap other chairs have between their back and seat. The Easy Posture's curved design also makes it a weird shape that is harder to fit into a tote bag.
That's why I replaced it with this exercise ball, which provides the same buoyant support but can be used with even more chairs, including low-back stools. It doesn't attach to a chair, so you can't really use it with something backless, but even low-backs provide enough surface area to wedge the ball between chair and body. It is not only compatible with more styles of chairs, but also easier to reposition depending on where I need support (lumbar, upper back) because I don't need to rejigger straps in order to do so. The ball comes with a pump so you can inflate it to the level of firmness your setup requires — and then easily deflate it when it's time to pack up.
For properly positioning your feet
No matter what chair, desk, or accessories you may be using, if you're short like me, experts say you'll probably also need an under-desk footrest to make sure your feet are resting flat while seated. A footrest is especially crucial when using the S'portBacker: The way it is meant to be worn around the knees means it's even more important to have your knees at a right angle in line with your hips. While many things can be fashioned into makeshift footrests — cardboard boxes, stacks of books, yoga blocks — fewer rise to the occasion when you consider portability. This footrest I've been using weighs about a pound and folds up to the size of a small book. It's nothing fancy, but the footrest also comes with its own carrying case should it be the only thing you need to tote around. (For a selection of fancier footrests, check out these expert-approved ones.)
The Strategist is designed to surface the most useful, expert recommendations for things to buy across the vast e-commerce landscape. Some of our latest conquests include the best acne treatments, rolling luggage, pillows for side sleepers, natural anxiety remedies, and bath towels. We update links when possible, but note that deals can expire and all prices are subject to change.