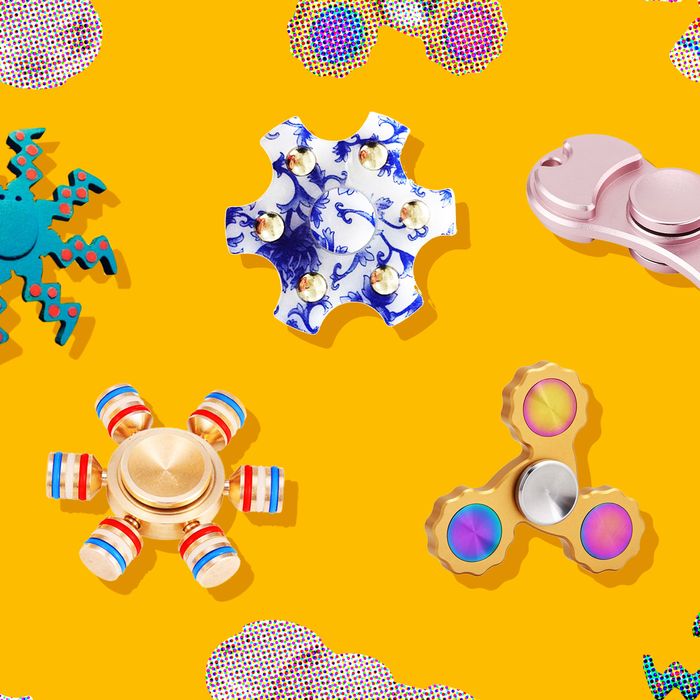 By now, you've likely heard about fidget spinners, the latest craze in anxiety relief and children's toys, a Venn diagram that includes coloring books, slime, kinetic sand, and this weird Chinese hacky sack, and somehow keeps growing. But for those who would rather not be caught playing at their desks with the same toy as every 12-year-old (or for actual 12-year-olds who'd like to impress their fellow fifth-graders with a "nonbasic" spinner), we've gathered the nicest, best fidget spinners on the market right now.
A ceramic Chinese-inspired blue-and-white flower pattern that'll match your fine China, too.
A spinner with gears that'll spin while you spin for endless spinning.
Gold with a touch of iridescence to make a colorful light show.
Note: this spinner is sold out, but we still found a gold and rose gold option for any shiny desires.
All-gold everything to match your earrings.
Blue brass with six chunky prongs that has a nice heft to it.
Splash paint for the most colorful tie-dye spin.
Yes, Abraham Lincoln did lead America for four years so that you could rotate his face endlessly on a fidget spinner.
In a fitting combination, a fidget spinner that looks like a wheel.
A glowing brass spinner with patriotic accents (and one with some brighter colors, too).
Note: Unfortunately the octopus is sold out, so how about a bat or panda one instead?
A very natural and handmade-looking wood piece.