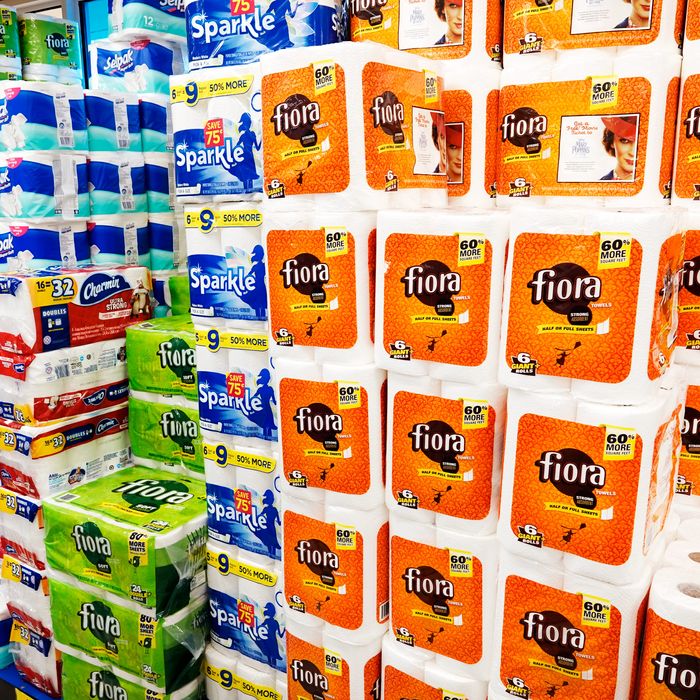 Photo: JeffreyGreenberg@aol.com/Jeffrey Greenberg/Universal Imag
If you're reading this, you probably use toilet paper. Still, toilet paper is something most of us rarely think about unless there's just a few squares left on the roll. And because most people are likely to care more about having a roll at hand than having a specific brand of roll at hand, you might think all toilet paper is created equal. But being as product-obsessed as we are, we know that sort of equality is rarely the case, so we turned to 18 people with very exacting taste to see if that particularity extended to the rolls of toilet paper they keep in their bathrooms. They had a lot of opinions.
In talking to these cool folks about the toilet papers they use, a lot mentioned rolls from companies that have taken strides to create greener options (that still feel as soft as their less eco-friendly competitors, according to those who recommend them). Others swore by staples you'd find at any drugstore, while a couple say they take an even more creative approach to being sustainable by recycling other paper products as their preferred toilet paper. Read on for the 11 different toilet papers recommended by our very particular panel.
"Scott flushable cleansing cloths do the job very well. It's a wet wipe, and I feel it works better because it's wet. You need fewer of them, they seem to be okay for the environment, and they're flushable. I discovered the concept when I had my kids. We've been buying them on Amazon for two years."
Krissy
Jones
and
Chloe
Kernaghan;
Peter
Shire
Co-owners, Sky Ting Yoga; artist and furniture designer
"Our favorite brand of toilet paper is Plant Paper and we've been using it for about a year, since they first launched. One of our teacher's sisters is part of the company and sent us over some rolls to try. We were blown away by its quality and now use it in all our yoga studios as well as our homes. Your average store-bought toilet paper is bad for the environment and not great for you. Without getting into detail, we're talking deforestation problems and too many chemicals in the production. Plant Paper is made from grasses, and is tree-, formaldehyde-, and bleach-free, so it's super sustainable. It also has two different textures: One side is soft, one has a little grit. Plus, its ultra-absorbent. It's packaged without plastic, which is also chic. Basically, it's perfect." — Jones and Kernaghan
"I love to go to the toilet so much that I had to find something like this, or it would find me. Actually, it did find me: I recently got some in the mail as a tester, tried it, and loved it. (Scott Barry, a co-founder of Plant Paper, is a friend.) The toilet paper is soft and puffy and has a great color. It makes it so I don't have to wipe myself raw. I especially appreciated it after a recent trip to Japan, where all of the toilet paper is tissue thin — so thin that even if you use seven or eight squares and are not careful, your finger still pokes through." — Shire
Chief Content Officer, Goop
"Kirkland toilet paper straight from the hallowed halls of Costco is the perfect trifecta of value (the 30-pack costs around a penny per square foot of paper), quality (soft like Charmin), and eco-friendliness (it's a certified FSC mix, so while not the most environmentally friendly option out there, it's better than most). You get 12,750 sheets in one 30-pack. Like all good things, this toilet paper is a family tradition. I grew up on it as a child in Montana."
Mickey
Boardman;
Sarah
Hymanson
Editorial Director, Paper Magazine; chef-owner, Kismet and Kismet Rotisserie
"I splurge when it comes to butt hygiene, and like Seventh Generation as they're a pioneer in more environmentally friendly home products. I've been using this toilet paper for years. I think I discovered it at a health food store like Integral Yoga back in the day. I love that it's recycled and also that it's two-ply. My pet peeve about rich people is that they'll spend a fortune on many things but then they always insist on buying one-ply toilet paper! In my humble middle-class home, you'll always find two-ply." — Boardman
"I generally buy whatever is the most eco-friendly option at the grocery store or drugstore, which in most cases is Seventh Generation, a brand I've used since I stopped buying single rolls at the bodega. The 24-pack means I can buy it as infrequently as possible. This isn't luxury paper, but it's easy to find, responsibly manufactured, perfectly durable, and I feel good about buying it." — Hymanson
"I seem to usually use Charmin — and it always works better with a little water. But, to me, the whole toilet-paper industry is a sham. Everyone should have access to bidets."
Lori
Leven;
Caroline
Weaver
"For me, it's all about bamboo toilet paper. My underground interior-decorator friend in East Hampton, Theresa DiScianni, told me about Who Gives a Crap. It's got a great texture (not too hard), leaves no trace, and the brand promises to give half of their profits to build toilets in needy communities. Plus, the packaging is beautiful if you need to leave out extra rolls, like we do in the store's bathrooms." — Leven
"I started buying Who Gives a Crap's premium bamboo toilet paper because I was looking for something with no plastic packaging that is made from recycled or renewable resources. I discovered it where many a millennial finds their next new thing: on Instagram. I've been using it personally for about a year and half, and I also use it at my shop. The bamboo toilet paper is softer than you'd expect, but not too fuzzy, and the packaging actually looks good in a bathroom, which is important when you're buying a box of 50 rolls. At that quantity, I have to get a little creative about storing it, but on the plus side, I rarely have to remember to buy toilet paper." — Weaver
Christiaan
Houtenbos;
Kyle
May
"I grew up in a Dutch village using cheap post-World War II toilet paper that was so raw, a pig wouldn't have wiped its ass with it. But there was nothing else available, at least not for a poor family with 12 kids. While it didn't kill any of us, that toilet paper was the never-ending inspiration for tasteless butt jokes — and is why only the finest, thickest, softest paper will do now. After seeing Who Gives a Crap's toilet paper pushed on Instagram, I ordered so much of it that I am now a supplier to my friends. This toilet paper is made from grass instead of trees, and although it is not baby-wipe quality, it will do until that 'do good, feel good' thing wears off." — Houtenbos
"Many consumers probably think that switching to an eco-friendly brand means you get rough and thin toilet paper, but this three-ply paper is thick, soft, and strong. Who Gives a Crap doesn't use any dyes, inks, or scents, and the paper works with septic tanks (not an issue here in New York City, but something readers outside of it may want to know). With this, I feel like I use less toilet paper, perhaps because of the quality. Between the environmental impact, the colorful packaging, the overall great branding, the charitable component, and the quality, there's not much more you can ask for out of something that most people don't think about." — May
"I do all the grocery/household-product shopping in our family — except for toilet paper, which my husband, Rob, is in charge of buying. About five or six years ago, I did that thing that Cheryl David did on Curb Your Enthusiasm— you know, picked up good-for-the-environment-bad-in-every-other-way toilet paper. I didn't notice, but apparently it was egregious. Since then, I've been banned from purchasing that particular item, and Rob likes this kind from Cottonelle, so that's what we use."
Patrick
Parrish;
Kenneth
Goldsmith
Owner, Patrick Parrish gallery; poet and founder, UbuWeb
"We are a Scott 1000 family. I discovered the toilet paper as a frugal art-school grad student in Chicago. Because it's thin and light, you have to double up on it, but it still lasts way longer than other brands, is easy on the pipes, and, importantly, it does not pill and make a gross mess." — Parrish
"Scott 1000 is the OG toilet paper. I've been using it my whole life, every store has it, and it lasts forever." — Goldsmith
"Bippy is made out of bamboo and is not wrapped in plastic. About six months ago, someone shared it with me on my climate change education platform, @futureearth. I actually prefer this to the drugstore brands, and love that I'm not compromising anything for an 'eco' option."
Maurizio
Cattelan
and
Pierpaolo
Ferrari
Photo: Retailer
"We recycle newspapers and magazines and use them as toilet paper. As a matter of fact, that habit is the origin of our magazine's name. After many tests, we found out National Enquirer pages are incredibly comfortable. We've been buying issues at the newsstand and using them for almost ten years now. Using a magazine as toilet paper is multipurpose: You can read it sitting on the WC, then tear its pages once you're finished — a true recycling process."
The Strategist is designed to surface the most useful, expert recommendations for things to buy across the vast e-commerce landscape. Some of our latest conquests include the best acne treatments, rolling luggage, pillows for side sleepers, natural anxiety remedies, and bath towels. We update links when possible, but note that deals can expire and all prices are subject to change.