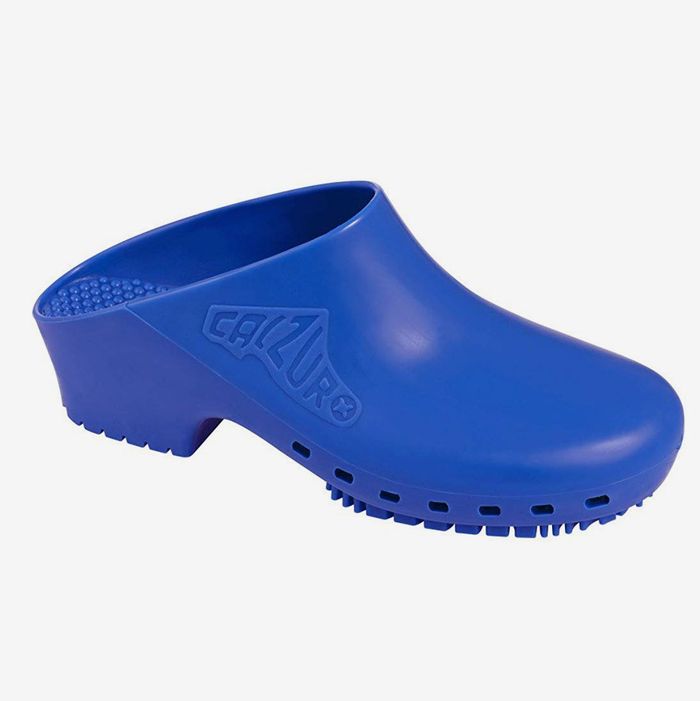 Photo: Courtesy of the vendor
The first time we saw Calzuros was on the feet of a rather elegant head nurse at New York–Presbyterian Hospital. Amid a sea of squeaky supportive sneakers, she, in her scrubs-matching navy clogs, seemed to stride the linoleum floors just a bit more gracefully. The second time was a cornflower-blue pair belonging to a stylish lady heading into a Bed-Stuy Pilates studio. And the third, this time bright yellow, was on our regular waiter at Achilles Heel in Greenpoint.
While most people associate nurse (and chef) footwear with hefty Danskos and blobby Crocs, Calzuro's slim silhouette aesthetically aligns more with a pair of No. 6 New School clogs. The slip-on manages to mold its satisfyingly chunky rubber into a somewhat dainty design. Made in Italy and created for surgeons, Calzuros — which are available in nearly 20 shades, including a near-crimson red, an Yves Klein–esque blue, and a pine green, in addition to the more understated black and navy — have been around since the early '80s cultivating a solid and varied fan base. A quick search of #Calzuros will lead you into the delightful world of Nurse Instagram, though sprinkled within it are photos of non-nurses who still, more or less, stand for a living.
Among these people is Brian Civitello, a cheese-maker and the founder of Mystic Cheese Co. in Groton, Connecticut. He bought his first pair of Calzuros in the fall of 2013 on a work trip to Italy, where he noticed them on a fellow cheese-maker during a factory visit. Civitello has since purchased over 30 pairs for himself and his employees. He has them in multiple colors to match his factory's color-coding system, which helps him "keep track of good manufacturing practices." On any given day, Civitello says, he will change his shoes up to 20 times to avoid cross-contaminating the cheeses in different rooms of his factory. And he likes that the clogs are easy to hose down at the end of the week. "I have put these shoes through some heavy-duty chemicals and haven't seen any discoloration or change to the rubber. It's impressive stuff. I still have the first pair I bought in the fall of 2013."
Last summer, Sara Gates, owner of Kingsland Printing in Greenpoint, saw her first pair of Calzuros on a woman on the boardwalk in the Rockaways, where she lives. Shortly after, she spread the good word among her Rockaways beach crew, which includes Flannery Cronin, owner of Friend of All Glass; Abra Boero, owner of Off Season, and Jordan Woolf, who owns the boardwalk surf-and-turf stand High 97 — all of whom quickly purchased a pair.