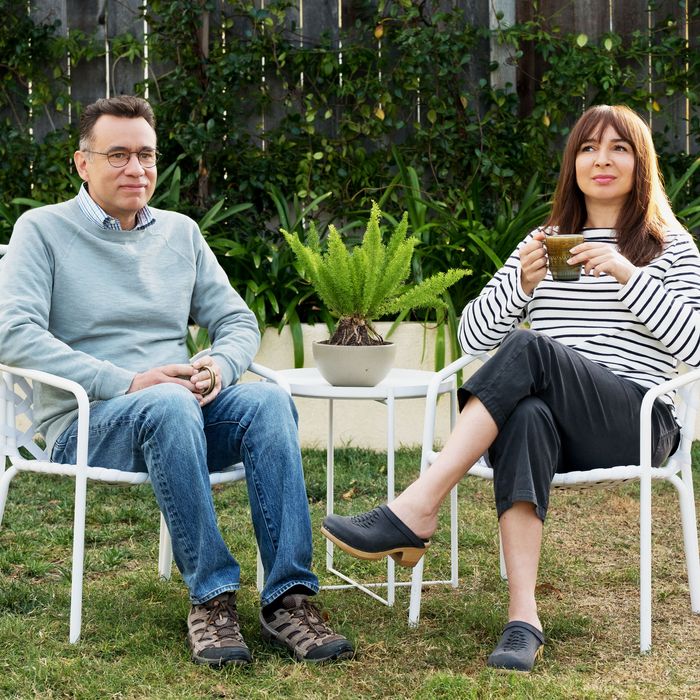 In our advice column, Ask the Strategist, we take your most burning shopping questions and scour friends, call up experts, and draw from personal experience to answer them. As always, please comment with one of your own — we're here to help.
Question: I am in desperate need of your sleuthing skills. Maya Rudolph wears several pairs of (the same?) clogs throughout season one of Forever — and I need them. I also don't want to blow hundreds on some random Swedish brand without the Strat stamp of approval. Help me hunt down these wooden-soled wonders?
On the Amazon show Forever, Maya Rudolph's character June leads a really boring life and an even more boring afterlife, but one glint of brightness (aside from the very nice ceramics she makes) is her penchant for really good clogs.
We called Forever's costume designer Kirston Mann, who told us the blue braided clogs Rudolph wears are (as we suspected) No. 6, a favorite of artsy moms from Boerum Hill to Silver Lake. "Both Maya and I are big clog wearers, we've been huge fans of No. 6 for many years, and in our real lives we have almost every color and every style. I've worked with her before on The Good Place and Brooklyn Nine-Nine, but this was the first time we got to do dream clothes that we would want to actually wear," Mann said.
We also reached out to No. 6 owner Karin Bereson for more information on the two styles that Rudolph wears in Forever, who told us that Rudolph also wears the five-inch Buckle Boot clog.
"She also wears our Heidi Woven Clog on Mid Heel in navy, which is a very recent past style. We are doing it this season without the weave; it's called the Old School Clog on Mid Heel and has become one of our best sellers. We can, however, make older styles for customers upon request." —Bereson
This suede green pair is pretty great, too.