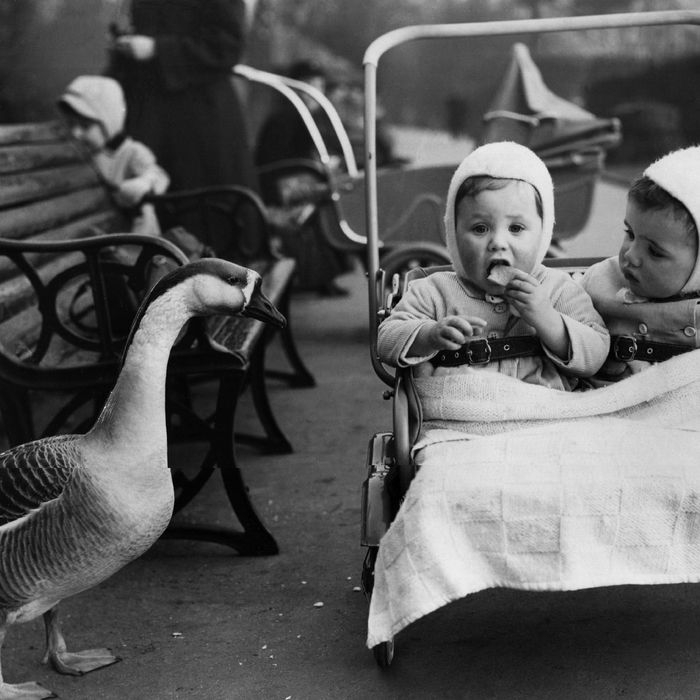 Here at the Strategist, we like to think of ourselves as crazy (in the good way) about the stuff we buy, but as much as we'd like to, we can't try everything. Which is why we have People's Choice in which we find the best-reviewed products and single out the most convincing ones. (You can learn more about our rating system and how we pick each item here.)
While we've written about plenty of things to carry babies and kids around — including jogging strollers, umbrella strollers, even the best strollers and carriers for twins — here we're going deep into the best double strollers that you can buy on Amazon.
Best-rated double stroller


With over 1,000 reviews on Amazon, this double stroller gets top marks for being easy to fold. "It collapses easily and compactly. Once it is folded, you can lift it to carry or you can roll it on the wheels," says one reviewer. "We used and abused this stroller and it still looks and functions like it did out of the box," says another reviewer. And dozens of reviewers describe this double stroller as "lightweight," though that doesn't mean it's not sturdy. "I can even hang my diaper bag across the handles without the babies in the stroller, and the stroller doesn't even fall over," one reviewer raves. Plus, it's got lots of storage pockets: "The 2 mesh pockets were bigger than expected. We put 8 bottles of water in one and snacks, diapers and wipes in the other," explains one reviewer. Another happy customer so prefers this lightweight side-by-side stroller that they ditched a more expensive, heavy-duty one. They explain, "I knew this stroller would be perfect the minute I lifted it into the house. It's so much lighter and can fit in my trunk (Ford Edge) without any torn muscles or aching backs. It does a very clean 360, not bumpy or heavy when being strolled."
Best-rated (less expensive) double stroller
This stroller gets a lot of love from reviewers for being easy to maneuver, even on uneven ground. "I bought this for my one-year-old and five-year-old to take when we went to Europe this summer on vacation," writes one reviewer, noting, "It did amazing on all kinds of terrain and different streets: both cobblestone and paved. It made an 8-mile hike to an ice cave (uphill) in Austria." Another reviewer calls it "by far the easiest traveling stroller" because it is "easy to steer, small enough to go through all doors, and kept the kids together in massive crowds. When we left we gave the stroller to a couple checking in. I feel like I saved about $50 doing this and was able to save someone else money. Worth it." It even makes living in New York City with kids a little more bearable: "As the parent of two toddlers, I have to say this stroller has pretty much saved me," says one New Yorker, explaining, "this is light enough for me to carry down two flights of stairs while monitoring and assisting two young kids. And it's small enough to fit in freakishly narrow store aisles (the norm in New York) while still big enough that my kids are comfy and safe."
And now for some micro-picks for every type of double stroller you might be looking for.
Best double stroller with storage
"With two little ones, we always have lots of 'stuff' with us," says one reviwer, who adds, "The cargo space is huge! I also really enjoy the zippered pouches in back — easy storage for my essentials when we are out for a walk." And dozens of other 5-star reviewers agree that the ample storage space on this double stroller is a great benefit. One reviewer says that there's so much storage, "I've yet to be able to hit full on all storage areas." Another reviewer admits, "I don't think I would care about the storage because I don't really carry a diaper bag … but DANG the storage is huge. I find reasons to use it. I have taken this stroller grocery shopping, walking, into restaurants, and I occasionally stick the baby in it when I cook dinner, he sits and watches." But even with all that storage, this side-by-side stroller is described by one parent as "SO EASY TO PUSH that you can stroll with two kids and only have to use one hand."
Best double stroller for travel
Dozens of reviewers appreciate this double stroller for travel, even on some uneven conditions. "We are on day 6 of the state fair with gravel, dirt roads and some pretty tough, rugged terrain. Both of my kids are at the maximum weight limit recommended and we have had zero issues," says one reviwer. Another parent "used it when traveling solo (internationally with layovers) with my 2-year-old and six-month-old, and it truly saved me." She says it's so light and easy to fold and unfold, "I'm able to do it while wearing my 6-month-old in a carrier." And one happy reviewer notes, "One of the few double strollers you can take down the jetway when traveling. New guidelines state stroller must be under 20 pounds on the airline we travel on most. This is our go to stroller now for everyday use."
Best sit-and-stand double stroller
"I personally picked this stroller because it allows your child to stand on the back platform or add the seat backing and your child can relax and sleep," says one reviewer of this Baby Trend sit-and-stand double stroller. And many other reviewers appreciate the flexibility that this stroller allows. "After having it for this long and using it almost daily, I have to say well worth the money," says one satisfied customer who's been using this stroller for a year. They add, "My oldest just started using the stand up and ride part in the back and he loves it. It allows him to stand and ride or sit on the 'bench' part that is left from where the stroller seat was." The versatility also means that kids of very different ages are able to sit in this stroller. We have a 2-month-old and 18-month-old. I like that we can easily place the infant seat in either stroller seat without having to buy extra accessories," says one reviewer. But even with all these features, one reviewer writes, "It's not that heavy so lifting and lower out of vehicle is no problem. I'm over 50 and it's no chore. This thing is long but I live in Japan and it does fit the elevator so it's manageable."
Best tandem stroller with removable seat
This versatile stroller is a favorite for parents with multiple kids of various ages. "This is especially nice for someone like me with 4 kids. Sometimes the 2 youngest children need the stroller, and in that case, it's great to have full seats for both of them," writes one parent, adding, "other times it's one of my younger children and then the 5-year-old who likes to step on and ride after a long day of walking." Another satisfied reviewer raves: "I have tried other tandem strollers and this is BY FAR the best out of all of them. Assembly was really quick and easy. I had it together in less than 20 minutes and ready to head out the door. It glides perfectly and it's so light whether I'm pushing or carrying it." Another adds: "I like that my 2-year-old can choose to get on and off the stroller easily."
Best stand-on tandem stroller with seat bench