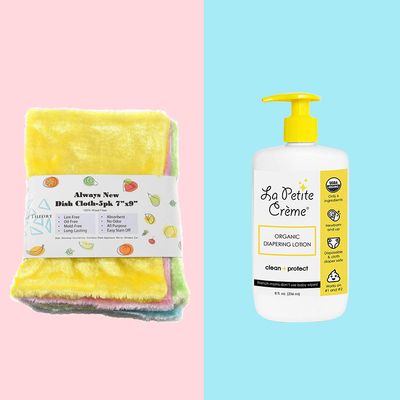 Photo-Illustration: retailers
Registries are often wasted on soon-to-be-parents. In this series, cool new(-ish) moms and dads tell us about the stuff that's actually worked for them in the time since they had a kid. In other words: If they could do their baby registry all over again, here are the items that would top the list.
I am a perfectionist by nature, so when I was pregnant, I simply could not stop nesting. Like a magpie, I collected old-world touches for the nursery —the big blue kilim, the Thonet rocking chair — and obsessed over the modern baby stuff as much, if not more. Because I'd pretty recently moved to France, where baby showers are not routine, and because most of my friends and family were across the Atlantic, I skipped a traditional registry and picked things up more slowly, but more surely. Or so I thought. Though I have few regrets, babydom is full of surprises, and some of the hardest-working baby items these last 13 months were not things I even knew to ask for until we were at that stage, in that moment.
As an expat and first-time mother in Paris, the differences between Americans and Gauls when it comes to the rearing and hygienic care of children — what the French lump together as puériculture — are an ongoing education. At my daughter's one-month rendezvous with the pediatrician, I was told to rarely use wipes on her derrière. The doc's assistant handed me cotton pads and a bottle of stuff called liniment.
Anglophones call it "French diapering lotion." It functions as an all-in-one cleanser, barrier cream (thanks to limestone), and moisturizer (thanks to olive oil), and is said to ward off diaper rash. No diaper cream or baby powder necessary. You can apply it all over your baby, from head to toe, and après-bath time, we do. It has the heartiness of Weleda Skin Food and makes our daughter's dermis glow. Just saying: All my friends with babies back home have experienced bum rash; so far, we haven't. Given the French rep for skin care, I credit liniment. (We actually do use wipes and then moisturize with this yellowy lotion, but don't tell.)
Liniment hasn't yet taken off in the states, but in Florida, visiting my family, I ordered some via Amazon by La Petite Creme — a brand founded by two French "mompreneurs" who manufacture it in … Florida. (They have trademarked the slogan "French moms don't use baby wipes!")
Once my child was ingesting more than milk, approximately 30 percent of my waking hours were spent wiping butternut-squash purée and other food splatter off of surfaces. It became very clear, very quickly, that I needed to upgrade my cleanup arsenal. Like sponges, cotton dish cloths go grimy, smelly, and dingy in that order. But various microfiber cloths I tried didn't fare much better, until I found these. The cloths are made of wood pulp and have a weird sheen to them, like wet seal fur the colors of Easter eggs. They are not marketed to parents with babies and/or toddlers, but should be. The dish cloths rinse out cleanly and with ease, no matter what kind of muck you put them through, and after a spin in the wash, they appear brand-new. After a year-plus of constant use, I just ordered another five. I even travel with these.
Baby socks that remain on baby feet are a holy grail, and these do just that thanks to a tablike construction at the back ankle. As my baby grew, and crawled, the socks held on for the ride. And when she started standing and walking at an early age, their nonslip bottoms proved to be a necessary hedge against wipeouts. I also appreciate the gender-neutral normcore vibes, available in solid white, black, and gray, as well as blues, purples, and pinks, or stripes.
I've had cute mesh pouches that have un-cutely unraveled on me, but this set sized S-M-L has lasted. And I use them to compartmentalize baby paraphernalia: in the diaper bag, in her armoire, in our suitcases. And being see-through, they afford easy optics.
When my daughter was born, my former boss, a fashion journalist, turned over a batch of footed onesies made from snow-white terrycloth — that she'd put away some 18 years earlier after her own newborn daughter had outgrown them. "You have to have these," she told me. "They will save you." One had been given to her in the maternity unit at the American Hospital of Paris, and when the midwife revealed that they'd come from Marks & Spencer, she'd gone out and bought a bunch.
She was right: Terry is the textile par excellence for wee babes because it's super absorbent, and they're always spitting up, and also because the looped cotton is so soft and thick and warm. Snug as a bug, my kid spent much of her first three months snapped into jumpsuits fashioned out of beach-towel material, especially at night. When we sized up, some favorite organic versions that I ordered Stateside include this kimono-style romper, from Oliver & Rain; these striped onesies, available on Amazon; and this sleeper with built-in mittens, by L'oved Baby.
My daughter rejected widely loved teethers such as Sophie the Giraffe and the RaZberry before I fell on this bright French-made silicone bracelet described as "bijoux de dentition." We've dubbed it the Ring of Power. With gumball-sized beads and sliding, silver dollar–sized loops, it's both an effective teether and a sensory toy; plus, a parent can wear it as a fun piece of statement jewelry. I'm serious. It's cool.
Editor's note: Irreversible Bijoux lists its prices in pounds, so the price shown is an approximate conversion to U.S. dollars.
These mini silicone pinch bowls are intended for your kitchen, and while they can hold condiments and be used to poach eggs, the bowls do double duty as a developmental tool. They're like the wooden nesting bowls for stacking and sorting that my 1-year-old was forever losing under furniture and in the bookshelves, except they're made of food-grade silicone and come in bright colors. Their rims are only 2.5 inches in diameter, which works out to some Grecian ideal of proportion: They're just the right size for chubby baby hands. And because there are 14, it's hard for my daughter to mislay them all.
I've admittedly already sung the praises of this gadget, but it's really just that great. When I wanted a star projector for the blue-painted niche in my newborn's bedroom, what I had in mind was a candlelight-like spray of cosmos. Not the Sophie the Giraffe option I saw that piped insufferable tunes. Not the cheapo personal planetariums that projected club-y auroras or lasered overgrown confetti on ceilings and walls. What I eventually found was the Homestar Pro: an economy model by Takayuki Ohira, who makes the best home planetarium on the market (for 20 grand). It reproduces a faithful night sky that awes my daughter (pausing under the display to "regarde les étoiles" is the second-to-last step in our bedtime ritual) and has consistently helped lull her to sleep from the age of 3 months on. The stars even work wonders on nights when she's teething.
The Strategist is designed to surface the most useful, expert recommendations for things to buy across the vast e-commerce landscape. Some of our latest conquests include the best acne treatments, rolling luggage, pillows for side sleepers, natural anxiety remedies, and bath towels. We update links when possible, but note that deals can expire and all prices are subject to change.