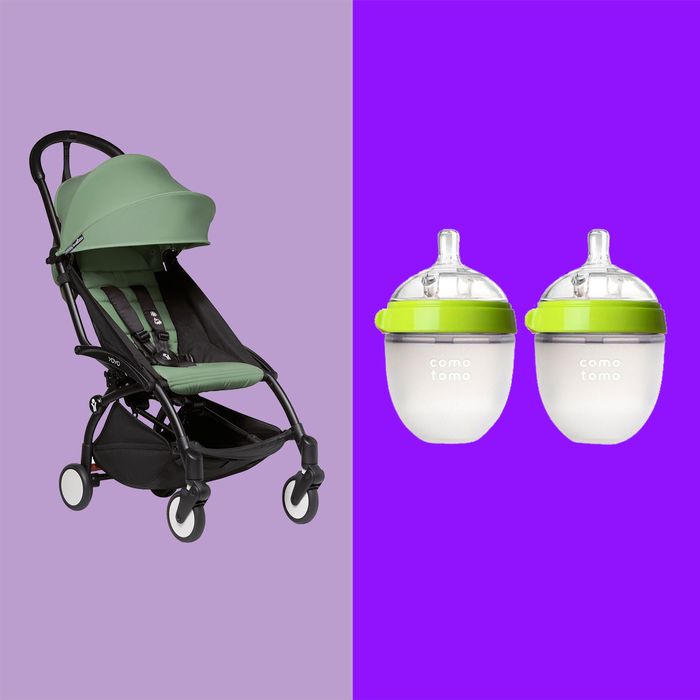 Photo-Illustration: The Strategist; Photos: Retailers
Registries are often wasted on soon-to-be parents. In this series, cool new(ish) moms and dads tell us about the stuff that's actually worked for them in the time since they had a kid. In other words: If they could do their baby registry all over again, here are the items that would top the list.
A pair of hand-crocheted Sicilian booties was the only baby item in the possession of Catbird creative director Leigh Plessner when she gave birth to her daughter, Bluebell. In part this was because of Jewish superstition, and in part it was because, quite simply, when you live in a Brooklyn apartment, "you can't accommodate a lot of things in your home," she says.
Her registry was carefully pared down — and largely guided by her friend Rony Vardi, the founder of Catbird and a mom of two, who is "super-practical," according to Plessner, and also "really doesn't like unnecessary things." (Eva Chen's baby list, with its "not fussy approach," was useful, too, she says.) Which is not to say that all her favorite items were entirely about functionality: Looking back, now that Bluebell is 3 and a half, she wishes she had registered for the scented baby wash by Santa Maria Novella. "A really beautiful gift," she says, "would be bottles and bottles of baby wash that one day you could return to when your child is not baby-wash age, for the flood of memories."
It's like a doll stroller! I just wanted the lightest, smallest thing I could find, and this is the perfect stroller for New York vestibules and stairs. We still use it. I got it in camel, but I very mildly regret not getting black, which would not show the coffee splashed on the hood. (There's also a pink version available at Bed Bath & Beyond for $50 cheaper.) My internet friend Maryam Keyhani, who's a beautiful artist and lives in Berlin, had it also, and I was like, "Okay, this is the one." Eva Chen recommended it too.
My daughter was a very enthusiastic breastfeeder; I dropped her off at day care for the first time having never had a bottle, naïvely/blithely thinking she was so good at breastfeeding — what could go wrong? Well. Thank you to her very wonderful caregivers who recommended the Comotomo bottle, which, like a Champagne coupe, is shaped awfully like a breast.
Instead of getting a changing table, we used this on our bed and stashed the diapers in the bedside tables. Bluebell was pretty … well, neat, but even if your baby is a more extravagant pooper, I think you'd be okay. A lot of changing pads have pockets and come in a set and have all these other bells and whistles, but this is just black on the outside, which is a good color when there's bodily fluids. And then there's the white wipe-down side that you lay the baby on. It was a really good size — not too big, not too small. Just $8. And that's all I ever used.
I carried Bluebell everywhere, including trade shows. I tried a baby sling, but it didn't allow me to get her in and out in a way that I felt comfortable with and that was quick and easy — you need to be able to undo a baby when she wants to breastfeed all the time. I loved this carrier because she had a little seat to sit on that helped relieve back pressure —
I'd had a C-section, and it just felt like it took the pressure off. I could also stash keys and a diaper and a lip balm in there, and there's a dorky phone holder on the side; I didn't need to carry a bag.