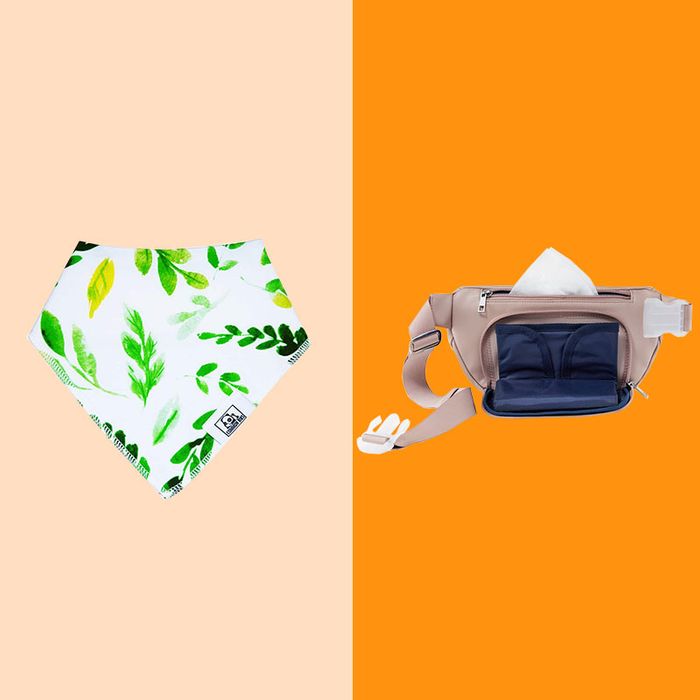 Photo-Illustration: retailers
Registries are often wasted on soon-to-be-parents. In this series, cool new(-ish) moms and dads tell us about the stuff that's actually worked for them in the time since they had a kid. In other words: If they could do their baby registry all over again, here are the items that would top the list.
Ours is a household of skeptics. I'm a journalist who can't make an Amazon purchase without first checking Fakespot; my husband is a late-night-TV writer whose job it is to make fun of everything. Our baby-registry research, therefore, was pathological: I cross-referenced friends' registries while he scoured expert and customer reviews. (In therapy, we call this "perseverating.")
But alas, it turns out that most of early parenthood is shouting into the void (or at your partner across the apartment who "can't hear you"): "WHY DOES THIS NECESSARY BABY THING NOT EXIST?" And then finding after a quick, desperate search on the toilet that yes, in fact, it does, and it can be here in two days. For all the hours of product vetting we did before our daughter was born last October, the following list is largely brought to you by 3 a.m. impulse shopping — and it is for the most neurotic and high-maintenance among us.
Much of the newborn phase will be spent worrying about the contents of your baby's orifices. The Frida Baby Snot Sucker is the one everyone and their mother recommends, but it made our baby cry — she hated the tube you stick up her nose and it took forever to suction out sticky mucus, even with saline drops. The multipart tool also has so much upkeep: You have to buy several filters and replace one with each use. Then one late night (or early morning, what is time?), deep in the bowels of a BabyCenter online forum, I discovered the Oogiebear. This piece of BPA-free rubber is so much easier to use: It functions like an adorable mini-shovel to scoop out boogers. The scooper is also less bulky, wipes clean, and involves zero emotional scarring.
I recommend magnetic bibs to everyone who tells me they're pregnant. Velcro hurts delicate baby skin and is stupid loud for night feedings, while snaps are impossible one-handed (everything baby is a feat of one-handed circus tricks). These are not only seamless to get on, but also soft, organic, and perfectly absorbent. Yes, they will run you twice as much as other, nonmagnetic organic bibs, but the quality is so high that we still bought eight of them.
Moms in my Facebook groups (plural) swore by this soft silicone applicator as a surprise registry favorite. Diaper paste is sticky AF and the consensus was this mini "spatula" makes applying it mess-free and stress-free. Everyone who changes Nadia's diaper — from my skeptical husband, king of "Do we need this?", to my old-school mother-in-law — can't believe they once used their gross naked finger.