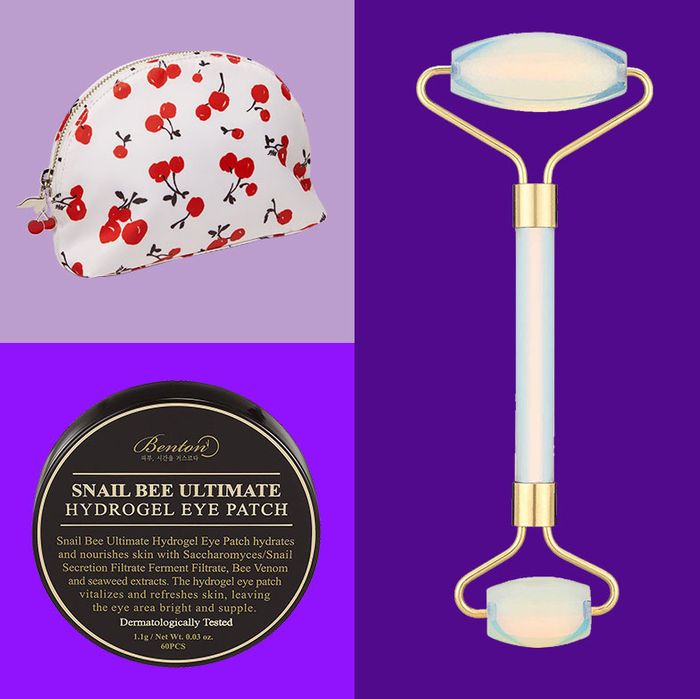 Photo: Courtesy of the retailers.
Not that you would do this, but let's just say you just realized that Christmas is five days away and you've neglected to buy your niece, your stepdaughter, your boyfriend's little sister, or all of the above, a gift. My two cents: Get them a skin-care or beauty product. But what, exactly, to buy? There are hundreds of beauty brands and products, and you're already sick of shopping. I can help. Below, I've assembled a list of gifts that will delight just about anyone who has a face, and which will, crucially, arrive on your doorstep before December 25.
Is a skin-care fridge necessary? Not really. But is it an adorable and luxurious way to chill your beauty products without having to sit them next to a bag of red onions in your fridge? Absolutely. If I had a mini fridge, I would store all my sheet masks, eye patches, and some night time moisturizers so they had an extra cooling, depuffing element to them. Plus, look how cute his cow-print fridge is!
Don't let the adorable packaging fool you — these palettes are incredible. The formula is so creamy, the pigments are so deep and long-lasting, and the colors are to die for. Sadly, you'll have to pay $20 bucks for rush shipping in order to get anything from UO in the mail before Christmas.
Palo santo sticks are one of my very favorite Christmas topper or stocking-stuffer gifts to give over the holidays . I'm absolutely in love with the scent (it's a perfect piney, woody, lemony smell; even our very sensitive-to-smell migraineur staffer loves it), and palo santo allegedly acts as a stress reducer.
Full disclosure: This was made by my very own big sister, Harley. But truly, I can't resist a cherry print! It's small enough that it doesn't take up too much space in your carry-on, but its shell shape manages to fit a ton of makeup. Did you notice the adorable cherry zipper?
These are my all-time favorite eye patches for when I'm puffy, dehydrated, or just downright exhausted. I keep them in my fridge and throw them on when I'm watching TV before I go out, or when I just want to give my scary, dark eyes a boost of moisture.
This is Glossier's newest gift set, which includes a ton of cute mini versions of Glossier favorites — from their winter-skin-saving rich moisturizer, to their "Glossier Skin in a Bottle" Futuredew. If there's any teen on your list that you forgot to buy a gift for, this won't disappoint.
I own a rose quartz roller from Solaris that I adore, but look how cute this opal one is! So holographic and dreamy! This would be especially great paired with the below product.
Brain Ding's CBD oil! It's one of my all-time favorites for hydrating and treating inflammation, whether that be a sore muscle, eczema, or even a bright-red pimple on your face. It has never, ever made me break out, and is, I think, rather adorably packaged.