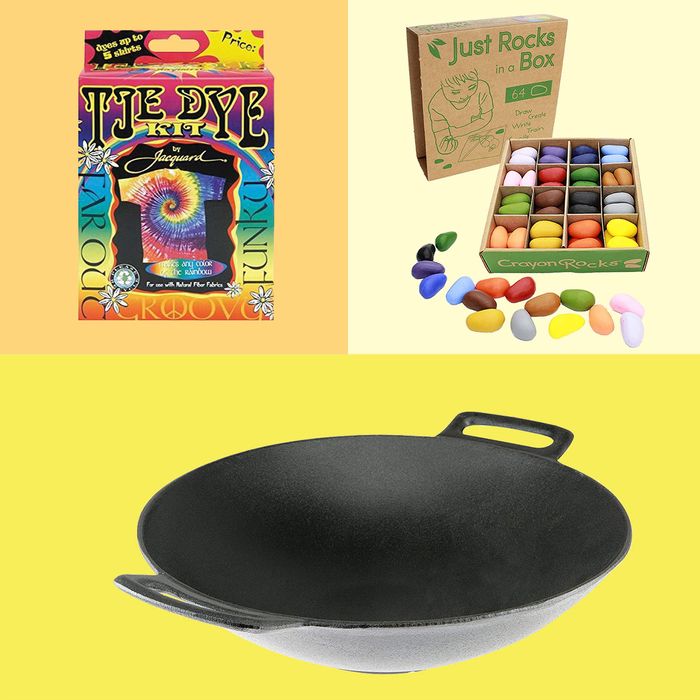 For the second-tier giftees in your life.
Photo-Illustration: Courtesy of the retailers.
You've made it most of the way through this year's Christmas list: gift for mom, check; gift for dad, check; and something for your significant other, double-check. Now all that's left is shopping for those who might not quite be at the top of your mind — like your stepbrother, cousin, or third cousin once removed. But don't worry, we rounded up the best last-minute gifts for the people you almost forgot about that you can buy right now on Amazon and that will still arrive in time for Christmas. Don't miss all of the Strategist's holiday gift coverage right here — and if you need a really last minute gift, consider an e-gift card.
For your cousin who got into baking during quarantine
They'll appreciate a few extra mixing bowls, and this colorful nesting set will still look nice out on the counter.
For your nephew who's really into puzzles
Sleek Chinese mirror cubes for even the most fidgety of hands.
For your sister-in-law who's studying design
A design-y sketchbook that will help the budding illustrator or designer brainstorm ideas.
For your roommate who's going to lots of Zoom holiday parties
This tumbler has rum-based cocktail recipes printed on the side of the glass, perfect for any rum that didn't make it into the egg nog.
For your brother-in-law with a new job
One of our favorite things for relieving stress, this acupressure mat will help relieve some of the first-weeks tension.
For your teenage brother whose phone is always at 2% battery
A gift for teenage boys that was recommended to us by teenage boys, this portable charger is small enough to fit in any back pocket and comes with its own cord.
For your little cousin who's starting to draw
A set of rock-shaped crayons that look as good as they feel in your hand.
For your vegan brother who loves making stir-fry
A pre-seasoned and ultra-durable cast-iron wok so he can start making more than just stir-fry for one.
For your sister with a small dog
This cute raspberry-shaped chew-toy will help prevent their pup from driving you crazy.
For your step-brother who's obsessed with his sourdough starter
From America's Test Kitchen, this guide to mastering bread will feed his latest passion.
For your new boyfriend or girlfriend's mother
There's something just a little too intimate about a bath product for a woman you truly do not know, but you can't go wrong with a grapefruit-scented candle from Jonathan Adler in a cheery yellow glass.
For the teenager in your life who's into crafting
So they can tie-dye their own socks.
For your mother-in-law who says she doesn't want anything
Introduce your martyr of a mother-in-law to the joys of a jasmine-scented shea butter L'Occitane lotion.
For your relatives who love a cup of tea
This black tea with orange and clove is sure to be warming on the coldest winter days, and comes in a festive orange tin.
For your bald or balding father-in-law
Keep his head warm with this affordable, neutral grey basic beanie.
For your office secret santa
Even if you don't know too much about the colleague in question, everyone could use an extra washable bag to schlep home their stuff — this one's a fun print for running errands with and would fall under most Secret Santa price limits.
For your cousin who loves NYC merch
Even if you don't know their preferred local spots, we're sure they'll get a kick out of this "We Are Happy to Serve You" ceramic take on the classic deli coffee cup.
For your meat-loving brother
As far as jerky goes, these Chomps sticks are relatively healthy (they're made of grass-fed meat and nitrate-free) and would make an unexpected stocking stuffer.
For your minamlist aunt or uncle
They'll appreciate this book of writings by Donald Judd (and you can email them our guide to building Judd-inspired furniture for supplementary reading.)
For your 1-year-old niece or nephew
A child psychologist told us that these magnetic Tegu blocks are "a really good way to promote early STEM and math skills." (For more of the best 1-year-old gifts, click here.)
For your Über-athletic older sibling
This jar of mineral salts will inspire some much-needed self care.
For your BFF who listens to podcasts while they clean
This portable bluetooth speaker is loud enough to hear over the vacuum.
For your 3-year-old niece or nephew
Nothing cuter than a sliceable plush watermelon.
For your brother or sister's hip girlfriend
Everyone can use some extra hand soap these days, and they'll appreciate this earthy orange, cedar wood, and sage from indie brand Grown Alchemist.
For your sneaker-head cousin
All the shoe-cleaning tools needed to revive a pair of Common Projects sneakers or pricey leather boots.
For your college-age cousin who's on top of every trend
Trust us: The puffer scarf is on the rise. Gift your cool cousin this swishy red one (that comes with a travel pouch), and we can practically guarantee it will make an appearance in her next outdoor-dining Instagram story.
For your outdoorsy uncle
These ice cleats, which attach to boots, will keep him sure-footed on slippery terrain.
For your fancy sister-in-law who can't poach an egg yet
Improve her brunch game with these easy-to-use egg poachers.
For your boyfriend or girlfriend's nerdy niece
Science meets blind-box reveal toys with this set of ten geodes you can break open to find surprise crystals — plus the kit comes with goggles and a magnifying glass, sure to please the mini-scientist on your list.
For your adventure-loving step-dad
So he can continue reading or doing the crossword long after sunset.
The Strategist is designed to surface the most useful, expert recommendations for things to buy across the vast e-commerce landscape. Some of our latest conquests include the best gifts for mom, gifts for dad, baby-shower gifts, gifts for your boss, bar mitzvah gifts, and things on sale. We update links when possible, but note that deals can expire and all prices are subject to change.
If you buy something through our links, New York may earn an affiliate commission.