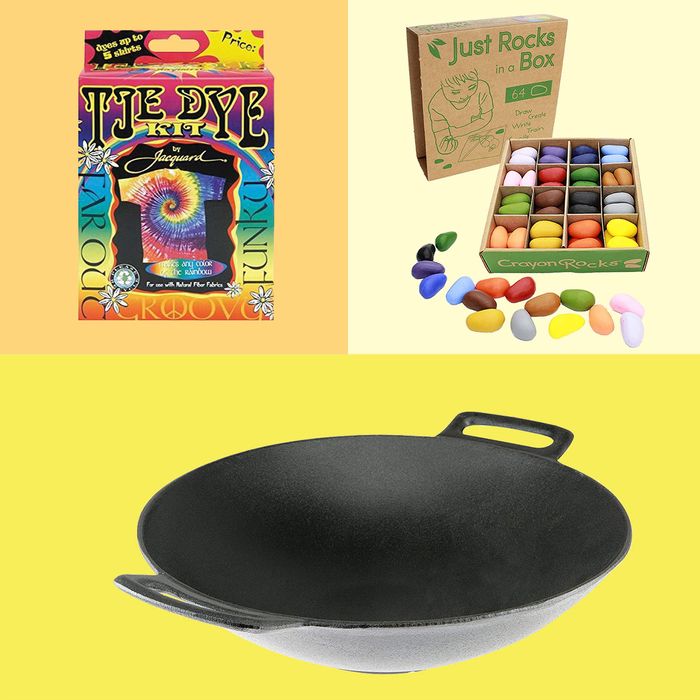 For the second-tier giftees in your life.
Photo-Illustration: Courtesy of the retailers.
You've made it most of the way through this year's Christmas list: gift for mom, check; gift for dad, check; and something for your significant other, double-check. Now all that's left is shopping for those who might not quite be at the top of your mind — like your stepbrother, cousin, or third cousin once removed. But don't worry, we rounded up the best last-minute gifts for the people you almost forgot about that you can buy right now on Amazon and that will still arrive in time for Christmas. Don't miss all of the Strategist's holiday gift coverage right here — and if you need a really last minute gift, consider an e-gift card.
For your cousin who got into baking during quarantine
They'll appreciate a few extra mixing bowls, and this colorful nesting set will still look nice out on the counter.
For your nephew who's really into puzzles
Sleek Chinese mirror cubes for even the most fidgety of hands.
For your sister-in-law who's studying design
A design-y sketchbook that will help the budding illustrator or designer brainstorm ideas.
For your roommate who's going to lots of Zoom holiday parties
This tumbler has rum-based cocktail recipes printed on the side of the glass, perfect for any rum that didn't make it into the egg nog.
For your brother-in-law with a new job
One of our favorite things for relieving stress, this acupressure mat will help relieve some of the first-weeks tension.
For your teenage brother whose phone is always at 2% battery
A gift for teenage boys that was recommended to us by teenage boys, this portable charger is small enough to fit in any back pocket and comes with its own cord.
For your little cousin who's starting to draw
A set of rock-shaped crayons that look as good as they feel in your hand.
For your vegan brother who loves making stir-fry
A pre-seasoned and ultra-durable cast-iron wok so he can start making more than just stir-fry for one.
For your sister with a small dog
This cute raspberry-shaped chew-toy will help prevent their pup from driving you crazy.
For your step-brother who's obsessed with his sourdough starter
From America's Test Kitchen, this guide to mastering bread will feed his latest passion.
For your new boyfriend or girlfriend's mother
There's something just a little too intimate about a bath product for a woman you truly do not know, but you can't go wrong with a grapefruit-scented candle from Jonathan Adler in a cheery yellow glass.
For the teenager in your life who's into crafting
So they can tie-dye their own socks.
For your mother-in-law who says she doesn't want anything
Introduce your martyr of a mother-in-law to the joys of a jasmine-scented shea butter L'Occitane lotion.
For your relatives who love a cup of tea