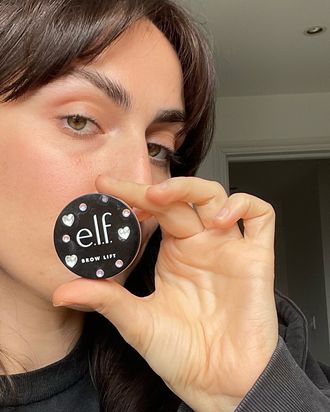 Despite being a person whose thick, dark eyebrows occupy most of the real estate on my face, I've never actually felt compelled to commit to a brow gel. Over the years, I've tried dozens that work pretty well, but I've always uncovered an issue. For example, I really liked my NYX Control Freak Gel — it was wallet friendly and had the perfect long, chunky spoolie. But on a few occasions, I looked in the mirror after a long day and discovered clusters of white specks wedged between my brow hairs. Embarrassing. And then there was the Milk Makeup Kush Clear Brow Gel, which left my brows smooth, lifted, and flake free, but the tiny spoolie just couldn't position my hairs in the way I liked — they looked messy and bushy instead of fluffy, fresh-faced, and defined.
A few months ago, having finished yet another tube of good-but-not-great brow product, I decided it was time I got serious about this: I reached out to my editor here at the Strategist and explained that I was going to test as many clear brow gels and waxes from as many brands as I could, in the hopes of discovering my new go-to. I prefer how natural clear formulas look on my thick brows, and I'm convinced tinted brow gels make me look like Groucho Marx, so I didn't test any tinted gels, pens, or powders. Because of this, my requirements for the winner were relatively simple: Its spoolie had to be on the medium-to-large side (as I've mentioned before, super-small spoolies don't work for my brows), and the formula needed to keep my hairs in place all day long. The product also couldn't create a super-sticky film (though some stickiness is to be expected), nor could it leave behind a trail of white flakes. And, of course, there would be a few extra bonus points if the product was available at a drugstore.
Over the course of three months, I tested 32 clear brow gels, from both drugstore and high-end brands. (None of these went to waste. I gave them away to friends, family, and just about anyone who was interested when I was done testing.) Some products I didn't like immediately (like Maybelline's Clear Lash Gel, which flaked instantly), and others I had to try a few times in different scenarios — like a night out or a low-key workday — to see how they held up. In the end, six products really stood out: Glossier Boy Brow, Half Magic Grippie Brow, Anastasia Beverly Hill Brow Gel, Refy Brow Sculpt, Got2Be Glued 4 Brows & Edges, and e.l.f.'s Brow Lift. In true Capricorn/Rio fashion, I meticulously tracked how each felt upon application and how the formula wore both on clean skin and over foundation, and I kept a photographic documentation of how my brows looked at the start and finish of each day.
Each brow-gel finalist had its merits: Got2Be, for example, has without a doubt the best lift and hold (seriously, your brows will not move), but the formula dries and leaves behind an intensely crunchy feeling that I found far too uncomfortable for daily wear, though I do tend to reach for it on nights out. Refy's Brow Sculpt creates that ideal, gorgeous fluffy-brow look and secured the runner-up spot, but I found the multiple applicators weren't that intuitive to use, so I'd avoid reaching for it if I was doing makeup in a rush (which is often!).
At the end of the three months, I had settled on my favorite, but just to make sure there wasn't a beloved brow gel I was missing, I shared this project with my followers on Instagram, asking them to throw their favorite gels into the ring. Almost instantly, my friend, industry veteran, and legendary product developer Alexis Page messaged me, confirming that my pick was indeed one of her favorite brow products of all time. Knowing that she was responsible for formulating so many iconic brow gels herself, including Glossier's Boy Brow, I knew my intuition had been correct.
The Rio Brow Gel Challenge Winner: e.l.f. Brow Lift. Unlike other contenders, Brow Lift doesn't come in a tube but rather a pot with an accompanying spoolie, which reminds me of the soap-brow trend that became popular on red carpets in 2016. But unlike soap brows, which creates an intense, laminated look, Brow Lift is able to achieve the same hold with a more natural, subdued effect. While the idea of a pot and spoolie might sound cumbersome and less convenient than a traditional tube gel, it actually gives you much more control over how much of the formula is on the spoolie before applying it, and this avoidance of excess product reduces the likeliness of flaking.
To apply Brow Lift, you take a small, half-a-grain-of-rice-size amount and roll your wand around it, making sure the spoolie is totally saturated. Then brush the tacky, jelly formula onto your brows, using a good amount of pressure so that each hair is coated, lifted, and pressing down into your skin. Repeat this until you're happy with the shape that you've molded your brows into. I stop here, as I prefer a more natural look, but if you want to create that more intense, soap-brow effect, you can then take the other end of the spoolie that's shaped like a spatula and use the sides to further press the hairs down into the skin, which will create a laminated look.
Brow Lift creates a natural, fluffy, feathered-brow effect that holds your brows in place without leaving any crunchy residue or flakiness behind. But one of the best aspects of Brow Lift is undoubtedly the price: The pot costs six dollars and the spoolie is four dollars, but seeing as such little product is required to get a good hold, I've used this product religiously for a month now and have barely made a dent.
And while I myself have pretty thick, caterpillar-like brows, the formula worked really well on my mom's thinner, less full eyebrows as well. Brow Lift's waxiness, rather than quick-drying runny gel, makes the hairs really easy to shape, so that you're able to hide sparse areas while creating maximum volume and lift.
A tube brow gel may reduce application time by a few seconds, but you lose control and results for that convenience. The e.l.f. separate spoolie and gel pot gives you precise application and feathery brows — all for about ten bucks.
The Winner
This affordable, drugstore brow gel creates fluffy brows that stay in place all day without flaking. The hydrating, malleable, waxy formula also prevents your brows from ever feeling crunchy or crusty, so it's extremely comfortable on your skin throughout the day. The spoolie and potted gel together cost ten dollars, but you'll only have to replace the gel itself down the road, which is only six dollars.
The Runner-Up
Refy was a close second. It has great hold and does an incredible job of creating that fresh-faced, feathery-brow effect. This product has multiple applicators — a comb, a brush, and a traditional spoolie — so it does have a bit of a learning curve, but once you figure out how best to use it for your brows, it has a wonderful hold that keeps your brows lifted all day.
The Strategist is designed to surface the most useful, expert recommendations for things to buy across the vast e-commerce landscape. Some of our latest conquests include the best acne treatments, rolling luggage, pillows for side sleepers, natural anxiety remedies, and bath towels. We update links when possible, but note that deals can expire and all prices are subject to change.