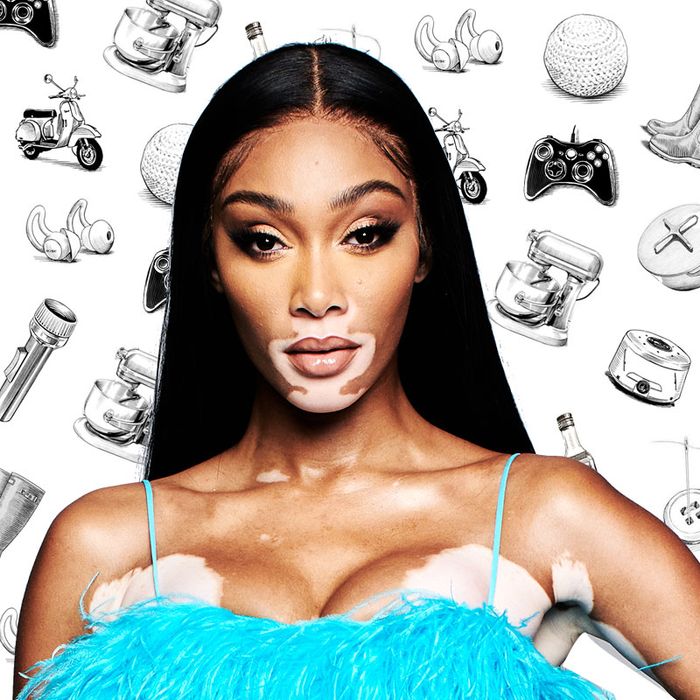 Photo-Illustration: The Strategist; Photo: Retailer
If you're like us, you've probably wondered what famous people add to their carts. Not the JAR brooch and Louis XV chair but the hair spray and the electric toothbrush. Model Winnie Harlow announced today that she's the newest ambassador for nail brand Sinful Colors. Ahead of the news, we spoke to her about the candle her NBA boyfriend introduced her to, the lip balm she impulse-bought at Sephora, and the face cream her friends steal from her.
My boyfriend Kyle Kuzma actually introduced me to this brand. It has a wood wick that crackles when it's lit. It's so powerful. You can light one, and the whole downstairs will smell like the one candle, which I love. I try a lot of candles, but not all of them are as powerful. I prefer sweet candles — not like the ones that are disgustingly sweet, but just a really good, homey kind of sweet. I like masculine scents on me, but sweet scents for my home. The vanilla-bean and cookie-butter scents are my favorites.
I picked this up in Sephora in the little aisle near the register where you can get stuck and buy a ton of extra stuff you didn't intend to buy. This was definitely an impulse buy, but I've been using it ever since. They make this lip balm in a tin and a tube. I don't love the tin, I'll be honest. I'll put my finger in it to rub it on my lips and be like, Is this sanitary? But the texture of the product in the tube is not the same. It's smoother and less hydrating. The balm in the tin stays on you for a long time. Once you put it on, you're done, it lasts. I use it on my cuticles. I put it on top of my hand moisturizer to make my skin feel more buttery and smooth. I have to have it in my purse at all times.
Beats are the best. It gets so loud, and it has a really good bass. I can't even remember when I first bought a Beats Pill. It's been a long, long time. I've also bought multiple of them, too, because I have lost so many on trips. After losing the first few, I learned my lesson, so now I always make sure I have three at one time. One stays in my house. One travels with me. And then I always keep a backup wherever I go because the one I travel with may not come home with me. My boyfriend always steals them, too.
I'm not a laptop girl; I'm an iPhone girl. I do everything from work to social media to talking to my family on my phone. Literally everything is on my phone, so I can't let it die. This charger has a good amount of battery life. I like that it has two different cords: one for the iPhone and then a USB-C cord for my iPad or laptop if I need it, so I don't need to carry another cord with me. It also plugs directly into the wall. A lot of other battery packs need a separate cord to be charged, which is just another cord I have to carry. This is so convenient, and I don't have to worry about cords getting tangled in my purse or when I travel.
My mom took Epsom-salt baths all the time when I was young, so I adopted that practice from her. It has really good benefits for stress and muscle soreness. I always keep it in my bathroom. I've used bath salts at hotels when I travel, but I feel like they're just there to smell nice; they don't do anything for your muscles, unlike Dr. Teal's, which actually soothes me and makes me feel less sore. I actually don't love the smell of lavender, but it does put me to sleep. It's kind of like chamomile tea; it's not my favorite tea, but if I need something relaxing, I'll drink it.
I'm going to be honest: Khloé [Kardashian] has been sending me Good American products since the launch of the brand. I've tried it all, and her brand has really evolved over time. This is not a diss or anything, because Khloé is like a big sister and I admire her work so much, but her stuff gave off more of a jeggings vibe, similar to Fashion Nova at the very, very beginning. I mean, the fit of her stuff and Fashion Nova is bomb, but it felt very fast fashion. Now, her stuff is so high-quality. This pair has that perfect vintage, Levi's-quality feel. They are bomb-ass jeans. I've packed them everywhere since I got them. I throw them on with my favorite tee and some sneakers. They're so comfortable, and they actually feel authentic.
This is another thing I picked up from my mom. This type of tea is really big in the Caribbean, and I'm Jamaican, so I was introduced to it very young. This isn't the brand I used as a kid, but it's the one that tastes the closest to what my mom used, which is probably why I'm drawn to it so much. The crystals actually give the tea a more potent taste than tea leaves. I drink it every day.
I am an hour-long skin-care girl. I take a long shower or bath, then I'm in the mirror putting on lots of serums and masks and creams for a while. I'm a product junkie. I like the Magic Cream as a night cream. It's a little heavier than most other moisturizers, so it's nice to apply over all my serums and any lighter creams. It really locks moisture in. I don't have dry skin, per se; it depends on what time of year it is or how much I'm traveling. But I really love to keep my skin hydrated. I got all my friends into this cream, too. Every time they see it, they'll be like, "Oh my God, you have Magic Cream! Can I have it?" And I'm like, "Girl, go buy your own." But I always end up sharing.
I wear a lot of jewelry, but this is my favorite brand. It's super-affordable and very on-trend. I love to stack her jewelry for a full look. The designer is this really sweet Black girl who just gets it. I swear she is starting the trends with jewelry sometimes, because when I see things that are starting to become popular, I'm like, "She was on this way before everyone else!" I wear all her pieces a lot, but I probably wear this thick gold, chunky bracelet the most right now.
I met the founder of this brand at a Fendi event, and I just loved what he had to say about his brand and developing fragrance. He's actually the same person who makes Baccarat Rouge 540 that everyone is so obsessed with right now. People focus on that scent, but he has so many other ones that I think are honestly better. I discovered this last summer. It's very fresh and light. I like to layer my fragrances, so I wear a masculine, musky scent on the bottom, then put something sweet on top. I get compliments on how I smell everywhere I go. One time, I was walking the red carpet, and I hugged Saweetie, and she was like, "You smell so good!" Then I talked to different reporters and they all complimented me, too.
This does have a scent, but I like it for the color, since I'm not really sitting around smelling my nails. I really like nude colors on my nails. It's sophisticated but also really pretty. I do my nails every time I have a job to look put-together or every time I have my own personal things going on — like if it's my birthday, I need special birthday nails, so I'll paint them. It's not healthy to keep paint on your nails all the time, but Sinful Colors is actually really nourishing and contains ingredients that protect your nails. [Editor's note: Winnie is an ambassador for Sinful Colors.] It lasts a really long time.
The Strategist is designed to surface the most useful, expert recommendations for things to buy across the vast e-commerce landscape. Some of our latest conquests include the best acne treatments, rolling luggage, pillows for side sleepers, natural anxiety remedies, and bath towels. We update links when possible, but note that deals can expire and all prices are subject to change.