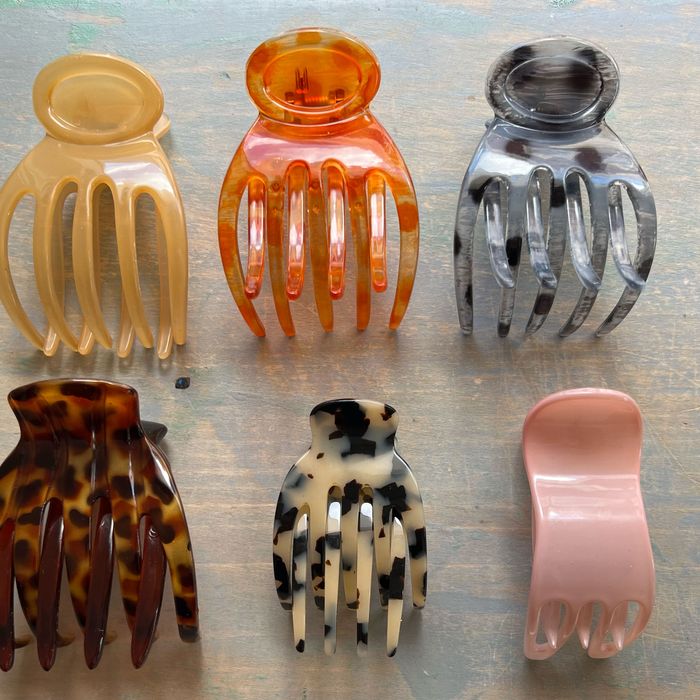 From left to right, top to bottom: My original French Atelier claw and the two new ones; Medusa Heirlooms, French Amie, and Parcelona clips.
Photo: The Strategist; Photo: Lauren Ro
Trends be damned, I've been wearing hair claws since the '90s and have never stopped. From actual butterfly-shaped ones to the classic Rachel Green-style clips, I've tried them all. For the record, I'm a claw clip devotee because I hate having hair in my face. Hair ties usually feel too tight so I only use them for workout ponytails. After years of twisting, clamping, and securing my hair with trusty acetate prongs, I've finally settled on a claw type that's far superior to everything I've tried in the past.
I found it nearly a decade ago at a tiny accessories shop in Manhattan's Koreatown, Shine 32, where I'd stock up on claw clips that I couldn't find anywhere else. Most of my clips were designed in Korea and made in France, where I'm convinced the best accessories are from. (Alexandre de Paris is 50 years old, and the first luxury hair-accessories brand.)
My favorite was a large claw from the brand French Atelier. It looked less like a Venus flytrap and more like a bivalve with asymmetric halves. Unlike the average claw, this one had a flatter side that gently curved around the head and a domed top that held the hair in place. And instead of standing upright, this one slid in sideways and lay flush against your scalp. The teeth didn't poke, allowing you to rest the back of your head against a headrest. It was sturdy as hell, too, as it was made of a more flexible plastic that never broke, even after I'd dropped it a million times. I owned dozens of clips of various sizes and provenance, and this was the one I almost always grabbed because it was so comfortable and versatile.
Two years ago, the claw's metal spring rusted and snapped. I was devastated. Not only had Shine 32 been closed since 2016, the manufacturer only sold wholesale and never returned my emails. And I'd never seen a clip like it anywhere else, even after hair accessories started trending in 2019.
Every so often I would check the manufacturer's website to see if I could find any new information about the clip, and finally, last July, they listed it: The Yoga French Hair Claw — "yoga" because its flat profile allowed you to lie down and not get poked by the claws.
I found a couple of boutiques that carried that exact style (in different colorways), and I promptly ordered two from Nashville-based Freshie & Zero. When they arrived, I was a little disappointed by the quality, as the prongs on one of them felt jagged and would catch on my hair, but I was able to scrape off the excess plastic bits with my nails. The other one was a little better overall. In all other respects, the clips were identical to the original, and the plastic was just as malleable. I learned that it's made from cellulose acetate, a bioplastic derived from wood pulp that's more flexible than conventional plastic and therefore less prone to breakage. After those tiny adjustments, they felt as good as the one I had bought so many years ago.
Now that I was armed with a searchable term for this new class of hair claws —  they also go by "bear paw" or "flat jaw" clips — I wanted more. Turns out, they're not as rare as I thought, though you still have to dig. Other made-in-France companies like Medusa Heirlooms and Parcelona make them, and Scunci has one, too. I promptly ordered one from Medusa (handmade in France; also sold at Free People) because I liked its wider, more stylized look. When it came, I noticed that it felt a bit more substantial than my French Atelier ones, but the tines were a bit shorter, and I still found myself reaching for my French Ateliers, as they could hold all of my long hair (it's past my boobs). Medusa's was better for my half-up style.
I also found narrower and smaller versions by Parcelona and French Amie, a brand of Parcelona that's handmade in France, and bought them, too. I was impressed with the French Amie clip, which was much smaller than I was envisioning, sort of like a mini version of my French Atelier clips, but beautifully made in a "white Tokyo" tortoiseshell pattern that looked really high-end. The edges were perfectly smooth and the grip nice and tight. Because of its petite size, it worked better for half-up styles, as did the longer, narrower Parcelona clip, which also felt durable but not as luxe. Both, like the French Atelier clips, are made of cellulose acetate as well. I should note that all of these are on the pricier side, so my next purchase will be the Scunci, which looks like a smaller version of the Medusa but costs a fraction of the price at $4.
Now that I have two small children, I found that the yoga claw is also fantastic for the "mom bun": I can hastily wind my hair into a donut and slip the claw in from the top in five seconds flat and forget about it for the rest of the day because the grip is so tight. And while I don't do a lot of yoga, I do quite a bit of mat work that requires me to lie down on my back, and these clips don't get in the way. That means that as long as I'm not doing high-impact exercise, I can even wear them when I work out.
The Strategist is designed to surface the most useful, expert recommendations for things to buy across the vast e-commerce landscape. Some of our latest conquests include the best acne treatments, rolling luggage, pillows for side sleepers, natural anxiety remedies, and bath towels. We update links when possible, but note that deals can expire and all prices are subject to change.