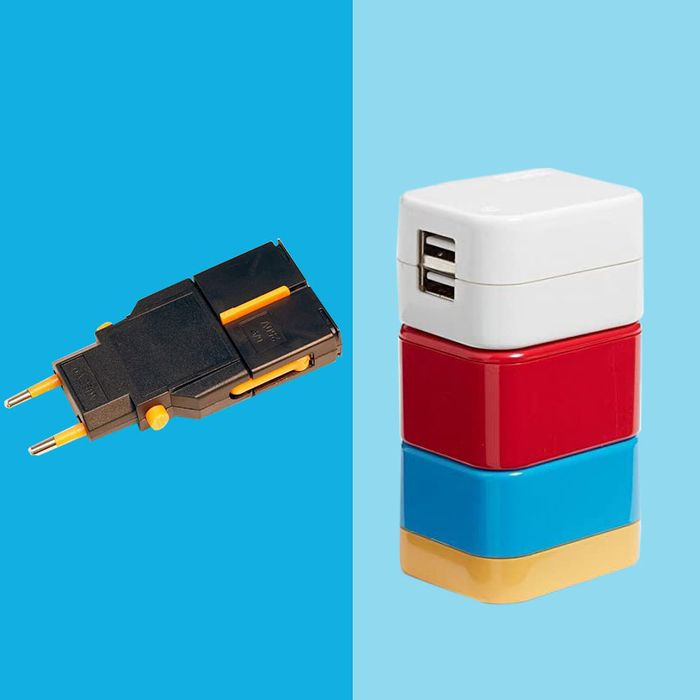 Photo-Illustration: Getty Images
When you're traveling overseas, a good travel adapter is as essential as your passport. At minimum, it should be reliable, a travel gadget you can be sure isn't going to start a minor electrical fire or ruin your valuable electronics, yet compact enough to stow away in your carry-on suitcase and slot into inconveniently placed outlets. But otherwise, finding the best travel adapter really depends on what kind of traveler you are, as well as how many countries you're traveling to and what kind of devices you're bringing along for the ride. So we spoke with 11 frequent travelers about their go-to plug and international adapters to find the best travel adapter for every type of trip, whether you're looking for a straightforward European plug adapter for your first trip to Paris or a universal plug adapter that you can bring with you on a yearlong world tour. A note: While they'll give you access to the grid, travel adapters don't convert power voltage, which can vary between countries. While most smartphones and tablets are dual-voltage these days, you'll want to double-check the specifications of your devices before leaving on your trip.
Best travel adapters for short trips
If you're only visiting one country on a casual, weeklong vacation, or don't frequently travel abroad, you don't really need to invest in a major universal power adapter. For years, travel writer (and former New York Times Frugal Traveler columnist) Matt Gross rotated through a series of single plug adapters. "Depending on where I'm going, I take the pieces I need," he explains. And though this system isn't as sleek as some of the other universal adapters on this list, it's also arguably the easiest to use, as well as the most cost-effective, since these adapters can cost as little as $5. This one even has two outlets.
Scott's Cheap Flights founder Scott Keyes doesn't usually bother with a bulky universal adapter, either, especially as many of the generic ones won't fit into smaller outlet spaces. "At least for Europe travel, I'm a fan of something small," he says, suggesting these simple Unidapt converters. They're designed to fit into those finicky hexagon wall outlets found across continental Europe, but take note that they won't work in the United Kingdom.
This color-coded adapter system from Flight 001 is also designed to help you pack your charging gear country by country. As Strategist contributing writer Laura Perciasepe explains, "Various countries around the world are color-coded on a world map drawn onto the box the adapter comes in." When planning a trip, "you simply look at what color the country is on the map to see which color plug corresponds with your country." Travel vlogger Nadine Sykora of Hey Nadine is also a fan "because you can break it apart and only take the plugs you really need with you on each specific trip — it's just really small and easy to use, plus I love the colors."
Best travel adapters for long trips
If you've got a few more small gadgets that you want to charge, or are traveling with a partner who also needs to charge their phone, Oneika Raymond, travel journalist and host of Travel Channel's Big City, Little Budget and One Bag and You're Out, likes the all-in-one charger from Epicka. "It covers 150 countries and has four USB ports, which means it's possible to charge five devices at once."
Hack your MacBook with this clever charging set that was recommended to us by Andrew Kunesh, a senior reporter at The Points Guy. "It adds two USB ports to your MacBook charger and has plug adapters for all international regions," he explains. "It's powerful enough to charge my older iPad Pro, Apple Watch, and other accessories, albeit slower than on a fast charger."
If you are in need of a more heavy-duty way to plug in larger electronics while overseas, the Bestek Universal Travel Adapter comes highly recommended. Like the Epicka, this one has four USB ports, but it's also got three power outlets and a five-foot-long power cord, which is ideal for rooms with inconveniently placed outlets. And unlike the other adapters on this list, it will convert voltage. Kathryn Sheldon, director, producer, and photographer who often travels overseas with her camera gear, calls it a "godsend" for safe charging (though not for hair dryers, sorry). "It's a little bulkier than just buying a simple plug adapter, but I won't travel internationally without it now."
This adapter is still pretty compact, though. "It weighs just 1.2 pounds, so I can stuff it in a carry-on, no fuss," says Ashlea Halpern, editor-at-large for AFAR Media and co-founder of Cartogramme. "And it never overheats or short-circuits! The last thing I want to do is blow out my laptop in middle-of-nowhere, Vietnam. Best of all, the plug adapters and E.U. plug cable fit outlets all over the world: North America, the U.K. and Continental Europe, India, China, Australia, the Middle East. I reckon this adapter is the only thing I carry on my person that's as well-traveled as my passport."
Best travel adapters for minimalists
Pack Hacker editor Lauren Maternowski says this tiny, design-y adapter is "a go-to" among her staff when packing for an international trip. "Using an almost transformer-like mechanism, it can adapt outlets from 150 different countries across the globe," she says. The adapter weighs just 1.75 oz, and, crucially, "its slim design makes it easy to pack."
For another ultrapackable option, Sykora suggests this affordable universal adapter from Insignia. "Usually I'm not worried about converting the electric voltage, because most of my electronics will have converters already built into them," she says. "So I'll pack two of these and I'm pretty much good to go for 95 percent of all the travel I do."
Matthew Kepnes, founder of Nomadic Matt and author of How to Travel the World on $50 a Day: Travel Cheaper, Longer, Smarter, uses this simple universal plug adapter, with two USB ports and one main outlet, on his travels. "It works for everywhere, is cheap, and comes with USB ports. I think it's the best, and it has everything you need!" This simple style of plug adapter is a solid option for folks who are mostly charging headphones, cell phones, and other portable gadgets while traveling, rather than major electronics like cameras or laptops.
Best travel adapter accessories