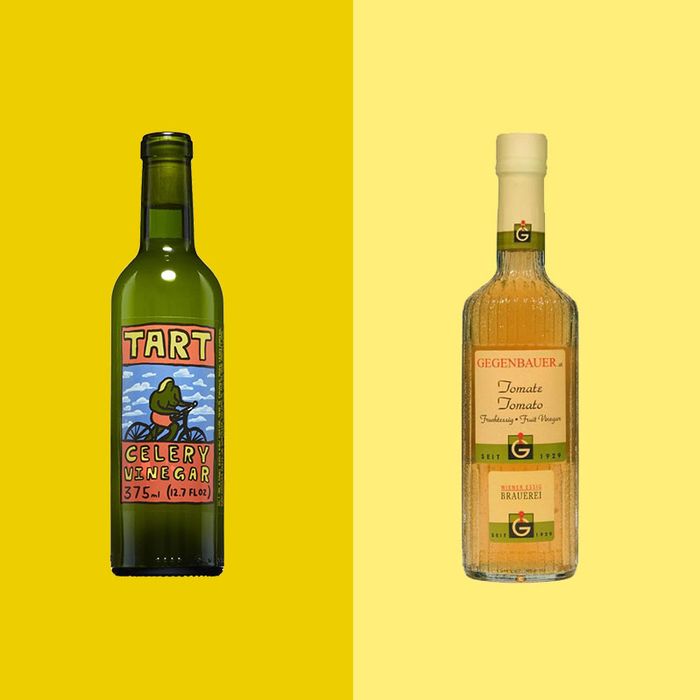 Photo-Illustration: retailers
If you consider yourself a fairly serious home cook, you already know that acid is a vital component to pretty much every dish. If not, let this be your introduction: Acid brightens, balances salt and fat (two other nonnegotiable elements of a well-rounded plate), and in the best cases, adds layered flavor. Vinegar is one of the simplest ways to achieve this complexity, but it's not as easy as just grabbing whatever you have in the cabinet. The world of vinegar is vast, so to help you navigate it, we consulted experts to find out their favorites and exactly what to use them for.
"Vinegar is a product that is fermented past alcohol," explains Michael Harlan Turkell, author of Acid Trip and a true connoisseur of vinegars of all kinds. "So anything that can be made into an alcohol can be made into a vinegar. And any sugar can be made into an alcohol. And any starch can be made into a sugar." This is basically a backwards way of saying that there are a lot of ingredients that can be turned into vinegars — wine, of course, but also grains, vegetables, and fruits. You are likely already familiar with rice wine vinegar (which comes from a grain) and apple cider vinegar (which comes from a fruit), and while we got recommendations for some of these more traditional types, there's also a lot of innovative, out-there products that deserve a spot in your pantry.
"I think vinegar is having a bit of a renaissance as an ingredient," says chef and food writer Andy Baraghani. "I have so many different kinds in my pantry that I reach for all the time — to dress greens and vegetables, to add to braises, to finish soups or fatty roasted meats to bring them back to life, for desserts." Soon you'll be using vinegar for way more than just vinaigrette (but also lots of vinaigrette) — and your cooking will never be the same. Read on for the full list of recommended options.
The best wine and Champagne vinegars
Martin Pouret is Turkell's go-to for wine vinegars. They're made in Orléans, once home to hundreds of vinegar producers (supplying about 80 percent of France) because of its location on the Loire River. When wines traveling by boat to Paris from other parts of the country went bad on their journey, they would be unloaded at the port of this coastal city. Left consistently with spoiled wine, many residents turned to vinegar-making, but now Martin Pouret is the only one left. "They've been making vinegar for around 400 years, with the same barrel-aged process they've always used," says Turkell, who likes to use the brand's vinegars for anything French, especially sauces like hollandaise and béarnaise.
For American-made wine vinegars, Turkell turns to Katz, whose products come from vineyards in and around Napa Valley. These vinegars are "bigger and bolder than their French counterparts," he says, "with a bit of added sugar for sweetness." The Agrodolce vinegars in particular are so balanced that you can add them straight to a salad with no oil.
"This is probably the vinegar I use most," says Fanny Singer, author of the cookbook Always Home and co-founder of the design shop Permanent Collection. It's actually made by her dad, who farms biodynamically in the Sonoma Valley to produce a standout product from his estate Syrah wine. "It doesn't taste like the acrid, pale-red citric acid that's marketed as red wine vinegar in most supermarkets," she says. "Before he had his own vineyard in California, my dad moved to Tuscany and began importing vinegars, which became the bedrock of what they used at Chez Panisse [her mom's restaurant]. Then he started growing his own here in that same Italian style." Singer uses it in dressings ("I make at least two a day," she says), and also to finish garlicky greens or as a mignonette — really any dish that leans Italian, French, or Mediterranean.
"I've used Forum's vinegars for years," says Baraghani. "What I love about this one is that there's some residual sugar, so when you taste it, you're not getting a sensation so intense that your cheeks tingle. It has an almost honeylike quality that makes it very well-rounded." This is a great one to layer with other acids, whether citrus or vinegars with different flavor profiles.
Banyuls vinegar can be a bit difficult to source in the States, but it's one of the most prized vinegars in Singer's collection. As all Banyuls vinegar does, it comes from a specific place (just like Champagne technically has to come from the Champagne region of France): Banyuls-sur-Mer, a town in southern France, right near the border of Spain. They produce Grenache grapes there, and in turn this slightly sweet vinegar.
"I prefer Champagne vinegars to white wine vinegars — especially in California, where white wine vinegar ends up having a Chardonnay profile," Singer says. "That comes across in this vinegar. It's less unctuous, and therefore more versatile." Again, she mixes this vinegar into dressings, but will also sprinkle some straight on top of vegetables. "When you have good vinegar, you don't have to do a lot to your food," she says.
"My husband's family loves this wine," says Naz Deravian, author of Bottom of the Pot, "and the vinegar is really nice, too. It's not quite bubbly, but almost effervescent, and on the milder end. I use it on crisp little gem lettuce, or as a finisher on a piece of fish in place of lemon." (Her go-to for every day is Trader Joe's red wine vinegar, which is tough to find online. It's a bit sharper in taste, and perfect for dressing her nightly salads and drizzling on the Persian soups and stews that are often on her dinner table.)
The best beer vinegar
"There should be more beer-based vinegars," says Turkell. "We have so much great craft beer in this country and not a lot of great beer vinegars." The exception, however, is American Vinegar Works, which produces many different kinds of vinegar in general, and got a couple of mentions by our experts. Though it's currently sold out, their beer malt vinegar is a favorite of Turkell's — "light, bright, low-acid, and perfect with fish and chips." You can sign up on its website to be notified when it becomes available again.
The best sherry vinegars
Turkell is also a fan of this super-solid sherry vinegar from Spain. The company makes a lot of wine vinegars he likes, too, but the sherry, he believes, should be on everyone's shelf. Sherry vinegars tend to have a bit of a stronger taste than red wine vinegars, so Turkell pairs it with foods that can stand up to it, like grilled octopus, Romanesco, and beans.
"Sherry isn't a drink I particularly like," Singer says, "but something about sherry vinegar is so good." She uses it in vinaigrettes, along with red wine vinegar, to add dimension to a mignonette, and most often, to deglaze pans after cooking something like a pork chop.
[Editor's note: This vinegar is currently sold out, but depending on your location, you may be able to get it through Instacart.]
"This one, from a family-owned bodega in Spain, is older than I am by a few years, and has aged more gracefully," (half) jokes Jessica Battilana, food writer and author of the cookbook Repertoire. But really, she says, "It makes the most delicious, non-astringent, full-flavored vinaigrette, and a few drops will enliven a tomato salad. I love its pronounced nuttiness and depth." You should also expect to taste hints of blueberries.
The best distilled white vinegar
"Distilled white vinegar gets a bad rep," says Deravian. "People think it should only be used only as a cleaning product — but I don't know how that happened." White vinegar, which is made from a vodkalike grain alcohol, is certainly intense, but she puts it to use in many ways. "It has a really clean, clear taste," she says, "which makes it perfect for when you want a tang, but not necessarily a ton of added flavor, like in creamy dressings, or in a gravy, or for deglazing a pan that already has a lot going on." It's also super-cheap, which makes it great for pickling, where you need a larger volume of liquid.
The best balsamic vinegars
Atara Bernstein, co-founder of Pineapple Collaborative and maker of the ACV (below), readily uses this syrupy balsamic vinegar from Modena, Italy. There are certain types of balsamic that are highly regulated in terms of where they're made and how long they're aged, and while this is technically defined as a "balsamic vinegar condiment," it can be used pretty much interchangeably. It's the thickest and sweetest of the three versions produced by a woman named Mariangela Montanari. "It has a beautiful, silky texture and caramelized flavor that's a bit sweet and a bit sour," says Bernstein. "I use it in dressings, of course, but it's also amazing with steak and as a finisher over roasted vegetables."
Emily Schildt, founder of Pop Up Grocer, uses Brightland's balsamic vinegar all the time. "I love to reduce it a bit and put it on everything," she says. "Tomatoes, cheese, you name it. It also pairs really well with Brightland's Champagne vinegar, Parasol. I like to mix the two together." Deravian also likes the Champagne vinegar, especially when it comes to drizzling it on fruits, because of the citrusy notes. "Plus," she says, "the bottle is so pretty sitting out on your counter."
"Someone gave my wife and me a bottle of this vinegar when we got married and we just finished it last year, around our 17th anniversary, having savored every drop," says Battilana. While a real, deep, delicious balsamic is not something she poured into her everyday dressings or wasted on cooking, a drizzle on Parm, bread, and on panna cotta or vanilla ice cream really let it excel. "This special, ambrosia liquid is made according to a time-consuming, traditional, and painstaking process and is the highest available grade," she explains. It's a bit sweet, a bit sour, and dense and intense all at once. A small bit will get you far. At $275 a pop, you really have to want to indulge — but it's something special that will last quite a while.
The best fruit vinegars
"I might be a little biased, but this is the main vinegar I use at home," says Bernstein of this vinegar made by the company she co-founded. She's not alone: It came up many times as a favorite of our experts. Made by Joanne Krueger from three varieties of apples grown on her California farm, and aged in whiskey barrels to impart a slightly smoky flavor, The ACV is much more "apple-y" than the bottle of Braggs most people keep in their kitchens. "You can really taste the fruit," says Bernstein, "both the skin and the flesh. But it's very mellow at the same time." She drinks it straight every morning, as apple cider vinegar has known properties that are good for your digestive and skin health. Pineapple Collaborative also leaves the mother in the bottle (like what you see in kombucha), which means they don't strain out any of those good probiotics, and it continues to ferment more as it sits on your counter. When it comes to cooking, Bernstein says the ACV is great in dressings and marinades.
Krueger has her own line of products, too, which three of our experts pointed to as some of the most delicious apple cider vinegars on the market (including Bernstein, of course). Krueger makes a straightforward one that is aged for fewer months than the ACV (18 versus 24), but she also carries a myriad of other varieties, like Apple Cider Vinegar with Turmeric, Apple Balsamic Vinegar, and Apple Cider Vinegar with Blood Orange + Meyer Lemon. "I feel like apple cider vinegar can often taste yeasty and musty," says Singer. "But this one has a clear, bright taste with an ambient sweetness."
"These guys are the cool kids," says Turkell. In fact, when he first heard about the company, he wondered if its vinegars — hybrid styles with more than one ingredient and chef-driven profiles — would be all hype. As it turns out, "they're really well-made," he says. Most are so singular, they'd be hard to apply to a lot of uses in the kitchen, but Turkell likes this one because it's a bit more user-friendly. "It can go on beans, in dressings, and in marinades," he says. For her part, Schildt likes the brand's Strawberry Rosé. "I would definitely use it in a salad dressing," she says, "but it would also be so delicious drizzled over vanilla ice cream."
Reginald Smith produces many varieties of fruit vinegars out of Pennsylvania — including pumpkin, watermelon, raspberry, and peach. Turkell's favorites, though, are pineapple and date, which he uses mostly for Middle Eastern cooking. "Reggie has such a gentle touch with all the vinegars he makes," he says. The peach vinegar is the only one available right now, and stock is low. When the others become available again, you'll be able to purchase them directly from the company's website.
Turkell believes Gegenbauer makes the greatest vinegars in the world — and describes the man behind the brand, Ignaz Gegenbauer, as "Austin Powers meets Willy Wonka, giving a bit of '70s vibe with so much childlike, giddy wonder when talking about the over 100 different single-origin vinegars he creates." Made in Vienna, Austria, they can be a bit hard to find in the States, but Turkell says any single one you can get your hands on is worth buying. Right now, there are four varieties available at Rare Tea Cellar: this tomato one, a cucumber-fruit one, an asparagus one, and a drinking vinegar made from the same grapes as sherry.
The best grain vinegars
"This is the best rice vinegar I've ever tasted," says Turkell. Iio Jozo, the producer, is based about three hours north of Kyoto and grows his own rice to make his own sake to make his own vinegar. "Sometimes rice vinegars can feel like an acid bomb that hits the back of your throat without much nuanced body or flavor," he explains. "This one is the opposite of that. It feels like you're drinking a really amazing sake." Singer agrees. "I could drink this stuff, it's so good," she says. "It's clean, but not harsh."
Battilana is also a fan of Iio Jozo, but she particularly likes his fig vinegar, which she says "tastes not of the fruit but of fig leaves — slightly nutty, with a coconut-like flavor and a delicate sweetness." It's delicious in salad dressings, particularly salads with fruit, and also with fish and pork.
This is a familiar brand for a lot of people, one of a few you tend to see in most grocery stores. While it's not as nuanced as its counterparts above, it's Baraghani's choice for pickling.
Sarah Hymanson, co-owner of Kismet in Los Angeles, cooks a lot of Chinese food at home, and loves this Sichuan Baoning vinegar. It's made from mixed grains, including sorghum and buckwheat, started with Chinese medicinal herbs, and aged for ten years. "It's very well-balanced, earthy, and fruity — kind of like salty prune juice, in the best way," says Hymanson. Even if you don't do much Chinese cooking at home, she believes this is definitely worth having in your pantry. "I would use it in certain places where sherry vinegar might be called for, like to dress a simple tomato salad," she says.
The best miso vinegar
This vinegar is made with miso, which comes from soybeans and rice koji. Schildt loves it for its slightly salty, nutty, sweet taste, which she thinks is perfect on eggs, in a savory yogurt bowl, in a dressing, or drizzled over fish. Though she hasn't tried Ramp Up's Red Miso Vinegar, she imagines the more deeply intense and full-bodied counterpart would be great for marinated chicken.
The best floral vinegars
Chris Crawford makes small-batch vinegars out of Brooklyn, and they have become treasured across the food industry. "It feels silly to even say this," says Baraghani, "but it really is like the vinegar of the moment." Because of the small scale, the company is often sold out of products, but keep your eyes open for when any come back in stock. The rose and lavender are two kinds that came up over and over again as being wonderful in drinks. The former, made from Diaspora Co. rose petals sourced from India, pairs perfectly with just seltzer as a sort of drinking vinegar, but softer. The latter works beautifully in a smoky mezcal drink. But both have culinary uses, as well. Sara Kramer, the other co-owner of Kismet in Los Angeles, says the "floral zing of the rose is great across both sweet and savory foods." Baraghani likes to macerate or roast with it. And Turkell likes to add a splash of the lavender to any recipe that reminds him of Provence, like bouillabaisse.
The best vegetable vinegars
Turkell describes this vinegar as one of the craziest things he's ever tried. It has notes of garlic, ramp, leek, onion, pickled jalapeño, masa, and sour cream, and the brand recommends using it as a substitute for lemon and garlic in a dish. It can also be added to savory cocktails, like Bloody Marys and martinis. Turkell likes Lindera Farms' Hickory Vinegar, too, which leans smoky and works well in barbecue sauce or glaze for meats.
Although it's also currently sold out, Tart Vinegar also produces a seasonal celery variety that is equally — if not more — beloved as the rose and lavender kinds. "Celery can be polarizing, but I really like the fresh, green taste it has," says Baraghani. Crawford sources the celery from Pennsylvania, blends it, and then ferments it. Turkell uses it as a topping on oysters ("You don't even need to make a mignonette," he says), and Singer likes to douse slivered cucumbers with it and toss them with sesame seeds and sea salt. You can also mix this one into seltzer and drink it "like an unsweetened shrub," Singer says. For his part, Baraghani thinks this one is great on top of boiled potatoes.
The mid-Atlantic-based company Keepwell also sources from Pennsylvania to make its celery leaf vinegar (who knew Pennsylvanians were so good at herbaceous plants?), another favorite of Bernstein's. "I really like how light and bright it is," she says. "This one tastes very green and herbal, but with a twinge of a bitter, tawny flavor." Turkell has good things to say about Keepwell, too. "The founders are ex-pastry chefs, so if you want inspiration for what to do with some of their more out-there flavors, follow them on Instagram," he advises. "They even post some actual recipes."
The Strategist is designed to surface the most useful, expert recommendations for things to buy across the vast e-commerce landscape. Some of our latest conquests include the best acne treatments, rolling luggage, pillows for side sleepers, natural anxiety remedies, and bath towels. We update links when possible, but note that deals can expire and all prices are subject to change.