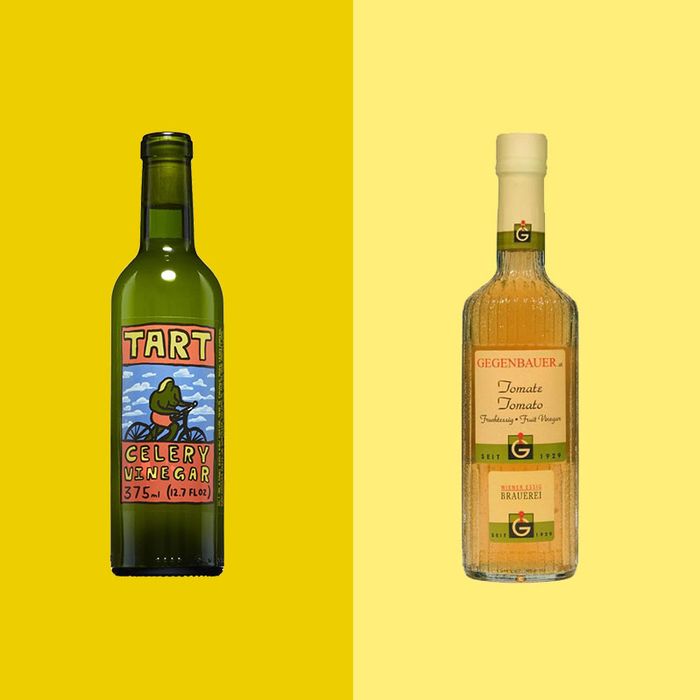 Photo-Illustration: retailers
If you consider yourself a fairly serious home cook, you already know that acid is a vital component to pretty much every dish. If not, let this be your introduction: Acid brightens, balances salt and fat (two other nonnegotiable elements of a well-rounded plate), and in the best cases, adds layered flavor. Vinegar is one of the simplest ways to achieve this complexity, but it's not as easy as just grabbing whatever you have in the cabinet. The world of vinegar is vast, so to help you navigate it, we consulted experts to find out their favorites and exactly what to use them for.
"Vinegar is a product that is fermented past alcohol," explains Michael Harlan Turkell, author of Acid Trip and a true connoisseur of vinegars of all kinds. "So anything that can be made into an alcohol can be made into a vinegar. And any sugar can be made into an alcohol. And any starch can be made into a sugar." This is basically a backwards way of saying that there are a lot of ingredients that can be turned into vinegars — wine, of course, but also grains, vegetables, and fruits. You are likely already familiar with rice wine vinegar (which comes from a grain) and apple cider vinegar (which comes from a fruit), and while we got recommendations for some of these more traditional types, there's also a lot of innovative, out-there products that deserve a spot in your pantry.
"I think vinegar is having a bit of a renaissance as an ingredient," says chef and food writer Andy Baraghani. "I have so many different kinds in my pantry that I reach for all the time — to dress greens and vegetables, to add to braises, to finish soups or fatty roasted meats to bring them back to life, for desserts." Soon you'll be using vinegar for way more than just vinaigrette (but also lots of vinaigrette) — and your cooking will never be the same. Read on for the full list of recommended options.
The best wine and Champagne vinegars
Martin Pouret is Turkell's go-to for wine vinegars. They're made in Orléans, once home to hundreds of vinegar producers (supplying about 80 percent of France) because of its location on the Loire River. When wines traveling by boat to Paris from other parts of the country went bad on their journey, they would be unloaded at the port of this coastal city. Left consistently with spoiled wine, many residents turned to vinegar-making, but now Martin Pouret is the only one left. "They've been making vinegar for around 400 years, with the same barrel-aged process they've always used," says Turkell, who likes to use the brand's vinegars for anything French, especially sauces like hollandaise and béarnaise.
For American-made wine vinegars, Turkell turns to Katz, whose products come from vineyards in and around Napa Valley. These vinegars are "bigger and bolder than their French counterparts," he says, "with a bit of added sugar for sweetness." The Agrodolce vinegars in particular are so balanced that you can add them straight to a salad with no oil.
"This is probably the vinegar I use most," says Fanny Singer, author of the cookbook Always Home and co-founder of the design shop Permanent Collection. It's actually made by her dad, who farms biodynamically in the Sonoma Valley to produce a standout product from his estate Syrah wine. "It doesn't taste like the acrid, pale-red citric acid that's marketed as red wine vinegar in most supermarkets," she says. "Before he had his own vineyard in California, my dad moved to Tuscany and began importing vinegars, which became the bedrock of what they used at Chez Panisse [her mom's restaurant]. Then he started growing his own here in that same Italian style." Singer uses it in dressings ("I make at least two a day," she says), and also to finish garlicky greens or as a mignonette — really any dish that leans Italian, French, or Mediterranean.