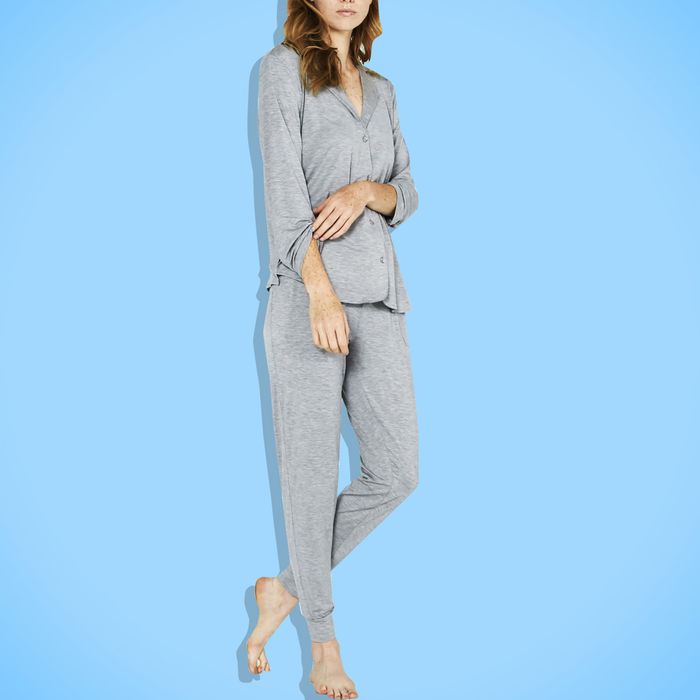 I'm a sweaty sleeper. It's not the sexiest thing to admit, but it's part of my life and something I have to work around when selecting sheets and negotiating the thermostat setting with my husband. Oddly enough, though, despite a lifetime of dealing with this issue, I've never really considered the role my pajamas might play. I've been wearing a variation on the same cotton T-shirt and shorts combo for years. But, with all of the advancements in natural and synthetic fibers, my PJs get at least the same consideration as my gym clothes? There had to be something better out there.
A little internet searching revealed a number of companies designing pajamas exclusively for keeping you cool at night. To see if they actually work, I requested samples from eight different brands and spent three weeks testing out cooling nightgowns, tailored-looking sets, and sweat-friendly versions of the classic shorts and T-shirt look. All of the styles I tried, detailed below, were a huge improvement for me. After my test I went back to my old sleepwear and was shocked by how much sweatier I felt in comparison. Needless to say, my pajamas drawer has gotten a total revamp.
Quick note on washing: Some brands recommend hand-washing and/or hanging their pajamas to dry, but doing that would cost me precious sleep, so I tossed everything in the washer and dryer with no ill effects.
Best overall cooling pajamas
Even though they're not specifically designed for cooling (just temperature-regulating, according to the website), these were my favorite of all the pajamas I tried. The jersey material (a blend of modal, a semi-synthetic material derived from wood pulp, and spandex) is incredibly soft — like a perfectly worn-in, incredibly breathable T-shirt — and I didn't sweat a drop (or it was wicked away before I could notice) on the nights I wore the set. Since I typically try to sleep in as little clothing as possible, I was skeptical about trying a long sleeve top and pants. However, they ended up working better than some of the shorts and T-shirt sets, since more of my skin was covered by sweat-wicking material. Side slits on the top make it even more breathable, and the pockets on the joggers were helpful for carrying my phone while walking around the apartment. The pants have a drawstring for an adjustable fit, and Recliner lets you select the top and bottom in different sizes.
These were also the best-looking pajamas I tried. Both pieces are soft and stretchy, grazing the body for a clean look without feeling at all tight or constricting. Lounging around in the button-down top and jogger pants felt more luxurious than schleppy. Although the v-neck of the top was cut a tiny bit lower than I would have preferred, I'd definitely bring these to a weekend getaway where I might wear them around friends. The joggers, with their tapered cut and gathered ankle cuff, could easily double as lightweight sweatpants. At $115 for both, they're comparable in price to the popular Eberjey Gisele set which, as I can attest, won't keep you as cool.
Best overall (less-expensive) cooling pajamas
The first time I put on the Soma pajamas, I was struck by how cool the fabric felt against my skin. They're made from rayon and spandex, and, compared with the Recliners, the Somas are more silky smooth than T-shirt soft, but they kept me just as cool. The choices for cuts and prints didn't feel as modern as some of the other brands' (a few of them read as a little too "suburban mom" for me), but there are some standouts. I liked the chinoiserie-esque print and contrast piping of the set I tried, and I'm intrigued by this dark floral option. The biggest difference is that the wide-leg pants don't feel as versatile as Recliner's joggers, though.
Along with being able to order your top and bottom separately to get the right size for each, Soma also lets you mix and match prints and colors if you want to get wild. Most pants are available in short and tall lengths, a feature none of the other brands offer.
Best wool cooling pajamas