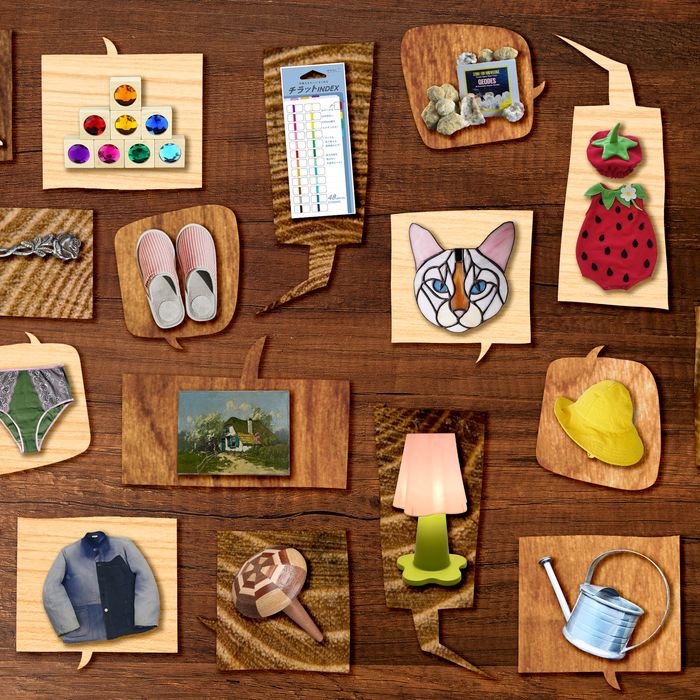 Photo-Illustration: Strategist; Photos: Courtesy of Retailers
This article was featured in One Great Story, New York's reading recommendation newsletter. Sign up here to get it nightly.
.

For authentic, straight-from-Denmark Caprani lamps that are priced competitively, there's no one better than Kasper of Verbo Studio.
.

Yayi and Pony makes blousy linen dresses in all sorts of colors, patterns, and cuts for much cheaper than what you'll find at Rennes in Philly. –L.R.
.

If you want a custom linen dress, I've had one made by Anny that was a beautiful dupe of a much pricier Daniela Gregis number. —L.R.
.

Etsy is really, really good for postmodern furniture, from German Hewi drawer pulls to Magistretti chairs.
In general, I've found searching by manufacturer rather than designer turns up more fun surprises — try Artemide, Cassina, and Kartell. Some great stores include Kooloo Modern, Midage Vintage, Retroxl, and WestEst Studio. Glas Atelier 69 is especially good for lamps; try Franzs Favorites for handles, drawer pulls, hooks, and other small home-décor items. —Erin Schwartz
.

Big Stuffed makes the absolute coolest, extremely heirloom-quality stuffed animals — mostly of sea life — but there are also some dinosaurs and wooly mammoths in the mix.
.

Vintage orange juice carafes (sometimes with matching glasses) were prominent for a couple of decades starting in the 1940s and can be used for a whole lot more than orange juice (iced coffee, water at a dinner party, a vase for flowers).
.

If you're planning on buying something, click the heart icon to add it to your favorites — some sellers will send a coupon, usually 5 to 10 percent off, to nudge you to buy.
Saving the item also means you'll get notified if it goes on sale. —E.S.
.

As a five-foot-one adult who mostly wants to buy menswear, I appreciate kids' store \ for its stock of French nylon collared shirts in austere prints in boys' size 10–12. –E.S.
.

Sometimes a store with 1,000-plus items indicates poor curation or low quality — that the seller is listing everything they find rather than picking through for the real gems.
.

I am kind of a sucker for custom pet stuff — especially as an in-memoriam gift for anyone who is mourning the loss of a beloved animal.
Lady and the Leash makes custom patches that you can iron or sew onto sweatshirts, bags, or whatever else you like (I got one for each of my two cats and stitched them onto Christmas stockings). I also adore the custom stained-glass portraits from Mind and Mineral, which once lovingly captured my sister's dearly departed Saint Bernard, Charlie. —J.T.
.

For cat moms and dads, Miss Maddy Makes has an array of adorable handmade costumes and toys.
My personal favorites are the peanut butter and jelly couples costume and the chef hat. I'm sure these could fit some smaller dogs, too. —Brenley Goertzen
[Editor's note: The owner of Miss Maddy Makes is currently taking a break, but they expect to reopen in June 2023.]
.

If you're looking for a child's costume — and want to avoid a dreaded double-Spiderman situation in the classroom — parents recommend Etsy.
It's home to the mouse Strategist writer Lauren Ro put her littlest one in for his first Halloween, and the sweetest strawberry that the head of public relations at the Sill approves of. —Ambar Pardilla
Check out Depot Sauvage, Fairly Naff, SC Vintage Store, Wonmore, and Fad Archive. —E.S.
.

In the '90s, Nicole Miller made silk goods in an insane variety of oddball novelty prints, all with black backgrounds.
.

A nice-looking summer mule that won't make your feet sweaty are babouche slippers.
Bathen co-founder Hannah Zisman has a pair from a trip to Marrakech and also several from Etsy, which she says are just as lightweight and stylish. —Arielle Avila
.

I recently discovered a shop in Lithuania called Slipper Home that specializes in handmade slippers with the option of custom embroidery.
.

I came across SASAKIYOHINTEN some years ago when I was searching for French work shirts and jackets.
.

The best high-cut, "hot female lifeguard" underwear is made by Elsy Marie, an El Salvadoran woman living in Pennsylvania. —Molly Prentiss
.

I stumbled upon Egretta Garzetta's underwear in a forum (maybe a sub-reddit?) thread on the best women's underwear and have really been impressed by the fit, quality, and longevity of the briefs.
.

Etsy is a great place to find vintage cast iron.
.

If you're looking for funky postmodern lamps on the cheaper end, Ikea had a lot of great designer collabs in the '80s and '90s.
.

Chinese/English bilingual baby books are really hard to find.
.

One of my go-to gifts for first birthdays is a custom name puzzle for the newly minted 1-year-old.
.

Julie O'Rourke (@rudyjude) of Rudy Jude is a great source for Etsy sellers.
I recently learned through one of her Instagram stories of Everwood Friends, maker of a wide range of wooden toys like gem blocks and animal-themed blocks. —W.Y.
.

Etsy happens to be one of the best places to get a new or gently used figure-skating dress, especially if you have little kids.
.

This linen, wide-brim baby sun hat from Blue Corduroy will garner squeals from everyone who happens to see your child wearing it. —L.R.
.

This is by no means universal, but if the listing has a white background or any markers of Photoshop, then there's a higher likelihood that it's being drop-shipped or is a commercial enterprise, not a small seller.
Listings with poorly lit, low-res snapshots with little to no editing — that's where you'll find the real hidden gems. —Kitty Guo
.

I needed a non-terra-cotta pot with drainage for a picky carnivorous plant that I am working very hard not to kill.
.

Crocheting By Rose makes custom name doilies that will delight the grand-millennial décor fans in your life (especially if they're sentimental newlyweds). —J.T.
.

If JetPens doesn't have it, The Stationery Manor, which specializes in Asian goods (Japanese products in particular), most likely will.
Jazz up rolling luggage, your AirPods case, or any other smooth, nonporous surface with your name or initials. —J.T.
.

My dad gets personalized Christmas ornaments for my kids each year.
These are some of his favorite makers: Simply Living Shop Inc., Wallace Wood Ornaments, and Dinosaurnaments. —L.R.
.

Instead of gifting another digital photo frame, consider a custom illustrated portrait.
.

For decently priced, early-20th-century antique oil paintings, my favorite is Sharlene Lisanne. —L.R.
.

Extremely niche, but you can get custom pieces in Baybayin (a native Filipino script from before Spanish colonization) off of Etsy.
.

Lovers of Alexander Calder's mobile art (such as myself) can commission their very own Calder-esque sculpture from a variety of Etsy artists for 1/10,000th of the price tag. —Kitty G.
.

If you're planning a baby shower, Etsy has a plethora of adorable customizable invitation templates.
.

Home decorator Carrie Carrollo loves and uses this sturdy, easy-to-reposition removable wallpaper from Cuckoo Walls. —Stacey Woods
.

As Nu Swim founder Gina Esposito told me last year, vintage sheets look good on the bed but are even better to take to the beach and use as a picnic base.
.

One time I was chatting with a friend who mentioned that she'd bought a cool sweater for cheap from an Etsy vintage store, but she had to wait a bit because it was shipping from Canada. I immediately was like "Is it Polo Mocha?!" — and it was! —Kitty G.
.

If you're a French Revolution nut, Histoire Retrouvee makes replicas of Marie Antoinette's rings — along with other reproductions, including this trim for a 19th-century naval officer moment. —A.P
.

I bought an ultrathin silver stacking ring from Hannah Naomi in 2013.