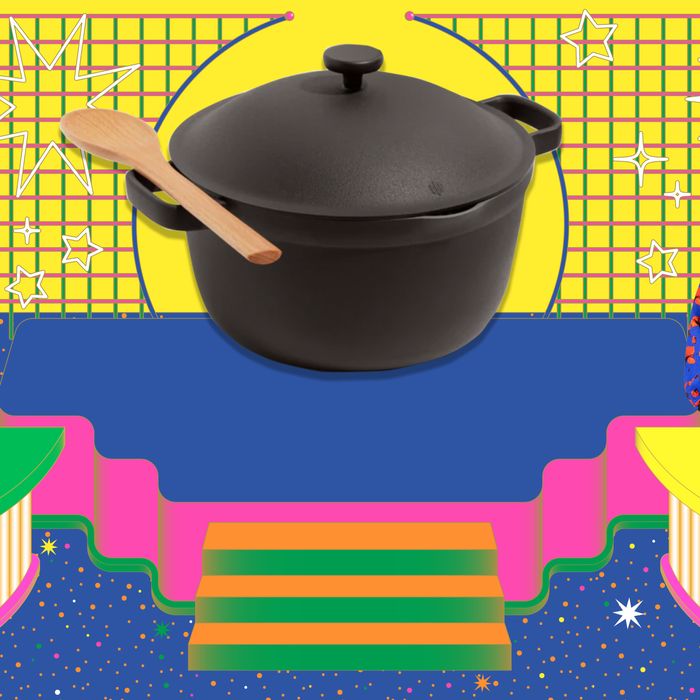 Photo-Illustration: The Strategist; Pedro Nekoi, Photo: Retailer, Robyn Swank
On their podcast, Add to Cart, comedian-writer-director Kulap Vilaysack and veteran journalist SuChin Pak talk about the things they think are worth the investment (or not), and they often come at it from very different perspectives. So we thought there'd be no better duo to provide comprehensive product reviews on some of the buzziest launches and tried-and-true Strategist favorites. Here, we asked each of them to cook with the Perfect Pot from Our Place (the DTC brand that makes the culty nonstick Always Pan that is a favorite of our staffers and Halle Berry alike) in order to tell us if the Perfect Pot cooks as good as it looks and get the seal of approval from our two self-proclaimed aunties — or if its promises are too good to be true.
Kulap Vilaysack: I do love to cook. I normally cook with Zwilling frying pans. I fuck with Calphalon. I have a Lodge cast iron. I have a Staub braiser in matte black with a glass lid, 3.5 quarts — got that over the holidays. I have a Le Creuset round, wide Dutch oven in "Ocean." Normally, that's always on display. Just to set a scene: I always have that, because it's a beautiful piece, on my La Cornue range. Sorry, did you guys hear that? La Cornue.
SuChin Pak: I've seen her kitchen setup, and it is gorgeous — and all black.
K.V.: My black La Cornue range. My Le Creuset is out there and then my Always Pan joined it. I am on Instagram, as everyone is. I am subject to ads; we're only human. I noticed my niece got one in pale pink. I was like, Oh, that's cute. And then I noticed they have my color — that's matte black — and I was like, Well, here we go. Let's get this Always Pan. Those are the two things that I have on my range: the Le Creuset and the Always Pan. So when the new pot came — also in "Char" — I was like, Oh, this is great. And I didn't have any expectations that this was going to replace anything. I don't need more. I'm not needing of anything. Now the Le Creuset has been put away. It's off — I stowed it. These are the only two things on my stove.
S.P.: And it's heavy. The Le Creuset is so heavy.
K.V.: It's very heavy. But for my everyday living — when I'm cooking for myself or my husband — the Always pan and pot are all I need.
S.P.: Unlike Ku, when I see an Instagram ad — especially for an object that is supposed to be utilitarian and serve a purpose and is beautiful — the first thing I think is, What a scam. Who would buy a pink pan? I'm thinking it's not very good. You're probably paying mostly for the ads and the gorgeous photos. The less beautiful it is, the more I'm convinced that it's functional. But I have fallen in love with this pot.
K.V.: What?! I did not see this coming.
S.P.: I know. It took me a while to open the box, to be honest with you. I was looking at recipes for one-pot meals. I was like, Who's going to eat this stuff? My kids aren't going to eat garbanzo beans with kale-lentil soup. I'm used to things that when they function, they should be ugly and heavy and a real pain in the ass, like an orthopedic shoe. But when I took it out, the first thing I noticed was that it's so light. Kulap, it's lighter than a frying pan. I don't know what the Always Pan frying pan feels like, but I don't even understand how light this is. It's superlight; it's ceramic-coated. So all of those things are check, check, check.
First, I did a soup; that's what you do in a pot like this. But I have cooked every meal in this thing. I fried eggs in it this morning for my kids. I cook fried rice every night for my son; it's the only way he'll eat vegetables. It's so easy to clean, it's so light that you can just fry one egg in it, and it's not a big deal. Does that make sense to you? When I see that size, I think, I've gotta come in with some index cards, and it's gotta to be worthy of the size of this thing. But I realized after using it, I was like, I think I can cook everything in this one pot. The only thing I haven't used it for is cooking rice because it is a little bit wide for that.
K.V.: But you have a rice cooker for that. Let's not ask the pot to do that.
S.P.: Other than that, I'm trying to think. What couldn't you cook in this thing? Could you put it in the oven?
K.V.: The first thing I did was make rice-vermicelli noodles. Normally, I'd use my Bialetti pasta pot; that guy is awesome and cheap. If I wanted to replace it, this Perfect Pot could do that because it has a little notch you can strain if you're making pasta. Then, I made taco filling. Su, you'll love this. We got turkey in there.
S.P.: You think that something that looks like that is just for moist things, like soups. But because of the lightness, it crisps things. I fry everything — that's what I do. I sauté everything. You just don't think about that when you look at something like this. But I haven't tried that metal thing it came with. What's that for?
K.V.: It's under this chicken. It raises it above the bottom of the pot.
S.P.: And why would you need to raise something above the bottom of the pot?
K.V.: For heat to be able to circulate.
S.P.: Oh, to circulate. Did you roast this chicken? You put this in the oven?
K.V.: Yup. It was easy. It was so easy.
S.P.: And then it got that crispy?
K.V.: Uh-huh — and quick. I can do it in my Le Creuset, and this felt faster to me. I took this, let it hang out, and then I made gravy in the pan. And then with the spout, I was able to put it in my gravy boat. Easy. It was a super-easy dinner, super-nourishing. And so easy to clean.
S.P.: So crazy.
K.V.: My friend got it for his Korean mom, and she didn't like it. But I know she was using a metal utensil, and you can't do that. You need to use the wood.
S.P.: Yeah, it comes with it. And it comes with a little sponge.
K.V.: You're not going to want to hit it with cold water if it's too hot. But under water, it's just all coming off. You just have to gently, with a non-scratchy sponge, clean it off and dry it and put it back on your La Cornue. Totally relatable to everybody. But you have to take care of it. You can't just scrub it. You can't let it sit.
S.P.: Oops. I didn't know any of this. I've been scrubbing and sitting.
K.V.: No. Don't do that, Su.
S.P.: I can't handle the responsibilities! It's too much pressure.
K.V.: If you're used to just letting food chill and not cleaning up, or using anything remotely abrasive, you can't do that.
S.P.: Wait, and what is this thing that you can't put cold water on it?
K.V.: Well, when something's really hot, why would you hit it with cold water? That's just science. You want the heat to come down a little bit, so you don't …. I am your husband right now.
S.P.: Oh, I know. This is fine.
K.V.: This is just Auntie Kulap: If you just take care of it right away, it's really easy to clean and then it's done. And that's how you have nice things. You don't have to babysit it. But you have to do that with a $10 Lodge pan. You can't scrub that — Su.
S.P.: Oh, I know. I found out the hard way. And that was way too heavy and too much work for me, so I got rid of all of it.
K.V.: And unlike a Lodge pan or Dutch oven, you don't have to season this pot, so there's that. But to get the results, you do have to care for it.
S.P.: I just used a paper towel to wipe it down — I don't think I even washed it after I cooked an egg in it. Is that fine?
K.V.: That's fine.
S.P.: Okay, good. I do a lot of wiping it down with paper towels. I don't know if that's sanitary.
K.V.: You're the one eating it, so it's fine.
S.P.: This is the only thing I've got! So it goes in the oven — I get that. But the handles heat up. Before I got the hang of it, you'd just grab it really quick without thinking, and it's superhot. I just wonder if there's a way they could fix that or make it detachable. I don't know. That was the only pet peeve. You couldn't pick it up. But, again, I don't cook with this kind of cookware, so maybe that's just how this kind of cookware is.
K.V.: Well, Su, it's a pot. They can't isolate it.
S.P.: No! You can! They have these — I don't know if they're Japanese or Korean, but they have these pots that have a handle that pops on and off. They have removable handles.
K.V.: Oh. That'd be ugly, Su. That'd be ugly, Su.
S.P.: They kind of thought of everything.
K.V.: It's clear that Su and I are extreme opposites; aesthetics are so important to me, that it looks good. It reminds me of a Japanese design, and it looks good on top of my La Cornue and when I serve.
S.P.: Oh, it's beautiful. I can't even believe they make pots without resting places for spoons.
K.V.: I love that.
S.P.: What? Where are we? Who are we? I had no idea. It's so genius. For a skeptic and a grump, when you're looking at a picture, you're like, Oh brother. And then you use it and you're like, Damn, this is really useful. You could get it for a lot of people, but it is especially good for someone who doesn't have a lot of space and just wants to have two or three items that they use almost every day.
K.V.: And aesthetic whores like me …
S.P.: Whore is a strong word.
K.V.: … who appreciate color, that there's a spoon rest, enjoy simple design.
S.P.: You feel so fancy — you know what I mean? Like I've made it somewhere in life. Look at me, with a grooved spoon rest. Who would've thought? Straight to the top.
The Strategist is designed to surface the most useful, expert recommendations for things to buy across the vast e-commerce landscape. Some of our latest conquests include the best acne treatments, rolling luggage, pillows for side sleepers, natural anxiety remedies, and bath towels. We update links when possible, but note that deals can expire and all prices are subject to change.