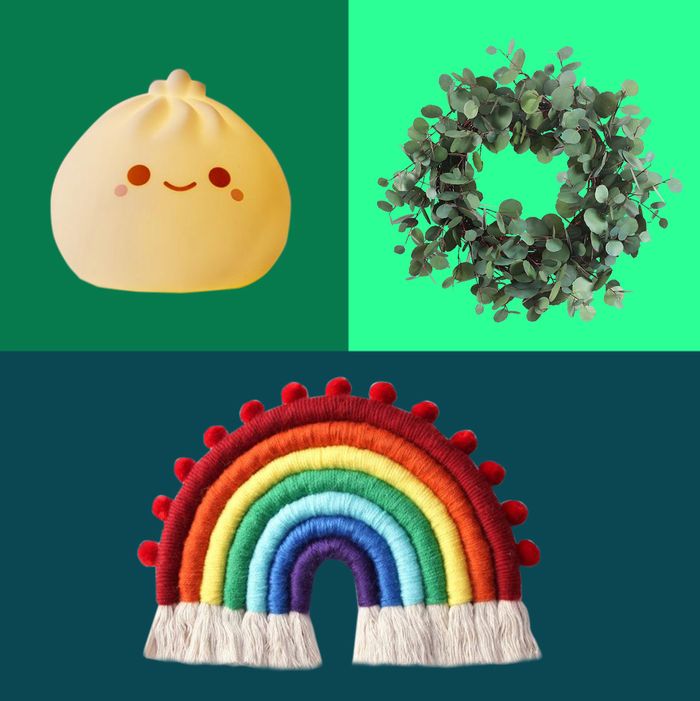 Photo: Courtesy of Retailers
About two years ago, in search of the perfect second-anniversary present for my boyfriend, I turned to Etsy, the online marketplace that connects makers to buyers looking for all sorts of things, from wonderfully weird tutus for bearded dragons (that can fit other reptiles, in case you're in the market) to aesthetically pleasing, actually useful things like sustainable wood clocks and cashmere sweaters. This truly all-encompassing inventory now attracts some 44.8 million buyers and 2.6 million sellers annually, according to Etsy trend expert Dayna Isom Johnson (a judge on NBC's Making It), who says that "our sellers, because they work with small batches, can react to trends very quickly or even bubble up trends on their own." Johnson adds that she and a team of merchandisers and trend-spotters regularly compile data on what's bubbling up on Etsy and share them via a blog.
If, like me, you always maybe thought of Etsy as a sort of niche place to find super-specific, somewhat sentimental gifts (like a second-anniversary present), you might be surprised to hear that the products in the retailer's trend reports are actually not niche at all. After taking a deeper look at the shopping trends in Etsy's latest holiday report, I noticed that lots of the most popular products on the site are also popping up at larger retailers — like Urban Outfitters, West Elm, Nordstrom, and even Amazon — this season. To get the scoop on the gifting trends that Johnson thinks are going to keep growing, I asked her about the eight most-popular types of things people are buying based on Etsy's data. The list below includes items from Etsy that fall into those eight categories, as well as things from other retailers that seem to have gotten in on the trends.
Indoor herb gardens
Of all of Etsy's growing shopping trends that Johnson has recently tracked, indoor herb gardens — a product we are no stranger to — have had the most exponential growth, with a 1,978 percent increase in searches in the past three months compared to this time last year. Johnson suspects that surge is partly due to the simple fact that growing your own plants is fun, especially if you have kids. But she says there are other reasons, including that "more than ever, everyone wants to become more sustainable. And this is certainly one of those items that allows you to be sustainable." She also points to the growing number of people seemingly itching to become plant parents. "It's really only becoming a stronger movement every month," she says. "Plants make you happy." Indoor herb gardens also fall into the realm of wellness and self-care, two seemingly ever-popular trends that get even more popular around the end of one year and the start of a new one. But, for families, the prospect of growing something together is really what makes these such popular gifts, according to Johnson. "People are really devoting that quality time to one another." Etsy didn't necessarily invent indoor herb gardens — over the last year or so, we've seen them on Amazon and at Nordstrom and Food52. But, like most things it sells, Etsy's have a special handmade vibe that adds another layer to an already thoughtful gift.
If you want your herbs on the wall.
A low-maintenance herb garden we've written about before that waters your plants with just the press of a button.
A smaller garden if you're limited on space.
This expert-recommended indoor herb garden has a white LED light, instead of the typical red or blue, making it more aesthetically pleasing.
Dried flowers
Johnson admits that the concept of dried flowers as décor has been around for "thousands of years." And yet, she's seen a 27 percent increase in Etsy searches for them over the past three months than in the same period last year. "What's interesting," she says, "is how they're making a comeback — now they've got this modernized take." According to Johnson, this means that instead of shopping for potpourri bowls to put dried flowers in, she's seeing shoppers gravitate toward things like candles made with dried flowers or artfully framed dried flowers you might hang on a gallery wall. Of course, a big part of their appeal — both then and now — is their practicality, especially when giving dried flowers as a gift. "Real flowers go away, but these are functional pieces that can last. They are a forever gift."
An unscented candle filled with flowers for a coffee table, dresser, or wherever.
These delicate winged flowers will sit nicely in a vase, almost like real flowers would.
A bundle of dried flowers that we think would make an excellent hostess gift.
These suspended flowers would add a rustic touch to any kitchen.
Eucalyptus wreaths
Eucalyptus wreaths are somewhat of a micro trend within the larger greenery one: Over the past three months, searches for them (dried and fresh) increased by 171 percent compared to the same time last year, Johnson says. She thinks part of their appeal is that, unlike your typical wreaths made with pine branches, eucalyptus ones bring the plant's soothing smell to a space. "Eucalyptus really allows you to feel calm and grounded," she explains, adding that these wreaths would make for slightly more personal hostess gifts than, say, a bottle of wine. Like with any wreath, she notes that these should not just be thought of for hanging. "Yes, it can be tied on a door, but pop a candle in the middle of it, and it could be a beautiful centerpiece."
A perfectly bushy, fragrant wreath filled with fresh eucalyptus and lavender.
If you want a wreath that will last for more than one season, this Pottery Barn one is made with faux eucalyptus — which looks just as nice as the real thing (but, of course, won't smell like it).
This wreath gives a bit more texture by mixing in three different cuts of eucalyptus: spiral eucalyptus, seeded eucalyptus, and knife-blade eucalyptus.
Face planters
"Remember chia pets? This is a modernized version of that," Johnson says of the face planter trend. Etsy searches for the planters increased by 79 percent in the past three months over the same time last year. "Except these face planters are obviously a little bit more grown up, a little bit more sophisticated, and something that you actually want in your home." She adds that this is one of the most giftable trends she's observing, simply because she "can't imagine opening this and not immediately having a smile on my face." For an even better surprise, Johnson says to find a face planter that looks like your recipient.
For the minimalist plant lover.
A joyful-looking planter that comes with its own swing. If you need help hanging it, writer Liza Corsillo found the best ways to hang plants in your home.
This standing planter almost begs for a spider plant or pencil cactus to give "Hector" some crazy hair.
A cheeky planter that senior editor Anthony Rotunno recommends (after buying a similar one at this very store).
Dumplings
Many Etsy trends stem from popular culture, "especially when it comes to the very quippy, poppy trends," according to Johnson. She charts the rise of dumpling décor to 2018, when Disney released its wildly popular short film Bao, but says it only recently has really heated up: In the past three months, search volume for dumpling-inspired items increased by 34 percent over the same time last year. While Bao technically came out in 2018, it won Best Animated Short at the Oscars earlier this year, which "greatly extended the popularity of the film," according to Johnson. Luxury brand Bottega Veneta further progressed the dumpling trend when its "Pouch" bag — which resembles a dumpling with its long bottom and pinched top — popped up on lots of cool people's Instagram accounts, including actress and model Rosie Huntington-Whiteley, model Elsa Hosk, and influencer Arielle Charnas. Etsy sellers then began creating much more affordable versions of the $2,700 Pouch, but now their wares also include more literal nods to dumplings with pillows and ornaments and lamps — like the one below we found at Urban Outfitters — that look more like the food itself (and the characters in Bao). Any of them would make for a fun, lighthearted, and unusual gift.
If you prefer your dumplings in pillow form.
Or, if you prefer them in lamp form.
Rainbow wall hangings
Johnson sees the rise of rainbow wall hangings — which drew 216 percent more search volume over the past three months than they did in the same period last year — as an extension of an older trend: unicorns. In fact, she calls the colorful hangings a "residual unicorn trend," but also thinks they "directly align with maximalism" — a design trend that's been on her radar all year. Maximalism, she explains, is all about "piling on the color, piling on the texture, and not being afraid to mix and match." And rainbow wall hangings embody that, she says, while bringing a sweet, sentimental quality, especially when it comes to gifting. "The great thing about rainbows is that they can go from anything from a children's nursery to your living room to somewhere on your desk to make sure you stay cheerful through a workday," she says. For folks with a more subdued sense of style, she points to the more tonal, ombré versions of these hangings, like the above, as more sophisticated ways to get the effect.
For those who like their rainbows in seasonal colors.
A cute way to zhuzh up the bedroom of the tween girl in your life.
This one's great if you like the shape of rainbows, but not the colors.
Your classic rainbow, just with some added personality in the form of pom-poms and fringe.
Splatterware
In the past three months, Johnson says Etsy saw a 29 percent increase in splatterware décor over the same period last year. "I'm definitely aging myself here, but I remember when this was a trend as a kid" in the '80s, she told us. "To see it come back is very fun, especially with the modern takes." She's not the only one who's noticed its comeback — splatterware food storage container made it onto our Strategist 100 list, a red splatter-paint utensil-holder popped up in our roundup of the best gifts for hosts, and we have found lots more surprisingly tasteful splatterware on Amazon. While there are plenty of on-the-nose, '80s-inspired pieces in neon and rainbow colors, Johnson says a lot of the newer splatterware she's seeing feels more sophisticated, with monochromatic or black-and-white colorways.
Here's a splatterware-inspired pillow to liven up your couch.
And a "wacky" bowl to make eating your morning cereal a bit more fun.
One look at this neon-orange kettle will brighten the mood of any tea drinker.
If you want to dip your toe into the splatterware trend, these handmade coasters have a nice painterly quality to them without being over the top.
Toucans
According to Johnson, searches for jungle-themed products increased by 30 percent on Etsy in the last three months over the same period last year. "If you think about how popular monstera and palm leaves were in the past two years, this is really just an extension of that tropical theme," she explains. Johnson says that cheetah, leopard, and tiger stuff is popular — but the newest of the animal trends are toucan-related objects, which she calls "unexpected and outside the traditional box," especially for holiday and home décor. "People want things that make them happy in their home," she adds, noting that during the colder, darker months, bright toucan décor is just the thing to liven up a home and will be unexpected as a gift.
Your cheese platter will look much more exciting on this toucan-printed tray.
A fun throw pillow for the living room (pair it with the splatterware one above for a coordinated — but not matchy-matchy — look).
A sophisticated print for the person who is always wishing for warmer days.
Because almost anyone can have a snowflake or Santa on their tree.
The Strategist is designed to surface the most useful, expert recommendations for things to buy across the vast e-commerce landscape. Some of our latest conquests include the best acne treatments, rolling luggage, pillows for side sleepers, natural anxiety remedies, and bath towels. We update links when possible, but note that deals can expire and all prices are subject to change.