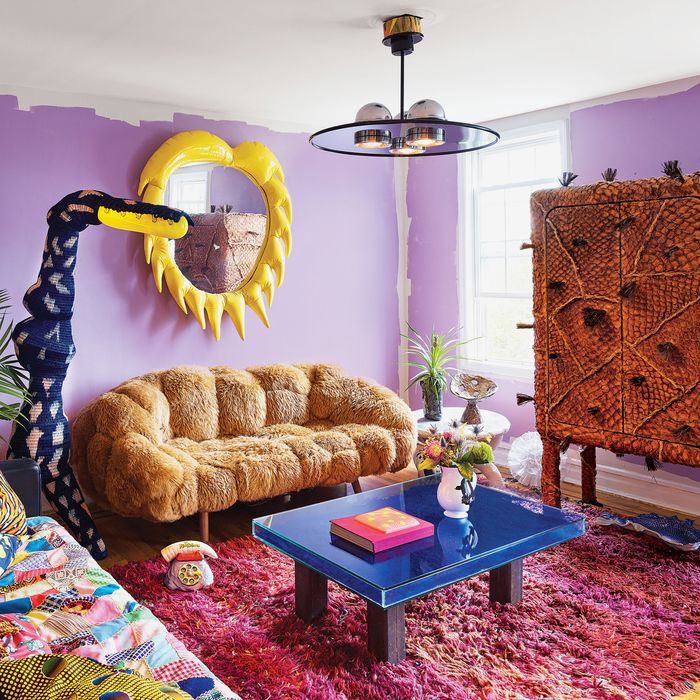 The decidedly maximalist home of New York designer Misha Kahn.
Photo: Annie Schlechter
White walls and fiddle-leaf fig trees, as a design scheme, has hit its peak. For anyone who's getting over this stark, minimalist look — common by now in both homes and offices — pattern-punched interiors and more decorative décor are probably starting to sound appealing. But that doesn't exactly mean "more is more" is a good approach. Without some guidelines, it can go wrong.
Because going all-out maximalist at home is not easy to do, or cheap to pull off, we asked a few unabashed maximal designers about how they'd pull off the style today. Often, their advice wasn't about revamping an entire room, but rather swapping in something a little louder than whatever sleek, Scandinavian thing you had before. Here's their advice, from small upgrades in drinkware to a "maximalist" scented candle.
New York designer Miles Redd says one of the fastest (and arguably most fun) ways to inject some maximalism into your home is to set up a fully functional bar, preferably in the living room, and to replace your purist Bormioli glasses with some textured or patterned ones. "I find it so immediately inviting," he says. To take high-balls and goblets out of the cabinets and display them alongside shakers and spirits is a noncommittal twist on maximalism. For fancy decorative glassware, Redd suggested a crystal set of tumblers from William Yeoward, which makes baroque engraved glasses.
These Lenox French Perle Old Fashioned glasses have a similar effect as the Yeowards, with a slight Art Deco vibe.
For drinkware with a more powerful punch, decorator Sasha Bikoff suggests getting some funky mid-century tumblers — maybe even ones that come in their own caddy — like this set of red-and-gold glasses from her own shop, which even have cocktail recipes on the side. Plenty of other one-of-a-kind drinkware sets can be found on Etsy. Search for "cocktail glasses caddy," and a bounty of Tom Collins–size glasses, printed with retro motifs, will appear.
Another maximalist choice for the drinkware: tortoise-print glasses.
Painterly dinnerware at the table
If you've been doing the boho-minimalist thing, you might be using some shiny white ceramic plates. A maximalist approach to the dining table might be to mix and match printed pieces. This means choosing items beyond patterns and etchings, and picking plates or bowls sporting full-on painted scenes — think of it as dishware as art. Designer Christopher Stevens advises to "start collecting with a special occasion platter that you especially love, and then go wild." For him, that might mean starting with painted-lady bowls, from French brand La Tuile à Loup.
Over the last few months, some of the storied fashion houses have released loud fantastical designs: Alessandro Michele's first line of wares for Gucci included chairs with embroidered tiger heads and flowers; likewise, this Versace plate mixes Versailles-like gold details with butterflies.
At a fraction of the price, you might try Zara Home's red botanical dinner plates. Nothing says maximalist like turtles printed on your dinnerware.
These statement watercolor plates are perfect for appetizers or desserts.
"With art, you'll want to go salon style," Redd says. This means your art pieces should cover the wall from the floor to the ceiling. Redd likes the idea of investing in a set like this framed botanical set from Natural Curiosities. Another way to create a similar effect would be to snap up several different prints of a similar color scheme to fill a large swath of the wall. We like this 30-by-40 flower-head print.
Or, for more texture but equal coverage, try a hanging like these bamboo beads.
Designer Ken Fulk adds: "For a truly layered look, you must start with a bold background." For him, that's a custom mural or wallpaper, like from fan-favorite de Gournay or Adelphi Paper Hangings' Fancy Ashlar collection. If you can't commit to such an avant-garde design decision, start with removable wallpaper.
No one expects yellow wallpaper. (The price here is for a sample.)
A true maximalist would never leave a couch or accent chair bare. "With maximal interiors, you'll want layers and a touch of something exotic," Redd says. "Nothing says luxury like a faux-fur throw thrown over the back of your sofa, with exotic ikat pillows layered on top." Try this supersoft one from PBteen for texture …
… And pair it with these yellow-and-black vintage pillows — which closely mimic some vintage ones that Redd initially picked out — made from hand-dyed fabric.