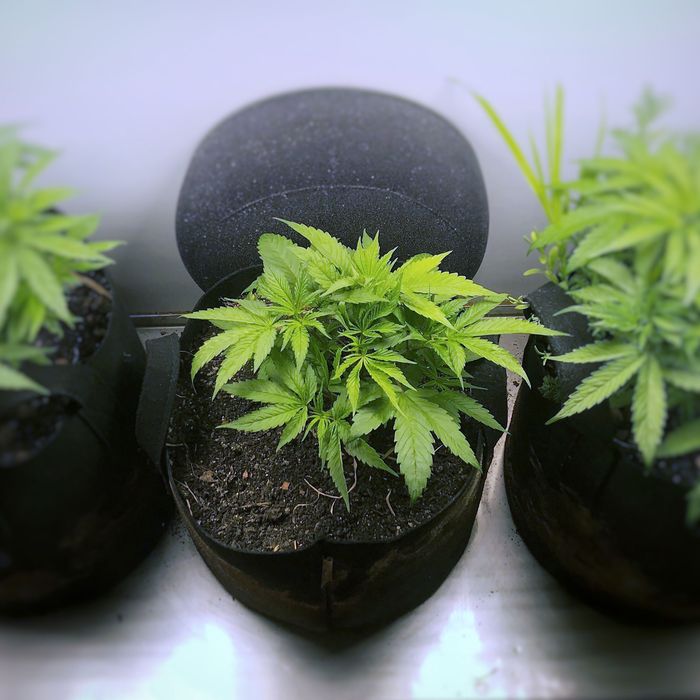 Properly growing just one plant inside a four-square-foot space indoors can yield as many as four ounces of usable bud.
Photo: Leaf and Wood
Today, recreational cannabis is legal in Washington, D.C., and ten states, and although its expanded legalization has resulted in a proliferation of new ways to consume marijuana, when it comes to growing the plant, the process is still the same laborious one. "There's a lot of trial and error," says Parker Sullivan, the creator of a high-end gadget for preserving a harvest (more on that later), who began growing his own cannabis at 15. (Marijuana laws vary state by state, and aspiring growers can consult this website for more information on what's allowed — and what penalties they may face — where they live).
If you get the methodical cultivation process right, growing just one plant inside the right four-square-foot space can yield between two to four ounces of bud at the end of the roughly three-month process, according to Sullivan and Robert Pettit, a home grower and the founder of Leaf and Wood (which custom builds cabinets equipped with pretty much all of the items needed to grow cannabis). To find the best things for growing weed yourself, we spoke with Sullivan, Brooklyn-based grower Loki, and Pettit, who say beginners might want to try feminized auto-flowering seeds for ease, and strains that are more sativa than indica because they're easier to grow ("it's rare to find one that's 100 percent one or the other").
Growing space
Plants grown from auto-flowering seeds will flower regardless of how much time they spend in darkness. Still, Pettit suggests keeping the lights off for six hours a day, and all the experts say a grow space must allow for some sort of ventilation. That's why tents like this compact model, which has vents to adjust air flow, are the best basic setup for a first grow, according to Pettit. At four square feet, this one has enough space to accommodate a three-gallon pot (which can grow a plant between two- and three-feet high) and other stuff you'll need, but is still small enough to fit into an apartment or small room, he says.
Both Pettit and Loki swear by Horticultural Growth System's lights (they're what Pettit uses in his custom cabinets). This 100-watt LED model is a great "plug and play" option for novice growers, according to Pettit, who recommends getting the light with a 3,000k Kelvin rating because the spectrum is suitable for both vegetative and flowering growth. It comes with cables to attach it to the roof of your tent, where it should be snug against the top so it does not get too close to the plant as it grows.
To better control your grow, our experts recommend plugging the light into a timer, so you can easily set it to shine for the needed hours each day.
You'll want to keep your grow space (which Loki says is generally 10 to 15 degrees warmer than the room it's in because of the light) at a temperature between 80 and 83 degrees Fahrenheit, and at a humidity level between 50 to 60. This monitor allows you to keep an eye on both. Small spaces like the four-square-foot grow tent usually don't require extra tools to adjust humidity — but you can stick a small humidifier inside to increase it, or use DampRid bags to decrease it, according to Loki and Pettit.
To keep air flowing inside the tent, Sullivan recommends getting a four-inch fan and positioning it to blow up toward the top of the plant — but never directly on it, because "you don't want the plant blowing in the wind."
Potting