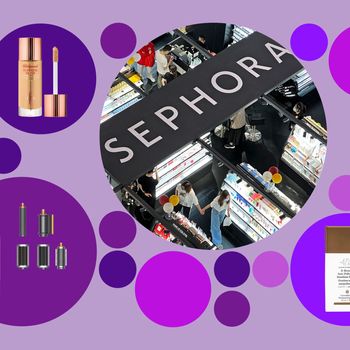 Photo-Illustration: The Strategist; Photos: Retailers, Getty Images
The whole experience of shopping at Sephora can feel relatively high stakes even with the generous return policy. There are thousands of products to sort through, and you want to make sure you're buying the exfoliator or mascara or foundation that makes you look and feel your best, especially when each thing costs $50. You also don't want to miss out on that trendy new thing you saw on TikTok. But if you consult actual Sephora employees — or "beauty advisers," as they're called by the company — they'll tell you that plenty of their favorite products aren't the most expensive ones or even the ones that have gone most viral.
For this story, we talked to nine Sephora employees, many of whom are trained and licensed makeup artists or skin-care experts and all of whom spoke on the condition of anonymity. In exchange, we got their insider wisdom on the cultish hair tool that keeps getting returned, the TikTok-recommended products that are actually worth it, and what happens to the items you return.
.

Foundation is the favorite in-store purchase …
Over half the associates we interviewed said customers come in just to buy foundation. This isn't so surprising considering that it can be difficult to shade-match online, and Sephora, in fact, encourages people to swatch the shades on their arms. Armani, Tom Ford, and NARS were the three most popularly cited brands among Sephora's staff owing to how long their foundations last and extensive shade ranges.
.

… And Charlotte Tilbury's is the best.
The most passionate endorsement from four of the nine employees I spoke to was for the Hollywood Flawless Filter foundation by Charlotte Tilbury. Despite how expensive it is, customers seem happy to splurge on it. According to one beauty adviser, it has an actual blurring effect on the skin, making it look as though you applied an IRL filter (hence the name). It also has a buildable texture that few other foundations offer, or it can simply act as a highlighter, accenting the cheekbones without any unnatural-looking shimmer.
.

Just because it went viral doesn't mean it's good.
"I've seen so many people buy products that they saw on TikTok even though it definitely isn't right for their skin," said one beauty adviser. She pointed us to the Peter Thomas Roth Instant FirmX Eye Temporary Eye Tightener as an example.
The product went viral back in 2021 mostly due to one shocking review on TikTok that showed the product tightening a person's under-eye bags in real time. Customers raced to the shelves to buy it up. Our source doesn't call it a bad product per se, just one that isn't right for everyone. "It contains silicates — similar to silicone — which tighten skin very quickly, but it can be pretty drying for some people as well as feel very sticky," she said. "I've used it on clients before doing their makeup and have found the under eye to look slightly cakey and 'pill,' which I've heard clients tell me they've also experienced."
Some other items that don't live up to the hype, according to employees, include the Refy Brow Tint Eyebrow Gel, which "gets so much sticky product on it that it makes brows look smudged and unnatural"; Merit's new foundation stick, which we were told feels dry and doesn't blend easily; and Milk Makeup Hydro Grip Primer, which apparently causes most foundation to pill. (These products have also been returned a noticeable amount by customers, our source said.)
.

Drunk Elephant hasn't completely lost its glow.
Sephora's history with clean-beauty brand Drunk Elephant predates TikTok. It became Sephora's top-growing skin-care brand in the wake of its launch, way back in 2014, and in 2017 Drunk Elephant couldn't stay in stock. But over the past six years, the hype has cooled down with one notable exception: the D-Bronzi Anti-Pollution Sunshine Drops.
These drops claim to protect the skin from environmental stressors and have a TikTok-friendly buildability; it can be mesmerizing to watch a user gradually apply the sheer formula until the perfect, sun-kissed glow reveals itself.
.

Glow Recipe is having a moment with Gen Z.
Although we've been recommending Glow Recipe products on the Strategist since 2018, the K-beauty brand is having something of a renaissance. In fact, it was mentioned just as much as Charlotte Tilbury. "Like most products at Sephora, a big reason it's so popular is also because of TikTok," an associate said, adding, "Glow Recipe does have some of the cutest packaging, though, so it's hard not to buy it."
And unlike some of the TikTok busts, the brand can be a real workhorse. Our source recommended the Watermelon Glow PHA + BHA Pore-Tight Toner, which contains anti-inflammatory watermelon extract and "feels light and cooling." As she explained, "A lot of skin-care products that shrink pores contain niacinamide, which is pretty drying, but this one still shrinks pores without drying out your skin because of all the hydrating ingredients." (We featured it on the Strategist in 2021, as recommended by drag queen Farrah Moan.)
.

Selena Gomez's Rare Beauty is the most requested brand in-store (and it's often sold out).
Six out of nine employees called out Rare Beauty as a most-requested brand among customers. Yes, it's exclusive to Sephora, and, yes, "Selena Gomez has a great marketing team," as one employee put it. But the beauty advisers we spoke to said that it has also developed an organic following. (As one said, good products rarely stay a secret.) And the product from Rare Beauty that's most likely to be out of stock is the Soft Pinch Liquid Blush.
The relatively reasonably priced blush comes in nine radiant finishes and four matte finishes that range between deep purples and reds to subtle roses and mauves. Employees explained that it feels weightless and complements a range of skin tones. It also doesn't take an expert to apply it. Thanks to the easy-to-use doe foot, once you dab it onto your cheeks, you can blend it with your fingers, rather than a brush, which adds to its universal appeal. (If you're not in the market for blush, though, "their new lip oils are selling like crazy too," said another associate.)
.

But Rare Beauty isn't the only liquid blush that's worth the employee discount.
If Rare Beauty's liquid blush is out of stock, Sephora has comparable options that come highly recommended by employees. One beauty adviser said she just bought her third Saie Dew Blush because it's "great for sensitive skin and super-hydrating. It's so creamy and glowy and I'm just obsessed." She also recommended the Danessa Myricks Beauty Yummy Skin Blurring Balm Powder Flushed. Just like the Rare Beauty blush, this one is "really easy to apply," and she suggests it to those with drier skin who like the blurring effect that comes with powders. "I'm for sure going to get more of the Danessa Myricks blushes because I love to give my entire paycheck back to the company I work for," she added. (The employee discount, in case you're curious, is 40 percent off Sephora Collection and 20 percent off everything else.)
.

Sephora Collection is the employee go-to for dupes.
Three beauty advisers recommended Sephora Collection for all your dupe needs. And in general, employees seem to think of the house brand as an assortment of products on par with all your favorite drugstore items, only with a more statusy name. None of the employees had anything bad to say about the collection when we asked about its shortcomings. As one put it, "Honestly, when people are being cheap, Sephora Collection is the only way to go." (We guarantee that no one was being paid to say this.)
Its Best Skin Ever Full Coverage Multi-Use Concealer is a 16-dollars-cheaper dupe for Tarte's Shape Tape, which used to be a best seller at Sephora (though the company no longer stocks it). "Personally, I like it more" than Tarte's, one of these associates told us. It comes in 50 shades and blends easily into the skin with a natural finish. She also called out the loose Translucent Setting Powder, saying it "could be a dupe of the Make Up for Ever Ultra HD Microfinishing Loose Powder, which is one of my favorite loose powders at Sephora." Another described the multitasking powder foundation as a dupe for the Kosas powder because they have similar textures and finishes. She also thinks the lip-gloss balms "can be duped for products such as Fenty glosses and even the Dior lip oil." And a third employee pointed us to the brush-cleaner, which she said is "literally the same" as the more expensive Cinema Secrets version.
.

The liberal return policy is used very liberally.
Sephora will let you return basically anything, one beauty adviser noted, within 30 days of purchase (or 31 to 60 days for store credit), including gently used products. And the advisers said the store is quite liberal with the definition of gently used. "Honestly, you could probably get away with using almost an entire bottle of Tom Ford foundation, then return it for your whole $90 back," she said. "It would be a little weird of you to do that, but it follows the policy, I guess, and I for sure don't make the rules."
But keep in mind that the employees also keep track of serial returners, who can be banned from buying or returning items in the future if they build up too much of a habit. (As one associate put it, "Our return basket is usually pouring over.") Once you return the item, it goes to DIF — or "destroy in field," another employee explained. So returning your products is not an environmentally friendly act, even if you do get your money back.
.

The Dyson Airwrap has been returned a lot.
The Airwrap is returned a lot by customers and employees, but one New York City–based employee hasn't noticed any returns yet for the Shark, which is also cheaper. Many felt the Dyson wasn't worth the splurge in the end. "For the price of the Dyson, I would go get a membership at an actual blowout salon," she said. If you do want the Dyson, which another associate said is still more popular than the Shark in her (different) New York City store because it has more attachments (six versus four), they recommend you go in person during the VIB sale. "We normally get more toward the savings-event sales," said the first associate, so you're more likely to score the often sold-out tool — and maybe get a discount or at least a free gift along the way.
.

Don't come to Sephora for the hair-care — except for Nicole Kidman's Vegamour.
None of the employees really consider Sephora the place to shop for hair-care products. "I feel like you can find better and cheaper products from Target or any other store," said one employee. But multiple associates did say they think hair growth items are the one worthwhile hair category since it's so specialized. And Vegamour, the Nicole Kidman–backed brand, came up as a super-popular pick. "That's one product I haven't seen yet being returned; it's definitely something you have to be consistent with, so if it doesn't work, then you just don't purchase it anymore," she said. But apparently, people do tend to rebuy the brand's items, especially the serum, which is a vegan "clean at Sephora" pick that promotes hair growth in as little as 90 days.
If the price tag scares you, the same associate called out the hair-strengthening oils from both JVN and Briogeo. She described them as "really great for dry scalp and strengthening the hair." She also said that Bumble and Bumble Thickening Go Big Plumping Treatment can fake the same effect.
.

The loyalty program is really worth it.
Several employees emphasized that signing up to be a Beauty Insider is actually worthwhile — and it's free. You get free ground shipping with no minimum spend required. You also accrue points, like a credit card, only without any potential consequences, and can use them on free gifts. There are also perks such as early access to Sephora's VIB-sale events, which happen three times a year and typically last more than a week. Each employee said that's a good time to find discounts on highly rated products, best sellers, and gift sets. One thinks that the sales period is a pretty good time to buy expensive fragrances, too.
.

The perfume sets are a legitimately good value.
While full-size bottles of perfume typically fly off the shelves during sales events, Mother's Day weekend, and at the height of holiday gift-giving, the best year-round deal are the sets labeled as "Sephora Favorites." That's "where you spend $80 for ten samples and get a full-size for free," explained one associate.
Currently, the company has one in stock on the site — though this one has only six, plus a candle, instead of ten — that includes name brands like Gucci, Marc Jacobs, and Versace. Inside, you'll find a scent certificate that you'll return at the store to obtain a free bottle of any of the scents in the set.
Many of the sets are more than just your basic plastic spritzer samples or rollerballs. Take this Hermès set, for example: You get four shrunken-down bottles that look like the real thing, only for a fraction of the cost of one full-size bottle. Another associate said she always suggests the sets — Sephora currently has 453 kinds to choose from — to those who are new to fragrance because they allow you to try a variety before you commit to the full size.
The Strategist is designed to surface the most useful, expert recommendations for things to buy across the vast e-commerce landscape. Some of our latest conquests include the best acne treatments, rolling luggage, pillows for side sleepers, natural anxiety remedies, and bath towels. We update links when possible, but note that deals can expire and all prices are subject to change.