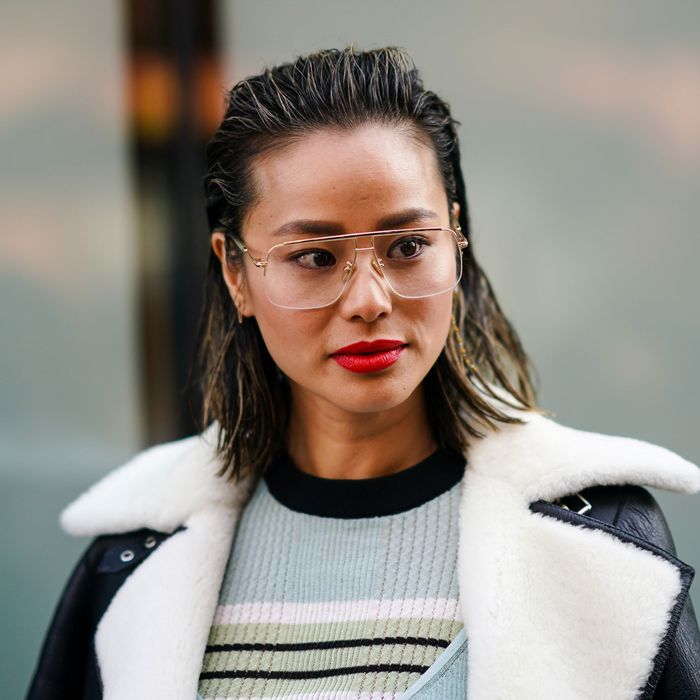 Photo: Edward Berthelot/Getty Images
Like wispy bangs or a cherry-colored pout, a different pair of eyeglasses can dramatically change your entire look. Tortoiseshell specs might impart something of a dark academia air. Wire-rimmed frames are must-haves for the mustachioed men of Brooklyn. And then there are metallic aviator glasses à la Adam Driver as Maurizio Gucci. For eye-catching and face-framing frames, we turned to bespectacled women for their favorites. And if you're looking for even more glasses, here's all of the best eyewear we've written about.
Best eyeglasses with clear frames
Clear-framed eyeglasses are now considered classics, spotted on everyone from Gigi Hadid to Robert Downey Jr. Photographer Mei Tao wears this acetate-frame pair from Warby Parker. Tao loves them for their low bridge fit and traditional rectangular shape. "The crystal color makes it easy to go with anything I am wearing — and they're not too overwhelming during a Zoom meeting," she says. Consistent contact wearer Hailey Rizzo, founder of the blog Feeling Good As Hail, opts for the Chamberlain whenever her eyes need a break. She similarly calls them "subtly bold." But most importantly, Rizzo appreciates how the frames don't slide down her nose (especially as her skin is on the oilier side). "My older pair used to leave harsh indents on my nose after wearing them for a bit, but these don't." She owns them in "whiskey tortoise."
Warby Parker was the most-mentioned brand from our bespectacled women, who either own pairs from the brand or wish they did. If you love the look of metal and acetate combined, but want to spend less, consider this pink-tinted, round cat-eyed pair from the company. They're very similar to the (now sold out) pair that Strategist writer Dominique Pariso bought from the brand's collaboration with Chloë Sevigny last year. As Pariso wrote, "As a person who's worn glasses for 15 years, I can say with some certainty that finding a pair with this particular look that fits my wide face is a rare and precious thing. So when I saw that they were back in stock, I quickly scooped up a second pair for when (not if) I break my first one." Though the exact pair is no longer available, the Warby Parker Faye frames also have a wide fit, and are available in a rosy finish, as well as a black and tortoise frame.
Strategist senior writer Liza Corsillo is also in the clear-frames club, and says that the only place she'll go for eyeglasses is SEE. "Without glasses or contact lenses I cannot see anything clearly until it is about an inch away from my face, which means my choice of glasses is frustratingly limited," she says. When Corsillo looks for a new pair of frames, she has to find ones that can support the thicker lenses that come with her prescription — so going frameless or with a delicate frame is largely out of the question. "I have wasted a lot of money trying to find what works both for my face and my prescription, so now I only go to the SEE Eyewear in Soho — the staff is super-friendly and helpfully realistic when it comes to which frames will work with my coke-bottle lenses." Corsillo's current pair — which have clear frames with tortoiseshell stems — are no longer available on SEE's website. "I love them both for style (they aren't boring, but they go with everything) and wearability (they kinda disappear so I feel less like I am wearing blinders)," Corsillo says. This pair — sans tortoiseshell stems —has the same shape and comes in an "antique crystal" shade.
Thanks to Lasik, stylist Jessica Cadmus of The Wardrobe Whisperer doesn't wear glasses herself. But she does often help her clients pick out their frames, considering their eye color, skin tone, and face shape. Her current favorite recommendation is this Oliver Peoples pair. They're almost universally flattering, she says, with a not-quite-square-but-fully-oval shape. "There's something about the modified round shape of these lenses which works with many different face shapes," she adds. Plus, these have sort of cat-eye-esque ends on top to frame the eyes even more. She likes them in the transparent shade for most, but mentions that the tortoiseshell will go with almost any outfit, too.
Best bold frame eyeglasses
Jewelry designer Pamela Love tipped us to this subtly cat-eyed from Japanese brand Matsuda. She's a fan of tinted frames as well, but owns these in multiple colors. (They're only available in matte black at the moment.) Love adds: "They are the absolute best in quality and are the most flattering." These frames are balanced with titanium stems plated in 22-karat gold, giving the glasses a bit more texture.
Writer and Call Your Girlfriend podcast host Aminatou Sow was one of the first people that came to mind when we started thinking about cool-glasses wearers — and luckily, Sow was willing to fill us in on her bold round frames' origin. It turns out that Sow's are from Valley Eyewear, and she got them during a trip to Melbourne, in a moment of panic after losing her original eyeglasses on the flight (it also happened to be the day of the Melbourne Cup, which Sow says is "basically their Kentucky Derby and almost everything is shut down"). Her hunt to find a glasses store that was actually open led her to an independent optometrist with a "no-frills" store, where a pair of sunglasses from Valley Eyewear caught her eye. "They were dusty and had probably been there forever but I knew they were the ones. That's the secret honestly: turn cool sunglasses into regular eyeglasses." Sow has been wearing that pair ever since, and is hoping to buy a backup sometime: "I love these glasses so much, I email the manufacturer once/year to ask if they'll make them again because they're sold out online," says Sow. Though her exact pair is no longer available online, these Valley Eyewear frames have a similar look — and a tip from Sow: always go to the optometrist when you need new glasses. "They will measure your bridge so your glasses actually fit your face," she says.
Strategist writer Chloe Anello also loves a bold frame, and says she picks hers up at her local eyeglasses store, Luxe Optique, in Beacon, New York. "Even though they're a little extra, I never get tired of them," she says. "They're large frames, but they don't feel heavy because they're so well constructed and made from a lightweight acetate." Anello notes that the frames do stretch a bit more than the metal frames she owns because "the acetate is very malleable," but a simple adjustment every few months keeps them in excellent shape. Anello has this square-frame shape in a different color, but says she loves them in stripes, too.
Alexandra Citrin-Safadi, illustrator and Quartz art director, tipped us to this pair that her husband owns from Ottica Urbani. He bought them in green, but the glasses also come in a bright red, bordeaux burgundy, and sunshine yellow. "He wears thinner, black-framed glasses every day, so the green ones are his party glasses," she says. These frames are made to be thicker for progressive lenses, too. Citrin-Safadi recommends these for those who are "ambivalent about vintage but want something a little more offbeat." The two found these frames on a trip to Venice a few years back. "Ottica Urbani, as I understand it, is both fairly well known and very much a Venetian thing, but they also have a comprehensive online shop that ships free worldwide," she explains.
[Editor's note: Ottica Urbani lists all its prices in euros, so this is an approximation to U.S. dollars.] 
As a backup pair to her Gucci glasses (more on those below), Ambar Pardilla (one of the writers of this story) bought these. She's afraid of contacts, so these were an affordable alternative just in case anything happens to her main specs. Since they're not an everyday essential, she went for something a little more statement-making (with a slight Edith Head vibe). The already bold round frames are edged with pearls that make them stand out even more. The frames aren't overwhelmingly oversized, which balances out their boldness.
Jessy Klein Fofana, founder and CEO of LaRue PR, saw these glasses on Instagram and knew almost immediately that she needed them. "There is nothing subtle about them, which is what I like," she tells us. Fofana opted for the two-toned "bullet coffee" colorway — a sort of chocolate shade on top of a caramel hue — which she describes as a modern spin on tortoiseshell. But the glasses also come in understated tones, including a cloudy transparent and glossy black.
For a more on-trend pair, Cadmus also appreciates these frames. They feature filigreed metal and acetate. "I love how they evoke the Machine Age but still feel very modern," she says. "I think the delicate details like filigree speak to craftsmanship. It also lends a vintage feel, which marries really well with the modernity of the acetate." (And for a not-so-subtle pair, Cadmus would wear these from luxury label Anna-Karin Karlsson for the embellished brow bar if she did need glasses. But don't dillydally — these frames are going fast.)
Best wire-frame eyeglasses
There was a point in Strategist history where three out of the then-four editors wore wire-rimmed frames — and since then, the style has remained a favorite of Strategist writers, including deals writer Leah Muncy, who bought her pair at Warby Parker last year. A year later, she says, "They're still one of my favorite purchases of 2020." For her, the appeal is as practical as it is aesthetic: "I prefer wire frames over acetate ones because they're much, much lighter on your face, especially if you require thick lenses like I do," she says. "Most wire frames are too round or aviator-like for me, but these are slightly squared off, making them more flattering and just plain cool." Plus, they've held up. After months of daily wear, there's not a scratch on them, Muncy says.
Neel van Lierop, founder of Inner Compass, is a wire-frames fan, as well, and says she has this style from Garrett Leight's collaboration with Ulla Johnson in three different colors. "They're my all-time favorites; they make me feel confident," says van Lierop. "They're classy, obviously present, and accentuate the shape of my face."
Once it was clear that Citrin-Safadi needed to wear glasses more often than not (rather when she just felt like putting on a pair), she went to Fabulous Fanny's in the East Village. There, she spotted a vintage pair from Polo Ralph Lauren with silverish wire frames and tortoiseshell temple tips. The glasses "feel like a spiritual successor to Meg Ryan's glasses in When Harry Met Sally," she adds. Her exact eyeglasses are listed on eBay, but this updated version is available in both rose gold and silver at Lenscrafters. "The frames themselves are more oval than the squared-off look that was trendy with wire frames a few years back, so they feel a bit more timeless to me," Citrin-Safadi says.
Pardilla, a longtime glasses wearer, has worn all kinds of frames (including a sparkly pastel purple pair from Juicy Couture in the third grade). Every single one of her long list of frames have been rectangular — but this year she finally switched it up with ones that are hexagonal instead. These are big bifocals (but not comically so) with more space to see. Some frames get in the way when you look down, up, and around. Like Rizzo, her last pair left her with deep red indents on the bridge of her nose, but these feel she's gone glasses-free. And the minimal gold wire goes with everything, so it's not competing with things like masks, hats, or earrings.
Best tortoiseshell eyeglasses
Eyeglasses trends come and go, but you can be just about certain that if you buy a pair of tortoiseshell frames the style won't look passé two years out. Co-founder and CEO of skin-care label Facile Danielle Nadick Levy says her favorites are these from Garrett Leight, which can be made with blue-light lenses. Levy says she wears the glasses when she works on her computer or phone, "which is now most of the day," and that the glasses are so lightweight she forgets they're on her face until she sees herself on a Zoom call. "I think it's such a timeless style, so I feel good about investing in something that's going to evolve with me. Plus, they're a bit feminine and kind of sexy," she says.
After years of wearing rimless glasses, Hilary Reid (one of the writers of this story) bought these glasses last year. She's glad she made the switch. For one thing, the rounded cat-eye is flattering and something Reid won't get sick of in a year, and the tortoiseshell adds a lightness to the dark acetate of the frames. But more than that, Reid loves how she can toss them on her nightstand without worrying too much about breaking or scratching them (something she always worries about with rimless pairs).
And if you love tortoiseshell but aren't interested in the subtle, you can't beat Strategist writer Jenna Milliner-Waddell's pair from Karen Walker. "Even though they're big, they feel light on my face," she says, "and they come with an old-fashioned glasses chain that brings me so much joy."
Sophia Aitmoussa, an account director at LaRue PR, is another Anne & Valentin convert. She learned about the brand from one of her regulars when she worked at a restaurant in college and stopped by its Prince Street store soon after. She's never owned glasses from another brand — despite trying on pairs from Warby Parker and Ray Ban and window-shopping at Pearle Vision for her yearly eye exam. The glasses Aitmoussa actually owns are currently out of stock, but she says these are super-similar for their classic circular shape. "I was weary about getting them because they were quite the investment for a 21-year-old, but they've truly paid off, and I still love them as much as I first did when I got them years ago." The glasses are so light that she sometimes forgets she's even wearing them.
Best reading glasses
Style coach Kim Hancher bought readers off Amazon at the start of the pandemic — when everything was closed — needing something light and inexpensive. She admits that they were pretty ugly, so she went and found this pair from Caddis IRL once stores started to open back up. Hancher got compliments on them right away on Zoom calls. "I think on Zoom calls, less is more, so I try to wear one impact item and keep everything else simple and clean," she says. "These glasses are my impact item." Hancher describes them as "kind of bookish, but in a good way — like a sexy nerd." She bought them in green, her favorite color, which is out of stock right now (you can sign up to know when they're back). But they're also available in colors like "raw honey" and "gloss minor blues."
If you're eyeing readers with blue-light-blocking power, consider Ryan Simkhai, which comes recommended by Jenny Monbouquette, founder of jewelry design studio Monbouquette. She wears glasses daily, and the company makes her favorite pair. She found out about the company when she was paying for a pastry at her neighborhood deli, which has a separate gift shop. The exact pair isn't available, but the Shea frames are comparable, with a similar pale salmon shade, square shape, studs on the side, and more matte finish. Monbouquette is notorious for having readers scattered around the house, car, and studio, and these are easy to find because of their can't-miss color.
The Strategist is designed to surface the most useful, expert recommendations for things to buy across the vast e-commerce landscape. Some of our latest conquests include the best acne treatments, rolling luggage, pillows for side sleepers, natural anxiety remedies, and bath towels. We update links when possible, but note that deals can expire and all prices are subject to change.