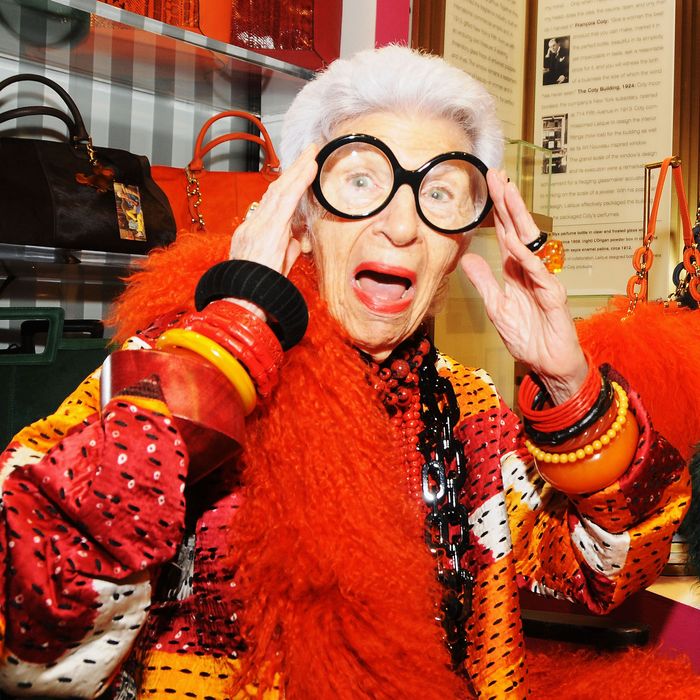 Photo: Desiree Navarro/Getty Images
Few items can alter your look as easily as a pair of new eyeglasses. Some stately tortoiseshell specs might give you something of a literary air, whereas a pair of wire-rimmed frames will help you fit right in among the Ella Emhoff set. Clear or rimless frames can evoke architects' and curators' pared-down style, while a colorful, thick-framed pair might help you emulate the flair of a 60-something castanet teacher at the 92nd Street Y. Whatever your style, there are endless options — so to get the lay of the land, we reached out to some stylish and bespectacled women to hear about their favorite frames. And if you're looking for the best eyeglasses for men, we've got those top picks, too.
Best eyeglasses with clear frames
Clear-framed eyeglasses have been popular for some time now — they've been spotted on everyone from Gigi Hadid to Robert Downey Jr.Photographer Mei Tao wears this acetate frame pair from Warby Parker: "I am loving the Chamberlain in low bridge fit for their fit and the easy rectangle shape," she says. "The crystal color makes it easy to go with anything I am wearing — and, they're not too overwhelming during a Zoom meeting."
Photo: retailer
If you like a clear frame with a slight tint, celebrity stylist Cristina Ehrlich recommends these lavender-tinted clear frames from Silhouette, which she says are especially versatile. "These frames can totally be dressed up with a glamorous outfit and accessories, without looking overly styled, and are perfect for all-day wear, since they're superlight," she says.
Jewelry designer Pamela Love is a fan of tinted clear frames as well — specifically this subtly cat-eyed from Japanese brand Matsuda. "I have these in multiple colors," she says. "They are the absolute best in quality and are the most flattering." These frames are balanced with titanium stems plated in 22-karat gold, giving the glasses a bit more texture.
If you love the look of metal and acetate combined, but want to spend less, consider this pink-tinted, round cat-eyed pair from Warby Parker. They're very similar to the (now sold out) pair that Strategist writer Dominique Pariso bought from the brand's collaboration with Chloë Sevigny last year. As Pariso wrote, "As a person who's worn glasses for 15 years, I can say with some certainty that finding a pair with this particular look that fits my wide face is a rare and precious thing. So when I saw that they were back in stock, I quickly scooped up a second pair for when (not if) I break my first one." Though the exact pair is no longer available, the Warby Parker Faye frames also have a wide fit, and are available in a rosy finish, as well as a black and tortoise frame.
Strategist writer Liza Corsillo is also in the clear frames club, and says that the only place she'll go for eyeglasses is SEE. "Without glasses or contact lenses I cannot see anything clearly until it is about an inch away from my face, which means my choice of glasses is frustratingly limited," she says. When Corsillo looks for a new pair of frames, she has to find ones that can support the thicker lenses that come with her prescription — so going frameless or with a delicate frame is largely out of the question. "I have wasted a lot of money trying to find what works both for my face and my prescription, so now I only go to the SEE Eyewear in Soho — the staff is super-friendly and helpfully realistic when it comes to which frames will work with my coke-bottle lenses." Corsillo's current pair, which have clear frames with tortoise shell stems, are no longer available on SEE's website, but she says this pair of translucent white frames is similar. "I love them both for style (they aren't boring but they go with everything) and wearability (they kinda disappear so I feel less like I am wearing blinders.)"
Best bold frame eyeglasses
Writer and Call Your Girlfriend podcast host Aminatou Sow was one of the first people that came to mind when we started thinking about cool-glasses wearers — and luckily, Sow was willing to fill us in on her bold round frames' origin. It turns out that Sow's are from Valley Eyewear, and she got them during a trip to Melbourne, in a moment of panic after losing her original eyeglasses on the flight (it also happened to be the day of the Melbourne Cup, which Sow says is "basically their Kentucky Derby and almost everything is shut down"). Her hunt to find a glasses store that was actually open led her to an independent optometrist with a "no-frills" store, where a pair of sunglasses from Valley Eyewear caught her eye. "They were dusty and had probably been there forever but I knew they were the ones. That's the secret honestly: turn cool sunglasses into regular eyeglasses." Sow has been wearing that pair ever since, and is hoping to buy a backup sometime: "I love these glasses so much, I email the manufacturer once/year to ask if they'll make them again because they're sold out online," says Sow. Though her exact pair is no longer available online, these Valley Eyewear frames have a similar look — and a tip from Sow: always go to the optometrist when you need new glasses. "They will measure your bridge so your glasses actually fit your face," she says.
Strategist writer Chloe Anello also loves a bold frame, and says she picks hers up at her local eyeglasses store, Luxe Optique, in Beacon, New York. "Even though they're a little extra, I never get tired of them," she says. "They're large frames, but they don't feel heavy because they're so well constructed and made from a lightweight acetate." Anello notes that the frames do stretch a bit more than the metal frames she owns because "the acetate is very malleable," but a simple adjustment every few months keeps them in excellent shape. Anello has this square-frame shape in a different color, but says she loves them in stripes, too.