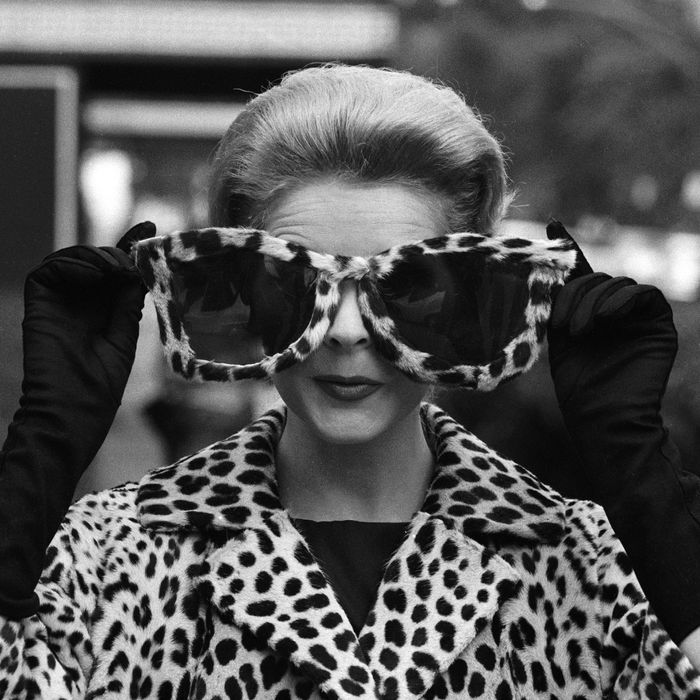 Photo: Stan Wayman/The LIFE Picture Collection via Getty Images
Sure, expensive sunglasses supposedly last forever and can be worth the investment — especially if you need a prescription lens. But do you really want to go through the heartache of accidentally losing them? Or breaking them? If you're a bit accident-prone or frequently find yourself misplacing things (like me), then perhaps you should look into some less expensive options. Besides, who wants to spend hundreds of bucks on a trendy pair you might hate next year? To help you find some stylish options that look expensive — but aren't — we consulted seven cool women for actually good-looking pairs, all under $100.
Best round sunglasses
Over Labor Day weekend, my sister and sister-in-law were both wearing these incredibly slim but very attractive sunglasses that slide into a practically flat case. I immediately asked where they got them. Because they're so thin and screwless, they feel weightless while wearing them without giving the impression that they could snap at any second. They'll easily fit in any bag — or fit twice over in the sunglasses holder of a car, according to my sister. Plus, the lenses are polarized. I personally like these round tortoise-shell frames that also come in black, clear, blue, and rose, but they also have a square frame in case that's more your style.
Sarah Sidway Godshaw, founder and designer of Sidway Swim, recommends a light tortoise shade to "dress up an all-black casual look for daytime errands" because as she puts it, "it's a little less severe than solid black." This round frame adds a "fun, playful vibe" and makes Godshaw "feel a little more styled." The lenses are "100 percent UV category three," which means they block out glare and filter all UV light that comes through to protect your eyes. They also feature flexible hinges, so they can adapt to your face shape and size. "It's nice to have some cute sunnies that aren't so precious," says Godshaw.
"These give me Oliver People vibes for a fourth of the price," says Brigid Wygod, founder and designer of Follow Suit. Because they're not "completely round," Wygod thinks these Chimi frames are "universally flattering," unlike some round pairs, which can look too severe. The frames are made from acetate, so they'll be relatively lightweight, and the lenses block out 100 percent of UV light that comes through. The Swedish brand even provides exact measurements of each pair, so you can determine how big (or small) they will look on you.
Photo: 19-05-20 Accessories AM1 B1 jent
For a trendier pair, Wygod looks to Le Specs because they're fairly high quality for their low price. "The rectangular shape gives off major 90s vintage vibes, without having too small of a frame," she adds. The frames come in neon purple and orange for those really into something new and exciting (or tortoise shell, if you're still looking for classic), but Wygod particularly likes this black pair that allows you to virtually try on before purchases (as you can with all frames on Le Specs's website). They're not polarized, but they do have category three UV protection.
Cameron Armstrong, founder of Kitty and Vibe, calls these round frames "an awesome staple" for any closet. They're her "go-to style for everyday wear" thanks to their classic tortoiseshell pattern and darker lenses. They have a thinner, stainless steel frame, so they aren't too oversized, but they still cover a lot of area with their UVA/UVB protective lenses. The brand claims these have a "medium wide fit," and in case you're not sure what that means, they provide exact measurements on the site, so you can determine how they'll look before you buy.
Best cat-eye sunglasses
"If you're tempted to try a funky shape that's a bit outside of your comfort zone, this pair is about a low-commitment as they come," says Lindsay Silberman, lifestyle and travel blogger. She purchased them before a vacation and says they ended up being "super cute." While she doesn't think they'll last a lifetime — they're not polarized and made of a lightweight plastic — as she puts it, "For $7.99, I'm not complaining." They come in ten different colors and patterns, including tortoise shell, black, clear, and red.
These frames are similar to the ones recommended by Silberman, but they only come in red and the angles are much less severe — unlike the Amazon pair, the bottom of the frames are much more rounded and they don't point out quite as much on the sides. And even though they have a more refined shape, Delanique Millwood, founder of upcoming skincare and wellness brand Skintellect, calls these "the ultimate statement frames" because they give you a little bit of "both chic and sassy" vibes. She tends to lean towards black frames because they have a more "classic style," but she couldn't say no to this "fiery hot red color."
These Warby Parker frames also offer a toned-down cat-eye, even more so than the pair from Anthropologie. They come in tortoise shell and a semi-sheer beige, and Armstrong says you "can't go wrong with either." "I've always been attracted to a cat-eye if I'm feeling the desire to rock a feminine and flirty look," she adds. If she's looking to invest a little bit more money in frames, Armstrong heads to Warby Parker "because you can try on a handful of styles before you buy." You can buy them with or without a prescription and each pair includes scratch-resistant lenses with UV protection.
If Katonya Breaux, founder of Unsun Cosmetics, could only choose one shape of sunglasses to wear, she says the cat-eye shape "would be my number-one choice." These are her "go-to" for a day out because they're chic and provide a unique take on the cat-eye, since they're so oversized. They're made from a stainless steel frame with slightly reflective, category three UV protection lenses.
Best square sunglasses
These frames look sturdy and heavy, but because they're made from cellulose acetate, which is known for being relatively lightweight, they won't feel that heavy on. And Godshaw thinks "the marbled yellow frame gives these perfect vintage-inspired sunglasses a sense of authenticity without looking costumey." But if yellow isn't really your vibe, they also come in black and tortoise shell. The frames feature anti-reflective lenses with UV protection, and each frame comes from a renewable resource, so it's a little better for the environment, too.
"Slicked hair, thick hoop earrings, and these glasses," imagines Godshaw. Although she thinks it'd be "fun to wear these with a suit or fancy dress," thanks to months of quarantine, recently she says she's been "pairing them with my favorite sweats." They're intense frames, but Godshaw says that's the appeal. "I like how serious they are — they mean business." The frames over high glare reduction, category three UV protection, and a protective pouch and case with every purchase. And while it might be tough to see in the picture, they are actually a subtle olive color, rather than black.
"I'm obsessed with these Chimi glasses," says Wygod. She thinks that "having an elevated pair of everyday sunglasses is essential," and she tends to go for a tortoiseshell because "it's instantly chic and goes with everything without trying too hard." The unisex sunglasses are made from a lightweight acetate, and they offer UV protection. Wygod particularly likes this frame because of its thickness. "I love a chunky pair of sunglasses," she adds. They also come in a variety of colors, from berry to ginger to black.
Best oversized sunglasses
"ASOS is a treasure-trove for reasonably-priced eyewear," says Silberman. Although ASOS stocks other brands such as Quay, Aldo, and Rayban, she actually recommends their in-house brand: ASOS Design. "I've purchased several pairs from them lately and have been consistently impressed," she says. The pair she owns sold out, but the same frames are still available in white, mint, and also a funky purple ombré. These 70s-inspired frames only cost $19, but Silberman says, "To me, they look as good as designer pairs." (It's worth mentioning that while they claim to have "good UV protection," according to the brand's description, they do not include a percentage or category of protection, so perhaps these should be used just for the style.)
Chantel Davis, founder of Castamira, calls this Amazon pair her "personal favorite" because for the cost, they're "pretty durable" and instantly take "a casual beach day to the next level." She says they give her a "boss-babe look," which makes them worthwhile for her. They're not polarized and don't provide UV protection, but due to the extremely dark lenses, they'll block out lots of light, say, if you want to take a nap on the beach. And they come in four other colors, including purple, tortoiseshell, and a black gradient, if the matte black is too severe for you.
Armstrong recommends Diff Eyewear not only because of their high-quality sunglasses at low prices, but also because they have a strong give-back program. "No matter which pair of sunnies you buy, they donate a portion to charities making a difference in vision for the world — whether that be through eye exams, glasses, medicine, and surgery," Armstrong explains. She personally likes these oversized wire frames because they offer an oversized fit without looking silly, and the cutout accent is a bit more unique than traditional wire frames. They're not polarized, but they do have UV protection.
Breaux's son actually introduced her to Warby Parker, which she now thinks "are some of the greatest quality glasses you can find at an affordable price." She owns "quite a few pairs already" yet just found out about the brand. The Gemma model is a sturdy, thick frame made from a lightweight acetate. Like the other Warby Parker frames mentioned, these too come with scratch-resistant frames and UV protection whether you buy them with or without a prescription.