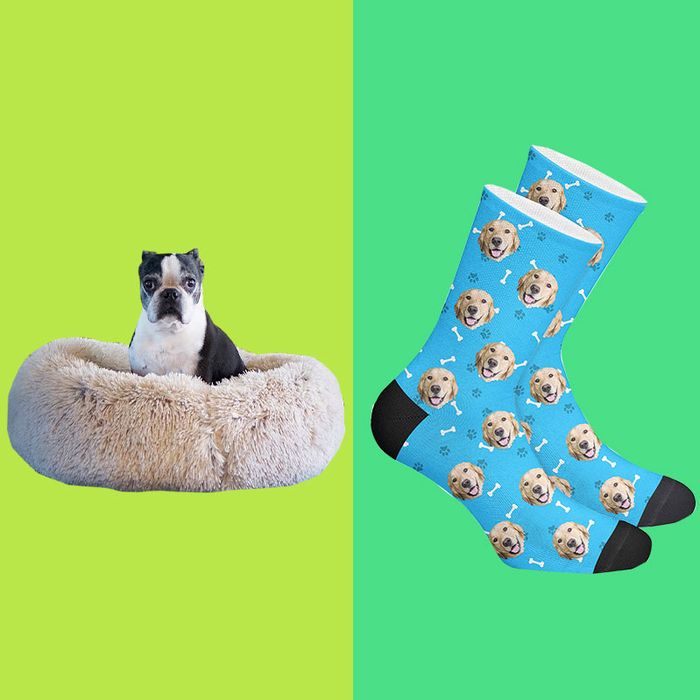 Photo-Illustration: retailers
Listen, I know it's not always easy to be friends with an obsessive dog owner. They're always sending you photos of their dog, telling you stories about a "funny" thing their dog did, forcing you to provide feedback on their newest song about how their dog is the handsomest dog alive. It can be difficult. I know this because I am this exact type of unnervingly enthusiastic dog person about my dog, Peter. I schedule vacations around his interests, have four portraits of him in my living room, and I wrote an entire book about him called The Particulars of Peter. He is my world and is thus a minor character in the worlds of all of my friends and acquaintances both real and on social media.
Finding the perfect gift for this type of person might seem simple. You're probably thinking, "I'll just get them some dog thing." Maybe a shirt that says, "I'm an AQUARIUS who LOVES BASKETBALL and MY DOG," or a beanie with a paw print on it. Well, my friend, I'm here to tell you that you can do better.
Below is a selection of 15 perfect gifts to give the dog obsessive in your life — and while you're at it, please give your friend's dog a scratch for me. (And if you need even more gift ideas for dog owners, here's more than 60 of them.)
I am not someone who can be bothered with tying shoes before every dog walk. In past winters this meant I would go out into the cold with thick socks and sandals, but last winter I upgraded to an outdoor slipper. They're a much more reasonable alternative, even if they do look like indoor slippers, and even if that does cause people to look at me and think I mistakenly left my house in my indoor slippers. It's fine. They are a perfect gift for someone who you know wears sandals outside to walk their dog even though it is snowing.
Okay, a rubber hair removal brush is perhaps not the "sexiest" gift one can give. But if I know your dog-loving friend — and I think I do — they sleep in bed with their dog every night, even though it makes their bed disgusting and full of dog hair. So far, I have not discovered dog-hair-repellent sheets, sadly, but this brush is the next best thing. A few quick swipes over your bed, and it's almost as if you have allowed societal pressure to discourage you from sleeping the most joyful way imaginable: next to a shedding dog. (Please use your discretion about whether this can be your only gift or if you will also need to supply additional gifts.)
The greatest gift you can give a dog owner is the gift of dog happiness. Scent work is a fun sport that allows dogs to indulge in their love of sniffing, searching, and finding while keeping them mentally and physically stimulated. As a bonus, it allows their human to feel like they are finally, for sure, doing a good job of fostering canine joy. And it's easy to do at home! Because of the pandemic, lots of dog training academies have moved their classes online, making it an easy way to spend time and have fun with your dog when outdoor possibilities might be limited.
And for while the scent-work course isn't in session: a snuffle bowl. I've already professed my love for this one, which inexplicably looks like a salad and allows you to hide treats or kibble for your dog before letting them loose on a scent expedition. The bowls — or mats! — are great for slowing down quick eaters and for just having fun.
It's relatively easy at this point to obtain a custom portrait of a dog online, and doing so would, of course, be a good option. But do you know what might be an even better option? Obtaining a custom portrait of a dog in the recesses of your creativity and love. Why not buy some canvases, some paint, and some paint brushes and paint your own custom portrait of your friend's dog? Even if it isn't very good, if it bears a passing resemblance to the canine subject, I promise you that your friend will love it and display it with great affection. And you will look so thoughtful!
I realize we all know about these from Instagram ads, but I've given these to several people and they really are pretty good.
Did your friend adopt a little mystery? A DNA test can help them unravel it. After swabbing the inside of their dog's cheek, your friend will send off the kit and, a few weeks later, find out the breeds that went into creating their friend. Because waiting for the excitement of finding out is torture, a nice thing would be to, if you have access, sneakily swab the dog's mouth and send the kit away in advance of the gift giving.
Another way to unravel the mystery of one's dog is through the great work of cognitive scientist Alexandra Horowitz. Rather than aiming to teach you how to train your dog to act certain ways, Inside of a Dog focuses on teaching you why they act the way they do, and how life on this planet feels for them. It's so good — your friend is going to love it.
This is more or less utterly useless, but after I came across this stamp I ordered one for myself immediately, so I can tell you from firsthand experience that your dog-crazy friend will appreciate this. And who knows, maybe it will inspire them to write letters?
While we're on the topic of personalized items that may or may not be useless, I'd like to recommend a personalized dog pillow. It's a true statement piece to keep on a couch or bed, letting anyone who enters your friend's home immediately know the kind of person they are and that they might want to leave for their own safety. Another funny thing, I think, would be if you, the dog owner, bought pillows of your own dog for your friends, as if that is something they would want. "Ohhh … uh, thank you?" they would say.
Another useless one — but look at how cute it is!
Sure, this is "boring," but trust me when I tell you that your friend will appreciate it. Particularly when their dog won't stop licking a broken nail, and their vet tells them to wrap it to prevent infection brought on by licking, and they think, "Wrap it with what?!" Then they'll remember the kit.
Having the ability to constantly watch your dog while you're out of the house can be both a blessing and a curse. It's impossible to stop yourself from checking in once you're able to do so. That said, I love my dog camera and I am so grateful for its at once anxiety creating and soothing properties. And with the Furbo, your friend will be able to shoot treats at their dog from afar. I think they would like that.
A subscription to BarkBox provides a monthly shipment of toys and treats, which is an excellent gift for a dog. But it is also an excellent gift for a human, who gets to not only watch the dog's excitement with each new box, but also try to guess what each month's toy theme might be. Will it be astronaut dogs? Or will it be doggy rock stars? Or maybe dog … scientists? Your guess will never be right, but you can try.
This supersoft faux-fur bed is a favorite of Strategist editors and a favorite of mine. Peter loves it and looks so cute curled up inside with his sweet, little head resting on the donut ridge. As a bonus: It also works as a human headrest if you want to lie on the floor and watch TV.
The Strategist is designed to surface the most useful, expert recommendations for things to buy across the vast e-commerce landscape. Some of our latest conquests include the best acne treatments, rolling luggage, pillows for side sleepers, natural anxiety remedies, and bath towels. We update links when possible, but note that deals can expire and all prices are subject to change.