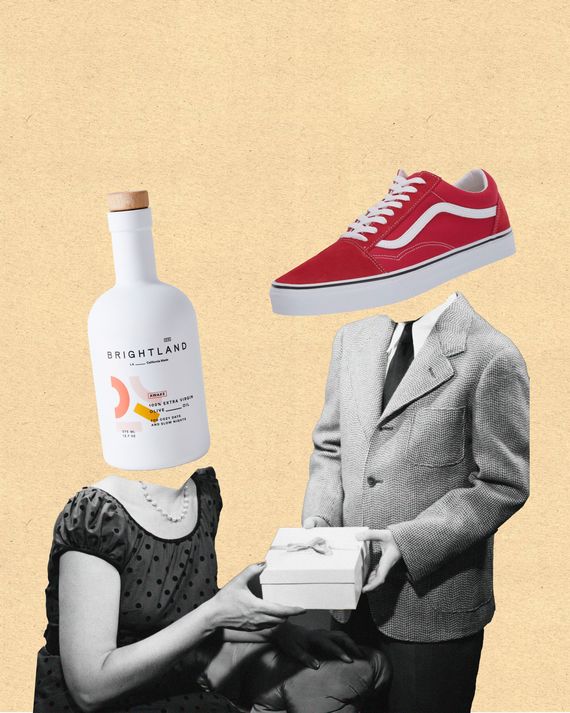 Photo-Illustration: The Stre
Our general holiday-gifting philosophy here at the Strategist is that there's never going to be one perfect present for every person on your list — but with a little bit of sleuthing, you can find a perfect gift for every type of person that you know. That's why we've curated gift guides for the hardest people to shop for, including the dad who has been wearing the same Tommy Bahama shirt for decades, the mom who never buys herself anything nice, the teen girl who's obsessed with Emma Chamberlain, even Twihards, new grandparents, and kids of every age.
Even still, we know it can be difficult to find a gift that speaks perfectly to one particular person in your life. So for the second time, we offered to help you with your biggest and most specific gifting quandaries. Just before Thanksgiving, we asked our newsletter subscribers to tell us who they were having trouble finding a great gift for, what that person was like, and how much they wanted to spend. More than 800 readers responded, asking for help finding gifts for 81- and 86-year-old parents who are also retired spies, a 9-month-old whose main hobby is banging things together, a best friend with really pointu taste, "myself" (with a budget of $2,500), and a new kinky polyamorous boyfriend in his late 20s who is into nice clothes, history, MMA, fitness, and whiskey.
Below are our gift picks for 66 of the most challenging giftees you sent in. To make it a bit easier, we've organized by price, from least expensive ($5) to asks with no budget. We're sorry that we couldn't help everyone, but for those of you who didn't get specific answers, hopefully these will provide the inspiration that you need. (If they do not, we suggest visiting our 2021 gift-guide hub for many, many more ideas. And if you're worried about running into shipping delays, peruse our supply chain–proof gift guide for things that will definitely arrive by December 25.)
"Members of my book club who are into literature." Budget: $5
"Stocking stuffers for my sister, mom, and sister-in-law who are into cooking, simple skin care, gardening, clean tastes, entertaining, comfort." Budget: None
"Stocking stuffers for the men in the family who are into outdoors, fishing, alcohol, hunting, reading." Budget: None
"A co-worker who is into coffee." Budget: $10
"A 5-year-old who is into dinosaurs, space, bugs, cars." Budget: $25
"My husband, who is into horse racing and American history." Budget: $25
"Work customers who are into things you use every day." Budget: $30
[Editor's note: This particular sanitizer holder is now sold out, but we've found lots of similar unisex options. For example, this Pinch Provisions' vegan leather hand sanitizer key chain is available for $12 at Anthropologie.]
"My angsty Gen-Z tattoo-artist cousin who is into astrology, drawing, piercings, hair dye." Budget: $40
"My dog who is into plants (he always tries to eat my pothos)." Budget: $40
"A 16-year-old niece who is into TikTok, Mexican music, early-aughts fashion." Budget: $40
"My boss with impeccable taste, 50s, female, who is into skin care." Budget: $50
"My mom who is into being warm." Budget: $50
"My 26-year-old sister who hates Christmas and gifts, who is into nothing but her medical study and her dog." Budget: $50
"A 22-year-old man who is into finance and Wall Street." Budget: $50
"My 9-month-old daughter who is into banging things together." Budget: $50
"A close friend with a party lifestyle who is into hiking, biking, electronic-music festivals, skin care, reading." Budget: $50
"My 16-year-old son who is into Harry Potter fanfiction and Dungeons & Dragons." Budget: $50
"My 32-year-old sister who has everything who is into skin care, natural wine, tasting menus, makeup, ethical e-commerce." Budget: $50
"My father who is into movies, his iPad, Rocky Mountain National Park." Budget: $50
"My mother-in-law (who I like) who is into grandkids, volunteering, flowers, pre-pandemic entertaining, being Catholic." Budget: $50
"Myself — I'm into jigsaw puzzles, cotton clothing." Budget: $50
"A stepmom who is into scarves, too-sweet wine, White Claw, monograms, country-classy décor." Budget: $50
"My kid's teacher (a young guy) who is into maybe sports and fitness; he used to be in the Navy." Budget: $50
"2- and 3-year-old nephews, whose mom sells toys, are into Paw Patrol and Blippi." Budget: $50
"A southern brother-in-law who is into hunting and just bought a vintage Bronco he's restoring." Budget: $60
"My 4-year-old nephew who is into Orbeez water beads, domino courses, and his imaginary hamster." Budget: $65
"My sister-in-law's fiancée who is into books, softball, Harry Potter." Budget: $70
"Mom who is into beginner gardening, reading, movie club, paper-cutting, baking." Budget: $75
"My sister-in-law in London who is very hip and sophisticated who is into interior design, fashion, color, cooking." Budget: $75
"My sister who buys everything she wants who is into cooking, conspiracy theories, booze." Budget: $75
"My 30-year-old best-friend (French woman) with really 'pointu' taste who is into cooking, hosting, fashion (Chanel, Jacquemus, Louis Vuitton), makeup." Budget: $80
"An ex-wife who is into fashion, grandkids, beaches, Joni Mitchell." Budget: $90
"A 93-year-old sister who is into gardening, indoor plants, baths (can't see well, stays indoors much of the time)." Budget: $100
"A new boyfriend, who's picky and has great taste who is into weed, design, basketball." Budget: $100
"My 72-year-old retired father who is into live music, tennis, 'walking,' hockey podcasts." Budget: $100
"A boyfriend who can afford to buy anything he wants with no price limit who is into technology, cooking, his beautiful depressed Aussie dog." Budget: $100
"My 19-year-old niece who is into cozy fashion, trendy makeup e.g., Glossier, trendy jewelry, dorm-room décor." Budget: $100
"My 34-year-old neurosurgeon son who is into Magic the Gathering (new obsession), Star Wars, The Mandalorian, and brain stuff." Budget: $100
"My 72-year-old dad who is recovering from shoulder surgery who is into home DIY projects, tech gadgets, his pontoon boat, my mom, and cooking with fun new ingredients." Budget: $100
"My artist mother-in-law who wants nothing who is into practical, gorgeous curios." Budget: $100
"My dad's wife who is into jewelry, her little dog, traveling, yard sales, choir music." Budget: $100
"The ex who might not be an ex who is into film." Budget: $100
"My 72-year-old sister who is into statement pieces, looking cool but not trying to look like a 20-something, being comfortable." Budget: $100
"My male best friend with impeccable taste who is into cooking, fitness, indoor cycling." Budget: $100
"My mom who says she 'doesn't need anything' who is into fitness, beauty, luxury handbags, our family dog." Budget: $120
"A 10-year-old boy who is into sports and the stock market and is very inquisitive." Budget: $125
"My grown son who is into cashmere, sweaters." Budget: $125
"My boyfriend's parents whom I'm meeting for the first time who are into British stuff (they are in England)." Budget: $150
"Corporate gifts for a remote team from our company who are into drinking." Budget: $150
"Boyfriend's 60-year-old parents who are into watching TV, skiing? Have everything they need/want and don't drink." Budget: $150
"My new kinky polyamorous late-20s boyfriend who is into nice clothes, history, MMA, fitness, whiskey." Budget: $150
"A 14-year-old girl who is into drawing, stop-motion animation, reading, dark academia." Budget: $200
"A man I've been dating for five months who is into cooking, cocktails, horror genre, merino wool." Budget: $200
"My adult daughter who is into designer furniture." Budget: $200
"My best friend who is into cooking, skin care, plants." Budget: $200
"My 14-year-old half-brother who is into gaming, movie scores, video editing." Budget: $200
"My wife who is into gardening, orchestral music, old spoken-word vinyl albums, vegan food, old postcards." Budget: $250
Photo: Courtesy of vendor
"A fiancé who is also currently undergoing chemo who is into cooking, Black sci-fi, music, movies, tech stuff, hats." Budget: $300
"My 30-year husband who buys himself everything who is into 3-D printing, Raspberry Pi, MOMA Design Store, woodworking, colors." Budget: $300
"My boyfriend who takes years to buy clothes who is into Japanese designers, small menswear shops, New Balances, and running." Budget: $300
"My husband who is into a nice but not insanely expensive watch." Budget: $300