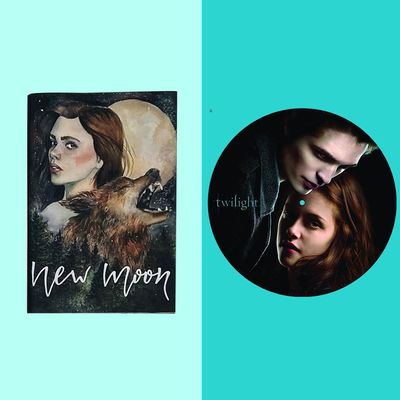 Photo: The Strategist; Photos: Retailers
Even though the last of the original four Twilight Saga books was released in 2008, and the latest movie premiered in 2012, the fandom is still going strong nearly a decade later. The 2015 release of Life and Death: Twilight Reimagined (a.k.a. book 1.5) and Midnight Sun in 2020 have kept the series in the news cycle, but twihards, Twilight superfans, have been keeping the story alive all along.
"It gets a bad reputation, and a lot of people make fun of it nowadays, but a twihard stands by the good, bad, and ugly while also appreciating the jokes that come along with it," says Zoe Black, who runs the Instagram Forever My Twilight Saga. It's one of many accounts memorializing the series. Few series have such a following well after they have ended, but Black and the other twihards we spoke to think it comes down to nostalgia.
"It's one of my favorite memories as a kid: I would carry the books around everywhere I went," says Black. "It was my safe space." Maren Abercrombie, one-half of the podcast Remember Twilight?, says, "I always feel like I am coming home when I read the books and watch the movies." She adds, "These characters are my friends."
Serena Bailey, who runs the account Twilight Hoe, reminds us that for millennial fans, the saga was at peak phenomenon in our tween and teenage years, making the young-love story and high-school angst even more relatable. And while it might not have been the coolest thing to be into at the height of its popularity, "There's a huge freedom in reclaiming the series after it was sometimes ruthlessly torn down," she says.
Ultimately, though, the story lives on just like the characters do. "They're vampires," says Cherish Danae, who writes Twilight-inspired music. "They never get old, and the story never gets old." With that in mind, we've asked these Twilight superfans about the best gifts for twihards. From the subtle trinkets your friend watching in secret would appreciate to more obvious gifts for the loud-and-proud fan running a Twilight meme account, below are 15 gifts for every twihard on your list.
If they're a true fan, you can probably already assume they have the books. If they've been read and reread dozens of times, though, and they've been holding on to them since the early 2000s, they are probably no longer in display condition. This collector's set of all-white covers would be perfect for them to put on a bookshelf. Deborah Bailey, who runs the TikTok account Twibytez and has over 130,000 followers, says she would display this set next to her original collection.
Photo: The Strategist; Photo: Retailer
Fans were shocked last year when Stephenie Meyer released the fifth book in the series, Midnight Sun. A leaked version came out years ago, and Meyer said she would never finish the "cursed project" but gave everyone a little pandemic treat last year, according to Danae. If your twihard friend hasn't gotten their hands on one yet, she recommends getting them a copy.
"It's my favorite book in the series now because it's from Edward's perspective," she says. "His mind is so expansive it's insane. I think any Twilight fan would enjoy reading it."
To add a personalized touch, you can DIY the book before gifting it. "One of my best friends folded the pages of one of the books to spell out Twilight, and it's super-amazing," says Danae. "It's one of my favorite things. It's really cool and personal."
Danae says screen-accurate merch is very popular in the fandom, but she likes original work that has a more unique take on the series. Remember Twilight?'s Etsy page is one place she likes to go for that. "Their Etsy shop has so many amazing things, like their reimagined book covers for the saga, prints, stickers — everything," she says. "I just actually got my friend basically a care package from them with stuff from their shop. She loved it." Emily Mensing, co-host of the podcast, says these designs came from a collaboration with Erin Porter Art.
"This is the perfect piece for those longtime fans whose original copies are looking a little worn down or who'd like to add a new look to their bookshelves," she adds, "This is our best-selling item, and the melt-in-your-hands texture of the paper is sure to make this a standout gift."
If they have a more minimalist design aesthetic, these more abstract designs might look better on their bookshelf. "An amazing fan, Mollie McAuley-Perkins, created her own dust jackets, and they are stunning," says Black. "She reached out for opinions on what they believed each color would go with what book, the seasons, everything, so she really took the time to see what other twihards felt about the saga too."
"The soundtrack for the first movie (all of them, really) were generation-defining and were way ahead of their game" says Serena. "Vinyl is a hugely popular thing to collect at the moment, and having a Twilight-soundtrack picture disc would be a great addition to any fan's collection." Originally, these were available at Hot Topic, but today they're collector's items and only available secondhand, which makes them pricey but still worth it. "I own a New Moon–soundtrack picture disc; still looking out for a Twilight picture disc in my price range," Serena says.
Photo: The Strategist; Photo: Retailer
This would count as a status candle among twihards. It's a set of five, with one representing each of the books. The Twilight candle has an apple-cinnamon scent, the ones for New Moon and Midnight Sun smell like pomegranate, Eclipse's is called "Alpine Snow Frost," and Breaking Dawn's is called "Library." Not only are they named for the books, but "each candle is perfectly decorated with imagery from each of the books, and they are so beautiful that you wouldn't be alone in using them to decorate your bookshelves, either," says Mensing. "Mine are still living on my shelf, but from my sniff test, I think I'll be burning the Midnight Sun one first."
Photo: The Strategist; Photo: Retailer
For more traditional art, Deborah likes this painting from Gladiis Moreno's Etsy shop. It's an original watercolor painting of trees reminiscent of what you'd find in Forks, Washington, where the movie is set, along with the quote "No measure of time with you will be long enough, but we'll start with forever," which Edward says to Bella in Breaking Dawn.
"This sign is my favorite," says Black. This wall hanging at first glance doesn't scream Twilight, which she likes, but it does point to all the locations in which the story takes place. "It's beautifully made, and it hangs nicely with all of my cacti."
There are a lot of twihard-recommended wearables to gift as well. One of Black's go-to stores for jewelry is Twihard Jewelry Box. She already has several pieces from the shop and was eyeing a wolf-and-heart necklace that has already sold out. Still available, though, is this bear-and-paw charm necklace that is "inspired by Emmett's love of a good bear hunt," according to the description.
A little less on the nose is this fern necklace. Even a fan might not be able to spot this homage easily, but the fern inside the necklace is actually from Forks, Washington. "It's super-beautiful, super-unique," says Danae. Black is also a fan. "I have bought one for myself and some of my Twilight girlfriends. We all love it," she says. "I personally like Twilight merchandise that isn't in your face. This necklace doesn't scream Twilight, but to a twihard, it's perfect."
Photo: The Strategist; Photo: Retailer
"Bella, where the hell have you been, loca?," which Jacob says to Bella in the second movie, is a constant in my group chat and popular among Twilight fans and haters alike. "This direct quote from New Moon is high ranking among the meme community," says Serena, who thinks a shirt with this quote is perfect for a twihard with a sense of humor and a love for cringey Twilight quotes. Black is also a fan and owns the tie-dyed sweatshirt. "I remember walking to my town's ice-cream shop, and the girls behind the glass all gathered to look at it," she says. "They thought it was hysterical."
As previously mentioned, Danae makes Twilight-inspired music, some of which has even caught the attention of the author herself. When she found out Meyer was releasing Midnight Sun, "I just got this sudden burst of inspiration to write a song about it before it even came out," she says. "I wrote and released my song called 'Silence,' and it came out in July, and Midnight Sun came out in August and it kind of went viral within the fandom. Stephenie Meyer eventually heard it, and she talked about it in a Q&A. I can die now." Danae makes merch to go with her music, and this shirt commemorates her viral song.
Photo: The Strategist; Photo: Retailer
Photo: The Strategist; Photo: Retailer
Three of the twihards we spoke to recommended a key chain from Pretty Candy Pin Company. Mensing says the key chains have "swept over the fandom." These little acrylic cards come in different colors, one for each movie, to give an instant Twilight filter to the world around you. "Everyone remembers how iconic the blue filter was in the first Twilight movie," says Serena. "It's a great subtle nod to the fandom." She owns the Twilight and New Moon filters, but you can gift them all with a limited-edition collection box featuring one for each movie and a bonus blue-filter one that says "Directed by Catherine Hardwicke," which is otherwise sold out.
The Strategist is designed to surface the most useful, expert recommendations for things to buy across the vast e-commerce landscape. Some of our latest conquests include the best acne treatments, rolling luggage, pillows for side sleepers, natural anxiety remedies, and bath towels. We update links when possible, but note that deals can expire and all prices are subject to change.