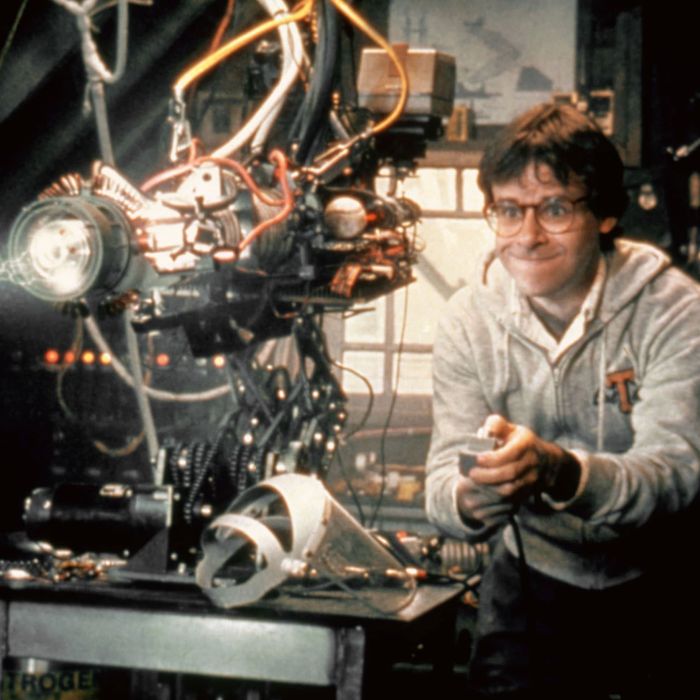 Photo: Courtesy of Walt Disney Pictures
Buying a Father's Day gift for a tech-savvy dad can be tricky if you don't keep up with all the latest gadget and gizmo releases. To make your search easier this year, we have a wide variety of gifts for your tech-head dad. (We also have guides to gifts for new dads, golf dads, grilling-enthusiast dads, and, well, every other type of dad.) Whether they're interested in experimenting in the kitchen, snapping photos of the fam, or setting up a beautiful audio experience with wireless speakers, we've got you covered. We also combed our archive of tech recommendations for dads who are into everything from virtual-reality headsets to fitness tracking.
For Internet of Things dads
Stephen Farrell, director of merchandising at Hammacher Schlemmer, likes the smart security camera from Nest. It sends alerts of suspicious activity directly to the app and includes speakers and a microphone. Farrell says it helps his family feel more secure.
Nest's energy-saving smart thermostat is a favorite of Jeff Titterton's; the marketing senior vice-president at Zendesk loves how the device makes it "easier to control everything throughout the house."
Help dad save on the water bill with this smart sprinkler controller that'll automate watering the lawn. He can input details like sun exposure and plant type, and the Rachio also checks the weather, so it knows to skip watering on rainy days.
Dad can make any device "smart" with these plugs that can be turned on and off or set to a timer from his phone. Writer Lindsey Weber told us "anything you can imagine plugging in and turning on can be controlled with an app."
All of dad's smart gadgets depend on Wi-Fi, so make sure his house is free of any dead spots with the Eero system of Wi-Fi-extending "beacons," recommended to us by former tech columnist David Pogue. "The beacons are smaller, sleeker, and less technoid-looking than the other companies' base stations (and it has a night-light, which is supercool)," said Pogue.
Another Pogue pick, this wireless charger will keep dad's phone from running out of juice. Instead of having to keep your phone flat on a charging pad, the stand makes it easy to see your screen while you're charging.
If your father is always doing that thing where he pats his pockets in a panic, looking for his wallet or keys every time he's leaving the house, get him a Tile Sticker. The simple Bluetooth tracker is about the size of a nickel and can stick to anything he's worried he'll forget. Instead of spending 15 minutes searching the couch the next time he can't find his keys, he can just pull up the Tile app.
If your father is obsessed with being energy efficient or always yells about the lights being left on in an empty room (is there any dad who hasn't said this?), then he will love these dimmable lightbulbs. He can also control the lights from his favorite chair using his voice via a smart home assistant like Google Assistant or Alexa.
For amateur-photographer dads
Moment makes some of the most popular phone camera lenses around. If your father seems to spend a lot of time pinching and zooming on his pictures of hummingbirds in the backyard, then the 58-millimeter will get him a tighter shot without the added blurriness of digital zoom.
Moment also makes cases that will protect his phone while holding an extra lens in place. This one comes in three different colors, and when he's ready to upgrade to a different-size phone, the case is fully compostable.
For dads looking to branch out from smartphone photography, writer Steven John thinks this is the best digital camera for most people. "This device works great in the bright light of day or the lower light of evening or interiors. It has a high-quality 24-megapixel sensor, a lens with zoom range between 16 and 50 millimeters, and superfast autofocus abilities, so you don't miss the moment," he said.
If your dad takes a lot of photos, he needs a way to show off his work. This digital frame lets him upload images straight from his phone. Customers also mentioned that the app was intuitive to use. "It was simple to set up, and the app makes sending photos fast and easy," says one customer. You can also connect your frame to Google Photos, Dropbox, Facebook, or Instagram.
If dad's been itching for a drone, the DJI Spark has a powerful lens for capturing aerial photos and video, and it's easily controlled by his phone or even through hand gestures. It's a solid entry-level drone with more features than a "toy" one but is still affordable compared to higher-end models.
When we asked experts for the best instant camera, the OneStep 2 was a favorite, commended for its ability to take beautiful images and its ease of use. Dan Rubin, a photographer and designer, says, "It has very few settings, but that's the whole point: You can pick it up and start using it. You don't need to think about it."
For audiophile dads
Dads with a record collection will appreciate this Bluetooth turntable, a pick from Farrell, that will let them link their music to any wireless Bluetooth speaker — or headphones for private listening.
For multiroom wireless speakers, no system works as seamlessly as Sonos. Multiple experts we spoke to praised its quality sound, tasteful aesthetic, and ability to quickly connect with other Sonos speakers. Jade Baker, partner and assistant buyer at John Lewis, says, "This is the classic starter speaker for your multiroom collection. With the ability to link up to all other Sonos speakers in the range, you can kit out your whole house with room-filling sound."
This Bluetooth speaker should appeal to any dad with affinity for retro tech. It has a volume, bass, and treble knob for easy analog adjustments, or he can use the Marshall app and adjust the settings on his phone.
Pogue's favorite noise-canceling headphones are just as good for listening to music as they are for enjoying the silence. Compared to a similar pair from Bose, Pogue said the Sony ones sound better. "The bass is stronger and deeper, the midrange is balanced, the highs are crisp."
If he wants to bring his music with him to the garage or backyard, get your dad the UE Boom 3, a portable and durable Bluetooth speaker. According to our colleagues at The Verge, "Ultimate Ears' Boom speakers are some of the best around, with their bright colors, waterproof exteriors, and water-bottle-sized design that makes it the perfect option for bringing to a picnic … or a park."
If dad's more of an earbud guy, Liu recommends these Bluetooth earphones. "They're small, so easy to transport, and fit in the ear quite well with different ear-tip options," he said. "The sound quality is great, with a warm midrange and good bass response."
And if he'd rather go wireless, Strategist managing editor Maxine Builder determined that these were the best truly wireless earbuds. "If you're looking to maximize sound, style, and comfort or want to finally upgrade your AirPods, you cannot do better than with these Sennheisers," she said.
For gamer dads
PC-gaming dads will love this programmable mouse with more than 2,600 positive reviews on Amazon. We were won over by this one: "The software that comes with it is fantastic and makes it very easy to customize it for any game. It can even scan your computer for installed games and auto-program the buttons based on the game. I was very wary about spending so much money on a mouse, as I am a weekend-warrior FPS player; it was worth every penny."
For Golden Age of Television dads