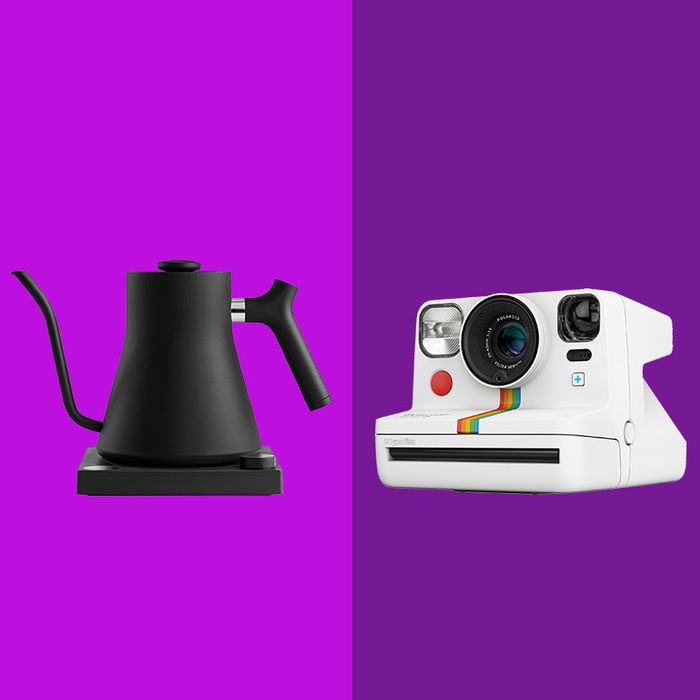 Photo-Illustration: The Strategist; Photos: Retailers
Buying a Father's Day gift for a tech-savvy dad can be tricky — especially if you don't keep up with all the latest gadget and gizmo releases. To make your search easier this year, we've rounded up a variety of gifts for your tech-head dad, including some of the best tech recommendations from our archives. The options cover dads who are into everything from virtual-reality headsets to fitness tracking. (We also have guides to gifts for new dads, golf dads, grilling-enthusiast dads, and, well, every other type of dad.) Whether he's interested in experimenting in the kitchen, snapping photos of the fam, or setting up a beautiful audio experience with wireless speakers, you're bound to find something here that he'll love.
For Internet of Things dads
Stephen Farrell, director of merchandising at Hammacher Schlemmer, likes Nest's smart security camera, which sends alerts of suspicious activity directly to the app and includes speakers and a microphone. Farrell says it helps his family feel more secure.
Nest's energy-saving smart thermostat is a favorite of Jeff Titterton's, the marketing senior vice-president at Zendesk. He loves how the device makes it "easier to control everything throughout the house."
This version of Google's smart thermostat "makes suggestions on scheduling tweaks to help you save energy, while also tracking and alerting you to odd patterns in your heating and cooling usage," says Strategist contributor Kyle Schurman. It's a great gift for any father in the smart-thermostat market.
These plugs let Dad make any device smart. He'll be able to turn a regular old lamp on or off from his phone or set up a schedule. As Strategist contributor Kyle Schurman explains, "You can also have the Wyze turn on any time one of your other smart devices is activated. For example, if someone approaches your video doorbell, you could have a lamp in the window automatically turn on to make it look like someone is home."
A favorite of Strategist contributor (and former tech columnist) David Pogue, this wireless charger will keep Dad's phone from running out of juice. Instead of having to keep your phone flat on a charging pad, the stand makes it easy to see your screen while you're charging.
If your father is always doing that thing where he pats his pockets in a panic, looking for his wallet or keys every time he's leaving the house, get him a Tile Sticker. The simple Bluetooth tracker is about the size of a nickel and can stick to anything he's worried he'll forget. Instead of spending 15 minutes searching the couch the next time he can't find his keys, he can just pull up the Tile app.
Apple's version of a Tile sticker is a good option if your dad already owns an iPhone, AirPods, or an Apple Watch. AirTags pair seamlessly, thanks to Apple's one-tap setup process.
If your dad is obsessed with being energy efficient and always yells when the lights are left on in an empty room (is there any dad who hasn't said this?), he will love these dimmable lightbulbs. He can also control the lights from his favorite chair using his voice via a smart home assistant like Google Assistant or Alexa.
The iRobot Roomba can be automatically set up via his phone, so any time he sees crumbs on the floor, he can call his robot vac to clean them up in seconds — without having to get up from his favorite chair.
For amateur-photographer dads
If your dad takes a lot of photos, he needs a way to show off his work. This digital frame lets him upload images straight from his phone. Reviewers mention that the app is intuitive to use. "It was simple to set up, and the app makes sending photos fast and easy," says one customer. You can also connect your frame to Google Photos, Dropbox, Facebook, or Instagram.