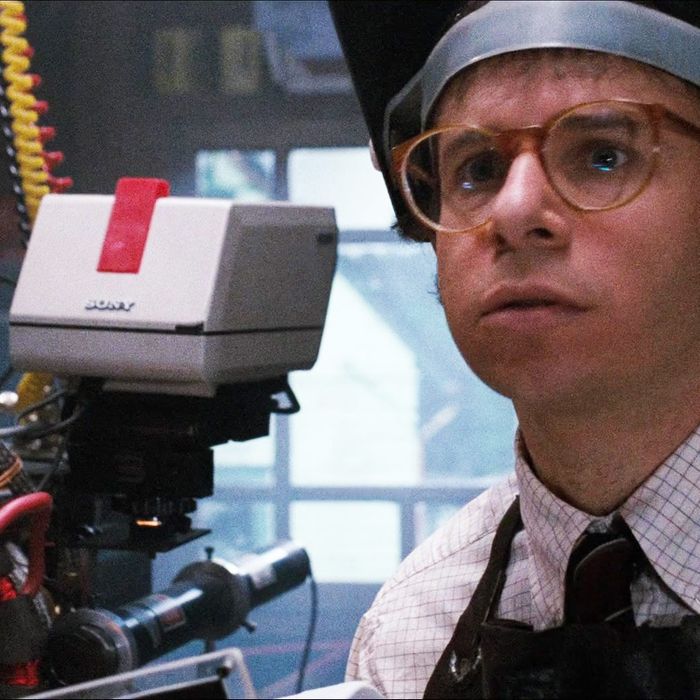 Buying a Father's Day gift for a tech-savvy dad can be tricky — especially if you don't keep up with all the latest gadget and gizmo releases. To make your search easier this year, we have collected a wide variety of gifts for your tech-head dad. (We also have guides to gifts for new dads, golf dads, grilling-enthusiast dads, and, well, every other type of dad.) Whether he's interested in experimenting in the kitchen, snapping photos of the fam, or setting up a beautiful audio experience with wireless speakers, we've got you covered. We also combed our archive of tech recommendations for dads who are into everything from virtual-reality headsets to fitness tracking. With so many choices, you're bound to find something he'll love.
For Internet of Things dads
Stephen Farrell, director of merchandising at Hammacher Schlemmer, likes the smart security camera from Nest. It sends alerts of suspicious activity directly to the app and includes speakers and a microphone. Farrell says it helps his family feel more secure.
Nest's energy-saving smart thermostat is a favorite of Jeff Titterton's, the marketing senior vice-president at Zendesk. He loves how the device makes it "easier to control everything throughout the house."
These plugs let Dad make any device smart. He'll be able to turn a regular old lamp on or off from his phone or set up a schedule. As Strategist contributor Kyle Schurman explains, "You can also have the Wyze turn on any time one of your other smart devices is activated. For example, if someone approaches your video doorbell, you could have a lamp in the window automatically turn on to make it look like someone is home."
A favorite of Strategist contributor (and former tech columnist) David Pogue, this wireless charger will keep dad's phone from running out of juice. Instead of having to keep your phone flat on a charging pad, the stand makes it easy to see your screen while you're charging.
If your father is always doing that thing where he pats his pockets in a panic, looking for his wallet or keys every time he's leaving the house, get him a Tile Sticker. The simple Bluetooth tracker is about the size of a nickel and can stick to anything he's worried he'll forget. Instead of spending 15 minutes searching the couch the next time he can't find his keys, he can just pull up the Tile app.
Apple's version of a Tile sticker is a good option if your father already owns an iPhone, AirPods, or an Apple Watch. AirTags pair seamlessly, thanks to Apple's one-tap setup process.
If your father is obsessed with being energy efficient and always yells when the lights are left on in an empty room (is there any dad who hasn't said this?), he will love these dimmable lightbulbs. He can also control the lights from his favorite chair using his voice via a smart home assistant like Google Assistant or Alexa.
For amateur-photographer dads
Moment makes some of the most popular phone camera lenses around. If your father seems to spend a lot of time pinching and zooming on his pictures of hummingbirds in the backyard, then the 58-millimeter will get him a tighter shot without the added blurriness of digital zoom.
Moment also makes cases that will protect his phone while holding an extra lens in place. This one comes in three different colors, and when he's ready to upgrade to a different-size phone, the case is fully compostable.
If your dad takes a lot of photos, he needs a way to show off his work. This digital frame lets him upload images straight from his phone. Customers also mentioned that the app was intuitive to use. "It was simple to set up, and the app makes sending photos fast and easy," says one customer. You can also connect your frame to Google Photos, Dropbox, Facebook, or Instagram.
If Dad's been itching for a drone, the DJI Mini 2 has a powerful lens for capturing aerial photos and video in stabilized 4K— and it can be controlled by his phone. It's a solid entry-level drone with more features than a "toy," while still being relatively affordable.
When we asked experts for the best instant camera, the OneStep+ was a recurring favorite, thanks primarily to its versatility and advanced creative controls. "If you were to put it on a tripod, you could take self-portraits. You could do long exposures playing with light painting or anything else. You can even trigger it by sound or movement," says Dan Rubin, a photographer and designer. The camera also has automatic and manual modes and two built-in lenses, allowing you to swap between portrait or landscape modes.
For audiophile dads
For multiroom wireless speakers, no system works as seamlessly as Sonos. Multiple experts we spoke to praised its quality sound, tasteful aesthetic, and ability to quickly connect with other Sonos speakers. Jade Baker, partner and assistant buyer at John Lewis, says, "This is the classic starter speaker for your multiroom collection. With the ability to link up to all other Sonos speakers in the range, you can kit out your whole house with room-filling sound."
This Bluetooth speaker should appeal to any dad with affinity for retro tech. It has a volume, bass, and treble knob for easy analog adjustments, or he can use the Marshall app and adjust the settings on his phone.
Photo: retailer
In our review of noise-canceling headphones, Strategist tech writer Jordan Bowman highlighted the XM4's three-hour battery life, comfortable ear cups, and engaging sound. And he really loved quick-attention mode: "Place your hand over the right ear cup, and the headphones lower the volume slightly so you can more easily pick up on the sounds around you," he says.