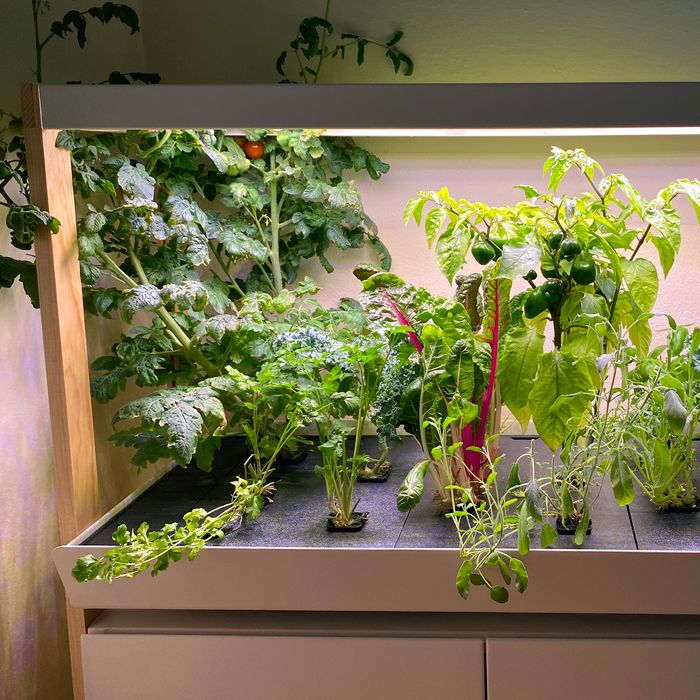 For me, gardening is the antidote to a long day of sitting and staring at a screen. Whether I'm watering, pulling up weeds, harvesting baby lettuces for a salad, or waging war on a slug infestation, working in the garden calms and energizes me. But I don't always have access to a real outdoor garden. The raised beds I built at my parents' house with my fiancé last summer are a few hours out of the city, and while our apartment gets nice light, it's not enough to sustain edible plants. So this winter, with the combination of shorter days and COVID isolation taking its toll, I turned to indoor smart gardens.
Like a Keurig machine, smart gardens come with everything you need, including pre-seeded plant pods. Just pop them in, add water, turn on the LED grow lights, and wait. There are options that easily fit on a kitchen counter and some that are furniture-size, with room to grow up to 36 plants at a time. And while they're all pictured in product shots overflowing with perfectly shaped basil, mint, parsley, lettuce, and cherry tomatoes, it's safe to assume your results may differ. With so many smart gardens to choose from, however, picking the right one for you can be tricky, especially if you've never grown your own food.
To help you decide, over the last few months I tested four smart gardens in my Brooklyn apartment. (Two were previously recommended to us, and the other two were the best I identified after researching the category.) I judged them based on the following criteria: ease of use, plant yield, taste, and looks. To give my experiment a control, I planted at least one basil pod per garden. Also, I started them all on as close to the same day in early January as possible. Here are my favorites in each category.
Best overall indoor smart garden
The smallest smart garden from Chicago-based Rise Gardens was sold out for weeks, so I made room in my apartment for the single-family unit, which is essentially a large stand-alone bookshelf — and I'm so glad I did. The single-family garden feels like having a real backyard vegetable plot a few feet away from the couch. It has space for a dozen large plants and enough height between the "garden bed" and the LED light panel to allow you to grow full-size peppers and tomato plants. Two of the other gardens I tested, the AeroGarden and the Click and Grow, have extension arms to raise their grow lights as your plants get taller, but their overall garden footprints are much smaller than the Rise, so plants quickly get cramped.
The garden comes with 16 seed pods, including Swiss chard, curly kale, cilantro, parsley, sage, basil, cherry tomatoes, snacking peppers, and a variety of salad mixes, like arugula and mustard greens. There's also plant food, an additive that adjusts the pH balance of your tap water, a plastic pitcher for refilling the water tank, and a "seed nursery," which is basically a Tupperware container that acts as a greenhouse until the seedlings are big enough to transfer to the main garden. Because the unit is modular, you can upgrade at any time, adding one or two additional garden shelves. Assembly took about an hour and involved putting together the wood-and-metal base, then connecting the grow lights, water tank, water pump, plant trays, and water sensor to each other before logging everything into the Rise app. But the months of fresh and tasty produce in the middle of winter were definitely worth the effort.
None of the stuff I grew in the other gardens tasted nearly as good as the herbs and veggies I grew in this one. (My fiancé, Jacob, confirmed this in a blind basil test.) My seeds took 12 days to sprout and grow their second set of leaves — a sign they are ready to transfer. Almost 4 months later, I got to taste my first ripe cherry tomato, and soon the peppers will be ready to eat too. The salad greens are by far my favorite because they taste so good (better than what I have grown in outdoor raised beds) and keep growing back no matter how many times I pluck them. Plus, it looks really nice in my living room, and the top of it has become my go-to spot for displaying flower arrangements. The only downside is that my electric bill has gone up significantly. But considering I have four smart gardens in my house running their lights 12 to 16 hours a day, with only one you'll see a much smaller increase.
Best indoor smart garden for growing herbs
The AeroGarden Bounty, which was originally recommended to us by George Pisegna, deputy director and chief of horticulture at the Horticultural Society of New York, hardly requires any set up at all; I had it up and running with all nine plant pods in place within about 15 minutes. Like the Rise, it comes with a little bottle of plant food and a water pump to keep the water in the big bottom tank circulating for increased oxygen.
A small touchscreen at the base of the unit tells you when your water is running low and when to add plant food. It also gives you gardening tips and lets you dim the lights when you're trying to watch a movie or set them to vacation mode, which uses less light to reduce your plants' growth and less water when you're not around to fill it up. I chose the unit that comes with a mix of gourmet herb seed pods, including mint, Genovese basil, Thai basil, two kinds of parsley, chives, thyme, and dill. After nine days, most of the pods had sprouted and measured a few centimeters.
Out of all the gardens I tested, this one had the best tasting basil and the fullest bouquet of parsley. And there was so much dill. I actually had to cut it back, which let the mint, basil, and chives thrive. This isn't the best looking smart garden, and at about the size of two blenders side by side, it was too big for my tiny kitchen, but it delivered tons of delicious herbs with almost no effort. Unlike the Rise and the Edn gardens, the AeroGarden doesn't require an app — as someone with too many apps already, I appreciated that — but it can be paired with an Amazon Echo, so you you can ask Alexa to check your water level or turn the lights on or off no matter where you are.
Best indoor smart garden for small spaces
If you're set on keeping your smart garden in the kitchen but barely have room for a Vitamix, the Click and Grow Garden 3 is conveniently about the size of a loaf of bread. (It's also the Strategist's best-selling smart garden and comes recommended by several experts.) It has space to grow three plant pods at a time, and you can choose from over 50 different types of plants. You can also get seedless pods to use with seeds you buy elsewhere. I planted basil, lettuce, and lavender, all of which sprouted within a week. The lettuce was faster, sprouting after just four days. Despite its petite size, the Click and Grow can hold a lot of water, meaning you rarely have to worry about refilling the reservoir. (Mine needed more water about every three weeks.) I love the simple design of it, too. Instead of an app or a touchscreen, it keeps track of water levels using a small hollow piece of plastic that floats within the cavity where you pour water to fill the tank.
I was impressed with the speed at which the plants grew and the amount of basil, lettuce, and lavender it produced. In addition to being the best for small spaces, it's also the most affordable and easiest to maintain, making it great for beginners. My basil and lavender are still going strong, but the lettuce is done, so I'm looking forward to starting over with new plants like wild strawberries, dwarf peas, and spicy mustard greens.
Best-looking indoor smart garden
As someone who aspires to use less plastic in my everyday life, I appreciate that this garden (and the Rise garden too) is at least partly made of wood and metal. The water tank and garden bed are plastic, which makes sense since they have to be waterproof, but the grow lights are housed in anodized aluminum, and the exterior of the garden bed is made of sustainable walnut wood. Between the materials and the sleek shape, this garden feels almost like a decorative element.
It has space for ten plant pods and comes with enough basil to fill every spot. In addition, Edn sells 16 other plant varieties, including romaine lettuce, rosemary, mint, and even a few flowers. You can also get seedless pods to use with your own seeds. My basil plants sprouted in six days and grew quickly from there — after three and a half weeks, I had enough basil to make a full batch of pesto, though both I and my blind-tester found the basil from the Rise garden and the AeroGarden to taste better.
The Edn Small Garden connects to an app on your phone that keeps track of what you planted where, lets you schedule and dim your lights, and tells you when it's time to water your plants — and even when to prune them. But unlike the other gardens, this one doesn't let you raise the grow lights as your plants get taller. Because of this, if I didn't pick the basil fast enough, it would start to grow into the lights and some of the leaves turned brown.
The Strategist is designed to surface the most useful, expert recommendations for things to buy across the vast e-commerce landscape. Some of our latest conquests include the best acne treatments, rolling luggage, pillows for side sleepers, natural anxiety remedies, and bath towels. We update links when possible, but note that deals can expire and all prices are subject to change.