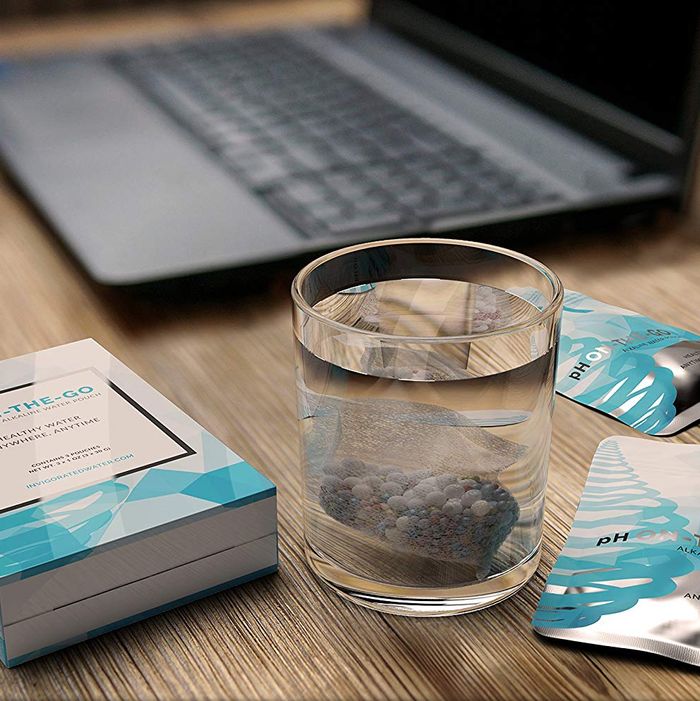 There isn't any definitive proof that alkaline-filtered water is better for you than plain ol' tap water, but it certainly can taste better. With that in mind, we've rounded up the best alkaline water machines and filters, as praised by the most enthusiastic reviewers on Amazon. (And if you're looking for other ways to drink clean water, we've also written about the best pitcher filters and a Japanese charcoal stick.)
Related Articles: Best Water-Pitcher Filters | Best Shower Water Filters
Best-rated alkaline water filter
More than 4,100 reviewers give this alkaline water pitcher five stars, and lots of them are pleasantly surprised by how much it improves the taste of their water. "I seriously thought all of these water purifiers were a waste of money and that it was just another false advertisement on supposedly making our water better," one once-skeptical reviewer says. "Well, it proved me wrong like no other. The cover is a cheap plastic, but it is easy to fill. After I poured water from it in a glass I could see my sons face through the glass it was soooooo clear. No joke, it's amazing." Another reviewer says, "The water tastes like… water. No chlorine or metallic taste. And no aftertaste."
However, some reviewers have noted problems with the lid, but it's fixed by installing it correctly. "It's easy to fill, and if you make sure to attach the cover according to instructions — to the inner funnel where the filter rests, not to the pitcher itself — it will not leak." This is far from a deal-breaker, though, and reviewers feel like they are getting a good deal going with this pitcher over a more expensive filtration system. "I was going to purchase an expensive alkalizing machine, I am so glad that I did not," one writes. "This pitcher alkalizes my tap water in a few minutes, it is very reasonably priced, and it is easy to use."
Best-rated (less expensive) alkaline water filter
These alkaline water sticks make it easy for reviewers to purify their water without the rigamarole of getting a new plastic pitcher. "I couldn't believe that these were so cheap and they actually work great. I use a 1.5 gallon container, shake it for 60 to 90 seconds, then pop it in the fridge, and it's perfect," one reviewer says. "I have used this filter for about 15 gallons of water total and it still tests at over pH 8 without any boosters." Another five-star reviewer conducted a blind taste test with their family, and the water that was filtered with these sticks "won hands down every time," they write. "I will be purchasing more just so I can always have great tasting water."
Best alkaline water filter for travel
Reviewers give this alkaline-water-filter pouch top marks for being their on-the-go source for filtered water. One used it while on a two-week trip to London. "On a daily basis, I filled up a bottle from the sink or kitchen and let it sit for 20–30 minutes, and it very much improved the taste of the water," they say, "as well as the pH level. I also had no issues going through the airports (X-ray machines) with these." Another says, "I like that it is small so I can easily carry with me in my purse, as well as lasting long (16 gallons per pack), each filter comes with a resealable bag that I can use to transport." Dozens also report that the taste of their water is improved. "It's too soon to tell if there are health benefits, but the taste of the water is enough to make me a customer for life," one reviewer reports. "One example: I filed my bottle up at a gas station, and some of the flavoring came out with the water. I waited a few minutes, and all the flavor from the soda fountain water was GONE." Those who have been using the filter longer have noticed the health benefits too, like one who writes, "Since I have started using my invigorated living bottle with the pH on the go sachets, my heartburn is no more."
Best alkaline water filter bottle
Reviewers love that this stainless-steel water bottle, which comes with the above water filter pouches, allows them to filter water anywhere. One reviewer tried multiple water bottles that were either too big or poorly insulated before they found this one. "I absolutely love it," they write. "I take it everywhere: to work, on trips, or running errands. It doesn't sweat, has a good capacity, and it fits nicely in the cup holder in my car as well as my backpack. I can easily refill it from any water fountain, and thanks to the little filter, the water always tastes great." Another reviewer bought this water bottle because their "tap water tastes horrible" and they're trying to "decrease the plastic water bottle contribution to the local landfill." After just ten days, they write, "I'm drinking more water and enjoying the taste that the filter produces." In fact, they now drink so much water that they're considering purchasing "a second water bottle so that I can rotate them and always have cold water on hand to drink!" And a third reviewer praises the "beautifully made," "sturdy" water bottle because it "keeps the temperature of my drink very well" and the filter pouches "work very well and are very consistent with taste and pH."
Best glass alkaline water pitcher
This handsome alkaline water pitcher is made from bamboo and glass, making it more attractive than a standard plastic pitcher. "I love this pitcher!" writes a reviewer who praises that it's eco-friendly, "aesthetically pleasing," and it makes "water taste amazing." Another reviewer is similarly effusive: "The gorgeous glass water pitcher is extremely durable, the filtration system is spectacular (lasts a long time), and the capacity is large." A third reviewer who's happy that the pitcher fits "perfectly on the door shelf of my fridge" writes, "I love the taste of this water and the beauty and ease of use of this glass pitcher. It's just what I was hoping for: design, quality materials, high function, and great tasting clean water for my family."
[Editor's note: This water pitcher is sold out, but Invigorated Water has another glass water pitcher filter, the Replenish, available from $39.]
Best stainless-steel alkaline water pitcher
This attractive stainless-steel pitcher is shatterproof (and better for the environment), unlike those made from plastic, and it uses the same pH as On-the-Go pouches, our pick for best alkaline water filter for travel. And as a result, reviewers are able to feel good about using less plastic. "I'm saving so much money now that I don't have to purchase bottled alkaline water," one reviewer writes. "Not to mention, I'm no longer contributing all of those plastic bottles to recycling or waste. The filtered water tastes good and goes from tap water to purified alkaline water in 3 to 5 minutes. It's a win, win, win situation!" And dozens of reviewers find the pitcher to be just plain attractive. One describes the design as "elegant and doesn't take up much counter space."
Best plastic alkaline water pitcher
This filter pitcher is slightly smaller (and therefore a little cheaper) than our best-rated pick, but reviewers are just as impressed with the taste of alkaline water that it produces. In fact, one self-identified "water snob" says that it made their undrinkable tap water taste "phenomenal": "The water is obviously more alkaline and the filter time is great," they write. "No leaks, internal tank fits great. I seriously couldn't be happier. THIS IS THE ALKALINE PITCHER TO BUY. PERIOD." And several reviewers mention that it rivals even Essentia, the alkalized bottled water brand, in taste. "I love Essentia water but we all know that $2 a bottle is a little high unless you're Kim K.," one such reviewer writes. "I decided to order a pitcher and this is beyond worth the money! I'm really boujee about my water and this tastes like Essentia." Another added bonus: It comes with two 60-day filters, and it "has a little countdown on it so you know when to replace them."
Best alkaline water countertop filter
"I typically do not write reviews; however, after using this water filter system, I felt the need to," begins one five-star reviewer of this 2.6-gallon alkaline water filter. "This is by far the best water I've ever tasted. My kids and I are huge water drinkers and, because of this, we have done away with bottled water. AND it's so much better than any bottled water out there." Another reviewer, who found that faucet-mounted filters weren't "quite right" for their family, proclaims that this one is "excellent" thanks to its "sizable" water tank. And a third raves that their water "tastes great," and that they "love the size/volume of the unit compared to typical pitchers." Their plants even liked the purified water too: "I noticed a huge difference in the health of our plants after we fed them the initial filtration water," they write. "They are happy customers too!"
Best easy-to-install alkaline water filter
More than 2,000 reviews give this alkaline water system a five-star review, many because of how easy it is to set up. "My son installed our system and though having no experience with plumbing or setting up water systems he found the installation to be straightforward, and the paper instructions well laid out and easy to understand," one writes. "Everything needed was provided, and there were no surprises." Another, who had theirs professionally installed, says, "It took him approximately two hours, and he was able to install the entire system with all of the parts provided." They add, "He said that the instructions were well-written and easy to follow." Reviewers also call out this filtered water's superior taste. "The water from our private company where I am located routinely had a 'off smell' to it and large amounts of sediment," one notes, but they continue, "after installation of the APEC RO system, the water is absolutely pristine! It tastes amazing, and I am very glad I went with the alkaline setup." Another who tested the levels now is "leveling out at about 12–16ppm, which is perfect, and gives the water a Fiji-smooth taste."
Best alkaline water filter with remineralization
"I'm a picky A, Double Snake, when it comes to the taste of my water," one reviewer admits. Although they were "worried about the re-mineralization filters" in this system they still gave it a chance. "I could taste the difference between distilled water, pure RO water and this water," they write, "But it was sooo mild I gave it a go. Now I love it." As one user points out, "The real key feature here … is the cartridge that contains pebbles which add minerals to the water and naturally raises its pH, the same way in which water from a stream has a higher pH." Another says, "My parents had RO water system when I grew up but only 5 Stage and did not add good minerals back in like this one does," while another adds, "I love that it remineralizes the water so I don't have to add pink salt or any drops to the water."
Beyond tasting good, reviewers have actually tested their new water to prove that it's not just a placebo effect. "I tested 245 ppm before installing and 24 ppm after so well worth the money for my family's health. Plus it's cheaper to buy filters once a year than to buy bottled water year-round." One writes, "As far as contaminants in the water I compared this to an alkaline machine which are worth about $3,000 plus dollars, and the results I found for the price of this filtering system is far better and cheaper then an alkalizing machine."
Best alkaline water system with large holding tank
"Stop dealing with (stinky) faucet water and get yourself one," one reviewer says of this alkaline water filter. "The water tastes exactly like bottled water," another user writes. "We couldn't be happier with it. We use it to wash our produce, cook, make tea/coffee, drink and provide clean water for our dogs who, by the way, drink every last drop from the bowl. The same couldn't be said for just tap water." Reviewers also praise this system for the volume of the tank and the water pressure it provides. "The tank fills and replenishes itself very quickly, compared to our old system, if you turn the faucet on and leave it on, it will take about five-plus minutes to empty the entire tank," one writes. They add, "I use to run out of osmosis water when I used it to fill up a big pot of water for pasta but with this new system, I haven't run out of water. It seems to have a good-size holding tank." Another notes, "I haven't had any issues with the speed of the water pumping or running out at all and the water tastes great."
Best fast-flowing alkaline water filter
"I wanted a healthier water drinking source and I didn't want to spend a lot of money. Plus I wanted a good water flow," one reviewer writes, adding, "This system does it all." And others also comment that they are especially impressed with the flow of the water. "Fast water flow, seems to meet all specs," one reviewer writes, while another says, "After purging the system as instructed, the water tasted great and the faucet had a great amount of flow for an R.O. system." Plus, nearly 40 percent of reviewers also describe the installation as easy, likely because, "the system comes assembled with exception to the pre/post carbon and sediment filters." But perhaps most importantly, this filter does its job of providing clean-tasting water. "The flavor is great, so clean and refreshing," writes one reviewer.
Best compact alkaline water machine
Reviewers love that they can get all of the benefits of alkaline water in such a compact-size machine. "I love my little machine and the water tastes very good," one writes. "I gave it the name Cutie because she is very petite." One who says it's a "great Size for studio or tiny living" loves the different settings this machine offers. "Alkaline water at different levels with many easy to use settings for water types for skin, cleaning or plain purified water for those guests who don't drink alkaline." Another satisfied customer notes, "The quality of water that the machine produces is nothing less than amazing, from the drinking water, to the cosmetic water that it produces, it is great." Not only is this machine praised for its drinking water, cosmetic water, and giving a boost to many reviewer's morning coffee, but it even gets a stamp of approval from feline users. "My cats normally ignore the water I put into their bowl," one reviewer writes. "I put this water in and they sat there drinking for over a minute straight. Never seen anything like it."
Best long-lasting alkaline water machine
Nearly 75 percent of reviewers give this water ionizer five stars, and more than one-fifth of reviewers comment on how easy it is to install. "It was easy to set up and the customer service, when needed, was OUTSTANDING," one says. A few others comment on the very high price but say that this is actually a bargain, all things considered, as it works just as well as even more expensive models. And based on many reviewers' experiences, it sounds like this ionizer is a onetime investment as many indicate it's long-lasting. "We've been using this for years and still working good," one writes. "All you need is change the filter and descale the machine at least twice a year and you'll have a better tasting water." Another who has been using theirs since 2011 says their unit had to be serviced for long-time usage. But they add that it was easy: "I paid only to ship to Air Water Life and they completely serviced and refurbished my unit to new condition."
The Strategist is designed to surface the most useful, expert recommendations for things to buy across the vast e-commerce landscape. Some of our latest conquests include the best women's jeans, rolling luggage, pillows for side sleepers, ultra-flattering pants, and bath towels. We update links when possible, but note that deals can expire and all prices are subject to change.
Every editorial product is independently selected. If you buy something through our links, New York may earn an affiliate commission.