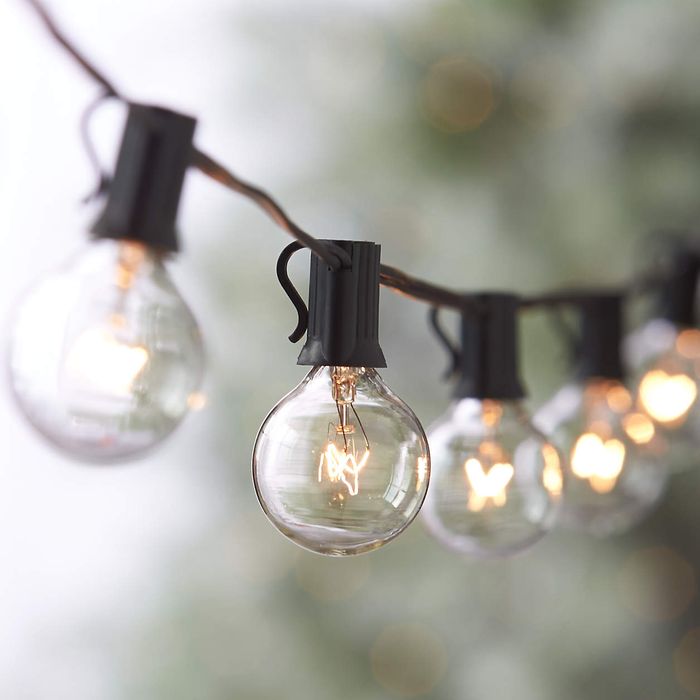 In the summertime, it's hard to leave a well-tended garden even after dark. Garden lights are a great option to extend your outdoors hours well past sunset — they come in a range of styles, sizes, and brightnesses and can provide soft, ambient illumination for a late-night glass of wine or enough bright light to have a party. We spoke to seven expert gardeners about their favorites, which range from versatile, affordable rope lights to an ingenious string of LEDs that mounts along the ribs of an umbrella.
Best overall | Best incandescent string | Best solar-powered rope | Best pathway | Best flush pathway | Best wall mounted | Best faux paper lantern | Best portable | Best fairy | Best umbrella
What we're looking for
Light type and brightness: In general, garden lights are dimmer than indoor lights, and most options on our list fall somewhere between the brightness of a battery-powered candle and a medium-strength bike light. Both LEDs and incandescent bulbs appear on this list: LED lights burn brighter for longer and come in a wider range of colors, but some prefer the aesthetic and warmth of incandescents. Where possible, we're providing specifications in lumens, which is a more direct measure of brightness than wattage.
Installation style: There are many styles of garden lights, from portable battery-powered lanterns to LED sconces designed to be installed along a fence. Two of the most common styles are string lights, which can be hung, draped, or wrapped around structures, and stake lights, which are anchored into the ground. Both are versatile and easy to move around or reinstall; in general, stake lights are most useful for illuminating pathways, and string lights provide ambient overhead light (this includes rope lights, which are similar to string lights but are covered in a protective PVC tube).
Solar powered versus electric: Many garden lights are solar powered, which has several benefits: They're low maintenance, don't run up your electrical bill, and can be installed anywhere — plus the same sunny conditions that make for a good garden are ideal for charging solar batteries. Still, some of our experts prefer lights that plug into an electrical outlet, which tend to be brighter and more reliable, especially during the winter. Gardener Katie Parks says "lots of solar lights throughout can be really magical and soft … but if you need to really light up an area, I would go for electric." Ecologist, botanist, and home grower Becky Searle gives the caveat that solar lights "don't work as well in the dark months, when you need them the most."
Best overall
30 lumens, LED | String light | Electric
This strand of LED lights, recommended by author and garden blogger CaliKim, are durable, versatile, and inexpensive enough to work well in any space, whether a backyard or an apartment balcony. They come in several lengths, from 25 feet to 100 feet, with a spacing of one bulb per two feet. At 30 lumens, they're on the brighter side but are dimmable if you prefer a moodier garden.
Best incandescent string lights
5 watts, incandescent | String light | Electric
With 25 lights spread out over a 25-foot cord, these incandescent string lights are the favorite of Brooklyn terrace gardener Marie Viljoen. She wraps them around a wrought-iron railing to create a "simple, old-school ambience" for outdoor meals. For larger spaces, you can connect up to two strands.
Best solar-powered rope lights
LED | Rope light | Solar powered
These affordable 72-foot rope lights are a favorite of Florida garden influencer Corey Paul of Gardening With Goo, who uses them to outline his garden beds. (He originally recommended a now-discontinued product by Opolemin, which has many of the same specifications as this Brightown option). The panel adjusts up to 120 degrees to catch sun, and the tube contains copper wire with a thin waterproof coating, which makes the lights more easily posable.
Best pathway lights
2 lumens, LED | Stake | Solar powered 
Amber Grossman, the founder of BlackGirlsGardening, and Paul both recommend these solar-powered stake lights by Maggift, which can be driven into the ground to help you find your footing at night. They are on the dimmer side but come in a pack of eight to create a soft glow along your garden walkways.
Best flush pathway lights
5 lumens, LED | Stake | Solar-powered
Grossman recommends these pathway lights by Solpex, which are brighter than the Maggift lights. They come in a pack of eight or 12 in either white or warm white. They're installed flush with the ground, which creates a streamlined look and avoids the risk of tripping or tangling up a hose or leash in the stakes.
Best wall-mounted garden lights
10 lumens, LED | Wall-mounted | Solar-powered
This set of eight weatherproof lights, recommended by CaliKim, are solar powered and can be mounted on walls, fences, or other surfaces. (Installation requires two screws, so you may need a power drill.) They have a warm white hue, and if you're having a party, there's a setting to cycle through rainbow colors.
Best faux paper lantern
Photo: Retailer
3–4 lumens, LED | Hanging | Solar powered
Garden-light company Allsop makes these outdoors-friendly faux paper lanterns in a variety of sizes, shapes, colors, and patterns from a lemon-printed globe to a navy-blue bell-shaped light. Kranz describes them as "both useful and beautiful" — they have a stainless-steel frame covered in perforated Tyvek fabric, which is weatherproof and UV resistant.
Best portable garden light
LED | Tabletop | Solar powered
For a low, warm, and portable light, CaliKim recommends these faux candles that sit in metal lanterns. (The candle batteries recharge via solar panels on the lantern's top.) They're rain resistant, but don't leave them out in extreme weather, which could damage the glass panes.
Best fairy lights
LED | String light | Electric
Fairy lights are low-voltage lights wired to "mimic the movement of fireflies, randomly flashing, flickering, and fading for viewing fun on warm summer evenings," says CaliKim. This strand from Firefly Magic, which can be connected with up to nine other light strands, are her favorite for adorning trees and shrubs.