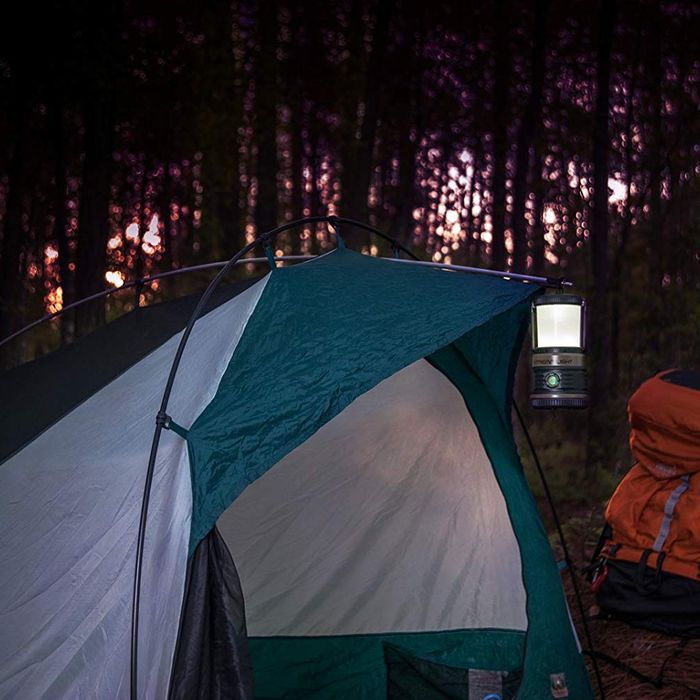 Photo: Courtesy of retailer
Here at the Strategist, we like to think of ourselves as crazy (in the good way) about the stuff we buy, but as much as we'd like to, we can't try everything. Which is why we have People's Choice, in which we find the best-reviewed products and single out the most convincing ones. (You can learn more about our rating system and how we pick each item here.)
And while we've written about lots of camping gear before — including camping hammocks, camping stoves, and camping chairs — here, we've rounded up the best camping lanterns, as praised by the most enthusiastic reviewers on Amazon.
Best-rated camping lantern
"Uh, this thing is bright. Like crazy super bright," says one reviewer, who adds, "They aren't fooling around when they say this is a bright lantern." He goes on to say, "I go camping often during the summer and this is a terrific lantern I bring along to light up my site. And everyone else's site within 10 miles.." And over 4,300 more reviewers call this lantern "bright," including one reviewer who writes, "I didn't know LED meant powered by the sun." But aside from nearly blinding him, he says, "They are very handy and easy to operate." Plus, another says the brightness of the lantern doesn't wear out the batteries too much. "The batteries last a long time, probably at least a couple of months for the amount of time I use them," which is almost every day. But one downside is that there's no way to dim the bright, bright light from this lantern, since there are only two settings: on and off.
Best-rated (less expensive) camping lantern
With nearly 4,500 five star reviews, this little lantern scored high marks for being lightweight. One reviewer thinks they "likely weigh less than your titanium camping cookware set." And another says, "They take up virtually no space, which is ideal for camping." But even though these lanterns are small, reviewers say they are just as bright as larger options. "The light is not directional like a flashlight which what we wanted and easy to slide up or down to choose how much light you want," one reviewer explains.
And now for some micro-picks for every type of camping lantern you might be looking for.
Best high-power camping lantern
"Holy beaming light! These are perfect for camping," writes one reviewer. Another agrees, but thinks calling them "super bright is an understatement. These things are blinding." They're small in size, which reviewers said made them nervous at first, but many came around and think their size is an asset. "They are light enough to hang from our canopy without tugging at the supports," writes one reviewer who says she's actually "grateful for their size." She adds, "We love that we can control how much light we desire out of these. The amount of light these lamps put out is insane." She even brought the camping lanterns out at a dinner party to show them off. "The hanging feature is great as well," another reviewer notes. "We could place this on our picnic table or have the option to hang from the interior hook built into the roof of our tent. It provided plenty of light for us to take care of before bed things."
Best camping lantern with red light
While this lantern has a lot of handy features, like D-rings to hang the lantern and a waterproof construction, nearly 300 reviewers write how much they enjoyed the red light setting. "Don't know if you have ever walked around a campground in the dark, but it can become a tad disorienting when there are lots of other tents, RVs or Jeeps that all look the same at night. I turn on the red steady light, toss it up on the roof and head out to visit others. When I come back around the loop or campsite, the red beacon is so clear where my campsite is," explains one reviewer. Another says it's "a nice feature if you don't want to ruin your night-vision." And one more thinks it's "perfect for those middle of the night wake-ups" because it's much less harsh than a typical white light. Plus, as another reviewer notes, the red light is "less attractive to bugs."
Best long-lasting camping light
"The batteries went on, and on, and on. I couldn't believe how long this lantern lasted on the first set of batteries," writes one reviewer who "used it every day for hours at a time" and reports, "They lasted way over one month." And many more note how long-lasting this lantern is. One reviewer actually tested the 30-day claim "just for fun," explaining, "With a fresh set of batteries, and even turning it up to medium or high from time to time in order to demonstrate to friends, this thing ran continuously for 33 days. It is the real deal." Another says that not only does it have a long battery life, but also "the amount of light it puts off is staggering for its size." One more says that the thing he does "not like about camping is the lack of sufficient light after the sun goes down." But he writes, "This lamp solves all of those problems. We also love that the top screws off to reveal the 'bulb' and it can be hung upside down to function pretty much like a light bulb. It is small and pretty light. We get asked all the time where we got it, and we think that next Christmas we're going to get it for our families."
Best directional camping lantern
Campers like that this lantern can fold into different heights. One describes this as a "solid, comfortable to handle and carry lantern." But his favorite feature is how it folds because he thinks that "provides much more usable forward illumination and is not blinding your eyes." Another reviewer also enjoys that "the light is much more aim-able." He even appreciates that it has a "bottom hanging hook, which makes hanging it from a tent cord or a cabinet handle easy." A few say because it's directional, it won't necessarily light up your whole tent or cabin, but at least one reviewer doesn't mind, calling it "a great area light to keep from stumbling in the dark. It gives plenty of light to read by too."
Best camping light with dimmer dial
Most camping lights feature about two to three different brightness settings, but this Coleman lantern offers more nuance. Because of the dimmer notch, reviewers like that they can customize the lantern's brightness. "I really like this lantern makes the room bright and with the dimmer, I can read at night," writes one reviewer. Another agrees that the dimmer works well for reading at the campsite, adding that it's "a great feature to save battery life when bright light isn't needed." Although the dimmer notch is the main appeal of this la