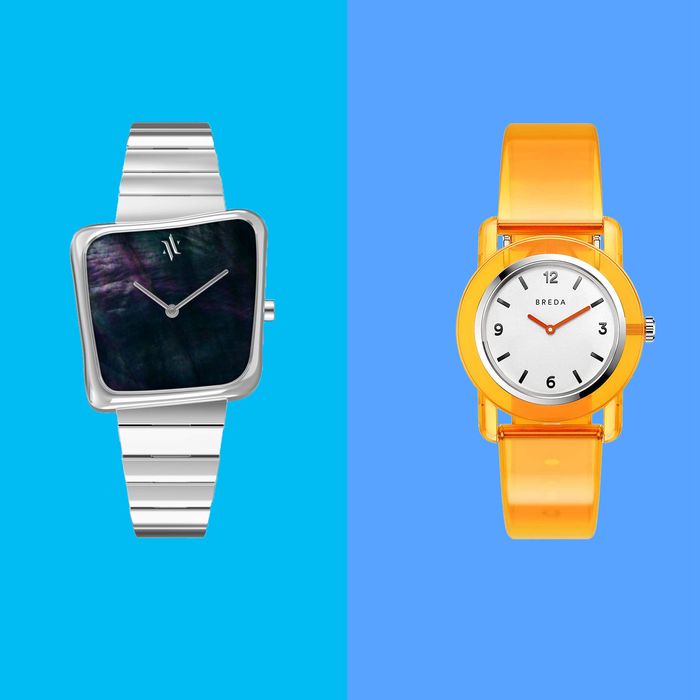 Photo-Illustration: The Strategist; Photos: Retailers
As a multimedia producer at Sotheby's in 2019, Brynn Wallner was tasked with creating content that would draw in younger audiences. She ended up working closely with the watch department because, as expensive as high-end watches are, they're still more accessible than fine art, and the auction house was interested in expanding its online watch sales. Although she didn't know much about timepieces to start, the more she learned about them and their history, the more interested she became. "This whole new world was opened up to me really quickly," Wallner says, "and it was really enticing." But one question kept nagging at her: In the wide world of watches, where were the women? "You get all this illustrious history of, for example, Paul Newman and his Rolex Daytona, and it's all so exciting," she says. "But as I did my research I just found that women were so not included in the conversation."
Wallner took it upon herself to fill this gap, launching the Dimepiece Instagram account to spotlight stylish women and their watches — and hopefully get other young women interested in luxury watches. The page features contemporary celebrities (Rihanna and her diamond-covered Chopard; Serena Williams in Audemars Piguet), nostalgic style icons (Princess Diana in Patek Philippe), and even some fabulous fictional women (Carmela Soprano in a Rolex Datejust; Charlotte York sporting a Cartier Panthère). Wallner also recently launched a companion website where she plans to include interviews with women who love watches and "educational concepts for women to help them be smarter consumers."
While the watches featured on Dimepiece are certainly covetable, most will set you back a few thousand dollars, which can be a barrier to a lot of people. That's why I asked Wallner what pieces she'd recommend for the new collector with a more modest budget. Here are her picks.
Best watches for $100 or less
If you were in middle or high school around the turn of the millennium, you may have fond memories of pastel-hued, digital Casio Baby-G and G-Shock watches — and you may be surprised to learn that they're back in style. "G-Shock is having a big comeback right now," says Wallner, citing the brand's recent collaboration with John Mayer and a Wall Street Journal story headlined "Could G-Shock Be the New Rolex?," which outlines a trend of serious watch collectors tracking down limited-edition G-Shocks. "With '90s nostalgia being so rampant, I feel like there's kind of something there," says Wallner. "It's definitely a bold look, but with the watch trend validating it, I feel like if you want to go that route, that's a good route to go." If your old Baby-G is long gone — or you were too young to enjoy the trend the first time around — Casio's current versions are nearly identical to the classics.
Or head to eBay and track down the exact watch you begged for as a bat mitzvah gift.
Although Wallner gets most of her watch inspiration from women, she was struck by how surprisingly cool this retro, unisex Casio looked on Timothée Chalamet in Call Me by Your Name. Paired with woven bracelets, the sporty watch can take on a "very bohemian" look, and "very quickly go from dorky to a cool, summer in the '80s in Italy vibe," she says. This model is most similar to the one worn in the movie, but Wallner says the full calculator version can also work when styled just right.
"If you're looking to have fun, Swatch is a good option," says Wallner. She likes how the classic brand really has "something for everyone," with watches in every color and plenty of artist collaborations to keep things exciting. "If you couldn't get your hands on the Mickey Mouse x Damien Hirst collab, this is the next best thing," she says of this red-and-white striped watch with Keith Haring's illustration of the famous mouse. Even if the rest of your wardrobe leans neutral, Wallner says it can be fun to introduce a pop of color on your wrist in watch form.
Made from recycled plastic, Wallner says this watch from Dallas-based brand Breda "looks like a more elevated Swatch." If the orange is a bit too playful for you, it's also available with a clear band.
If you're of the Baby-G generation, you likely also remember eyeing the selection of deadstock watches displayed at the register of your local American Apparel store as you stocked up on flex fleece hoodies and gold lamé leggings. Wallner tells me she was "obsessed" with these watches and, after having a dream about them recently, was happy to discover that the store still offers fun vintage Casio, Timex, and more. "They're doing a really good job of sourcing them and curating them," she says. She especially likes this heart-shaped watch.
For a new watch with a "1960s feel," Wallner recommends the Timex Easy Reader. "I love that it includes the 'Indiglo' [glow-in-the-dark feature]," she says. "This can be executed with a sense of humor."
Best watches under $200
Along with the recycled plastic Play watch, Breda makes more traditional styles, including this square-case watch with a gold band, with green hands adding a modern feel. Wallner says details like these on affordable watches make them more interesting than just cheaper versions of expensive styles. "There are so many offerings out there that you don't want to get the CVS brand version of the Rolex," she says. "Try to find something more unique."
The same goes for contemporary brand Vanna, which Wallner likes because "they're not trying to be any other watch." Instead, she says their "abstract and angular" watches are "artsy, but very refined" and totally unique. With its asymmetrical black pearl case, the Nebula certainly fits that criteria.