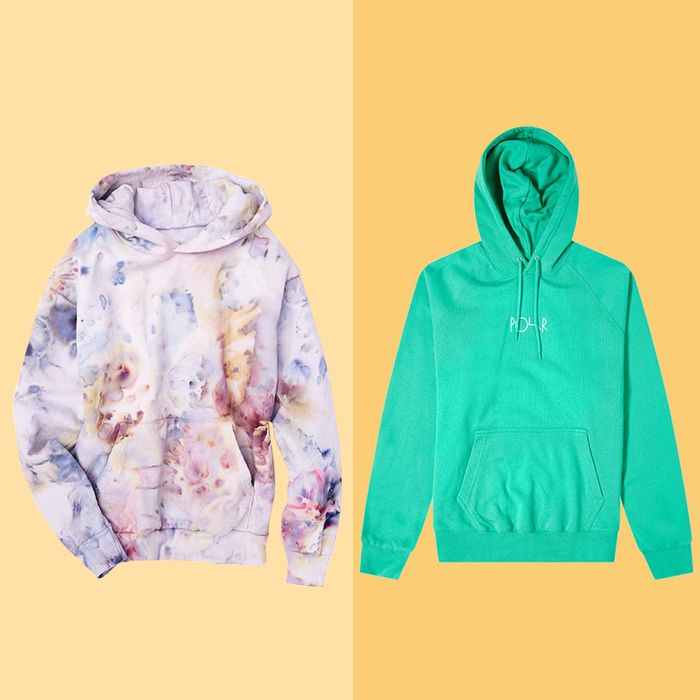 Photo-Illustration: retailers
Clothes have always mattered more to me. As a tween mall rat in the early aughts, for instance, I obsessively searched for ski pants with the perfect boot cut (Old Navy, in Cheetos orange, of course). As an adult, I get — or, until recently, got — my measurements taken monthly so I can find off-the-rack clothes with a perfect fit. You know that person you see in a store (remember stores?) buried beneath an unruly pile of jackets, shirts, and pants as they zigzag to a fitting room? The person running the hem of a linen-silk button-down against the inside of their wrist over and over again? The person whose browser is cluttered with tabs to various retailers' websites so he can constantly refresh them to ensure he gets the last medium at 30 percent off? I'm that person.
So when friends began turning to me for advice on what clothes to buy, it didn't really surprise me. Even today, with most people still cooped up in their homes, the requests for long-sleeved button-downs or reasonably priced loafers or gothninja basics have not let up. This year spent largely at home has in fact led to more requests for certain items, like hoodies. Middle-aged friends holed up in escape-plan Airbnbs have asked for the comfiest one they won't mind spilling coffee on; the kids of those middle-aged friends have asked for styles that look like something Justin Bieber or Jacob Keller would wear; friends of friends have slid into my DMs to ask for hoodies that can go from a day of Zoom calls to a night of bingeing Netflix. Regardless of the state of the world, a great hoodie is always essential. And the best ones, like my ten favorite hoodies below, are not only stylish, subtle, and comfortable but are wearable most any time of year.
The hoodie I recommend for country-club casual
Photo: retailer
Whether you play tennis or not, perhaps, like my old doubles partner Jeff, you like to bring some clean, Wimbledon-style swagger to your daily wardrobe. For that, he swears by this hoodie, which he first told me about (and I've since told more people about) and which he wears in white to pad around the house. (Those worried about wearing white all day should know it's available in lots more colors, too.) Says Jeff, "It is super-comfy and has the Nike Tennis logo made iconic in the '90s by my idol, Pete Sampras. Even if I'm just watching reality TV, there's an air of undeniable class in rocking tennis whites while doing so: It makes me feel like I'm heading to give a private lesson to Westport divorcées at $160 an hour once this episode of Selling Sunset ends."
The hoodie I recommend to new dads (or anyone in L.A.)
Photo: retailer
A few weeks after my L.A.-based friend Chris welcomed his new baby, he reached out looking for a relatively inexpensive hoodie he could easily pack in a diaper bag. I sent him to this one, which, to me, is perfect for a casual playground flex or as an easy layer to keep you warm on a California night. The hoodie has spacious pockets (for holding … toys? Diapers? I don't have kids) and packs down with ease. And its ultralight, eco-jersey material is like good bedding, keeping you warm when it's cold and cool when it's warm. The best part: It's cheap enough that you won't care if it gets doused in burrito juice or your kid's spit-up. (And if you're worried about either of those things, I should note that Alternative Apparel offers a "two for $65" deal on this sweatshirt if purchased from its website; the discount is automatically applied when you add two to your cart.)
The hoodie I recommend to DIY homeowners (or would-be scumbros)
Photo: retailer
One winter past, a friend of a friend asked me for thoughts on a hoodie warm enough to wear while fixing a decrepit farmhouse he had bought (we're talking snakes-inside-the-walls-and-no-utilities decrepit) but cheap enough to disregard when the work was done. While this was a difficult balance to strike for him, it was basically a layup for me; I pointed him in the direction of Gildan's heavy hoodie, a tried-and-trusted workwear favorite. It's one of those basic pieces that can often be mistaken for higher fashion, as evidenced by my friend's experience: His hoodie, worn-in and paint-splattered post barn restoration, got the attention of no less than three F.I.T. students who asked him where he got it while he was having lunch near the campus. (Needless to say, he didn't disregard it after that.) My DIY friend isn't the only person I've recommended it to. The Gildan hoodie was also a hit with my friend Ana's high-school-age son (and his friends) after I told him that one of the neon colors, in a size or two up, would help him look a little more like Justin Bieber. Speaking of colors, it comes in a whopping 27 (some of which sell for as low as $9).
The hoodie I recommend for Bushwick street cred
Photo: retailer
Everyone and their TikTok-star cousin is decked out in the Carhartt wavy C. So when a friend of mine who runs a metal-sculpture studio in deep Brooklyn (a.k.a. Carhartt's target market) asked for a hoodie that he could wear to work and then to (safely) meet friends afterward, I instead sent him to Ben Davis. The workwear brand seems to have a unique ability to stay on the radar of cool people like Chris Black and those in Bushwick's artisanal ironwork and IPA crowd but slightly below the radar of the general masses. Like the best workwear, this hoodie's heavyweight fabric is comfortable and durable, and its small but still visible logo is sure to get you subtle nods from those real heads who know.
The hoodie I recommend to budget hypebeasts
Photo: retailer
If you know any high-schoolers from the Philly Main Line suburbs who wear this hoodie, you might have me to thank. It's the first style I recommended to my friend's son Logan when he asked for a cool logo hoodie that doesn't look like the Nike or Champion ones all his classmates wear. While Patagonia is not as under-the-radar as Ben Davis, the brand still confers some unspoken style cred. And anyone who has worn its clothes knows the company doesn't compromise on materials the way others can (especially for a product as mass-produced as hoodies). Should Logan take decent care of it, this hoodie is the type of garment he could pass on to his high-school-age kid one day, when he or she or they face a similar conundrum.
The hoodie I recommend to those who (actually) skate, bro
Photo: retailer
I never could do a kickflip, which is why I rely on my actual skater friends for help when anyone asks me about the best skate-clothing brands to buy hoodies (or any clothes) from. They unanimously agree that Polar Skate Co.'s hoodies are a little lesser known than those from Supreme or Thrasher. So when KG, a 15-year-old who's new to skating, told me he was looking for a hoodie that could withstand multiple spills and let the locals at his skatepark know he's not a poser, I directed him to this one in mint (which is also available in yellow and black). The hoodie is made with a heavy-duty cotton-poly blend and is ultra-oversize, giving it a classic '90s look.