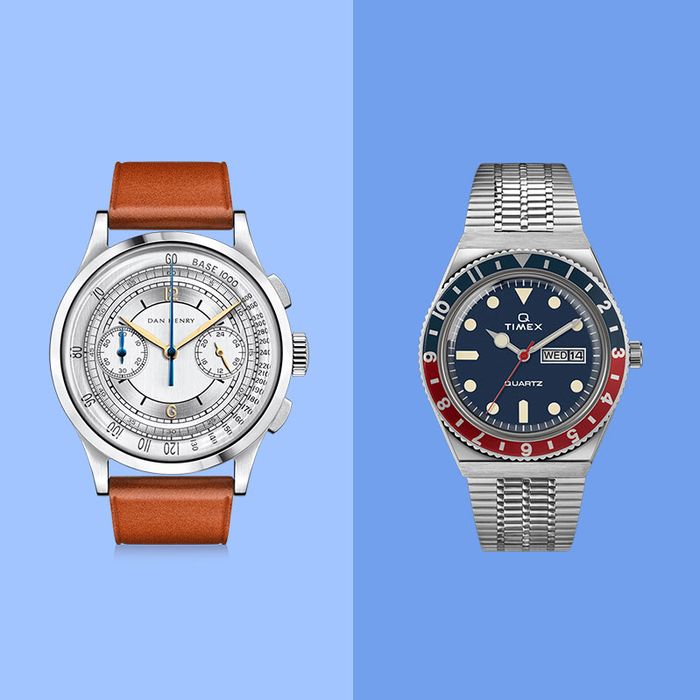 If you're reading this story, chances are you are someone like me who views watches as more than just a functional accessory (and maybe dreams of building a collection someday) but doesn't currently have the means, desire, or recklessness to splurge on a luxury timepiece from the likes of Omega, Rolex, or Vacheron Constantin. The good news for folks like us is that you really don't need to spend a ton of money to own a watch with a remarkable history, an intricate mechanism, or a status that inspires the respect of even the most accomplished watch connoisseur.
How do I know this? Well, I asked a bunch of accomplished watch connoisseurs — eight, to be exact — many of whom spend their days advising clients and friends on how to find the rarest watches from the likes of Patek Philippe and Audemars Piguet. But instead of asking them about those rare gems, I sought their advice about the best under-$500 men's watches that would receive (or already have received) a place in their collections. Encouragingly, all say they'd be (almost) as likely to dart across the room to talk to someone wearing the right Swatch as they would someone wearing, say, a Rolex Daytona. (And if you don't just want to take their word, website Hodinkee's "Talking Watches" series — the What I Can't Live Without of the watch world, if you will — features a good number of folks praising Timex, Casio, and Seiko watches alongside their higher-profile cousins.)
Like most luxury items, the cost of a watch is typically based on the quality of its materials as well as on the hours it takes the brand to produce. (A little brand mythmaking goes into it too.) Cheaper, electronic watches, like a Casio sports watch, cost as little as they do because the manufacturing process is entirely automated, with easy-to-manufacture batteries powering them instead of intricate clockwork mechanisms. But as I learned reporting this story, you can still find mechanical watches (the umbrella term for watches that will never need a battery) for as little as $150 if you know what you're looking for. Still, for every affordable watch that will thrill a collector, there are 50 that will turn them off. Read on for the 16 best watches under $500 as suggested by our experts, which range from military, racing, and naval-inspired pieces to a remake of a 1960s dress watch and a Timex that takes its cues from a 1950s Rolex.
The
best
under-$500
men's
watches
Photo: retailer
Hamilton's Khaki Field Mechanical watch got nods from half of our experts, making it the most recommended of any watch on this list. Hodinkee COO Eneuri Acosta calls it a "robust great entry into mechanical watches," and William Massena, a known collector and the founder of Massena LAB, says the Hamilton Khaki Field is "one of the most affordable Swiss-made watches in the world." Inspired by "the watches Hamilton made for the U.S. military in the 1960s," according to dealer Eric Wind of Wind Vintage, this is still fitted with a manual-wind movement (just as Hamilton's '60s-era watches were), so you'll never have to replace a battery. Hamilton Powell, the CEO of online watch dealer Crown & Caliber, tells us the watch "checks so many of the boxes collectors look for: a great vintage feel and a reissue design that's faithful to its predecessor." Both Powell and Acosta also praise the watch's distinctive, "extremely durable" nylon NATO strap — which, yes, refers to the North Atlantic Treaty Organization, specifically to the straps the British Ministry of Defence began using on soldiers' watches in 1973, which secure on the wrist in two places.
Photo: retailer
Jeremy Kirkland, a watch collector and the host of the menswear podcast, Blamo!, told us that a lot of more affordable — and even high-priced — watchmakers "won't make their own movements, or, if they do, won't finish both sides of the movement," which can peeve collectors. But Seiko is not one of them, he says, because it "makes and finishes the whole watch." According to Acosta, that is one reason why "a value-watch roundup is not complete without a Seiko diver" like this one, which both he and Kirkland recommend. Like the Hamilton above, the Seiko's automatic mechanism means it'll never need a battery. But unlike the Hamilton, it has a sportier look that's designed for use in the ocean rather than the field. Matteo Violet-Vianello, a sales expert at vintage-watch-resale platform a Collected Man, tells us that Seiko diver's watches have amassed a serious following in the last few years "on account of their robustness, workhorse movement, and classic, sporty aesthetic." He adds that, "unlike many modern manufacturers that have jumped onto the tool-watch trend in the last few years, Seiko has a true heritage of diver's watches that goes all the way back to 1965, when they introduced a model resistant to 150 meters." While this spike in popularity means that many of Seiko's dive watches have crept up in price, Acosta says the SRPB53 "delivers with a classic colorway and a comfortable rubber strap that is ready for the water" (or just for working from home).
The
best
under-$400
men's
watches
Photo: retailer
Two experts turned us on to Baltic Watches, which Massena describes as a "young French microbrand that makes neo-vintage watches with Gallic flair" in Besançon, near Switzerland. Both he and Isabella Proia, a specialist in the watch department at auction house Phillips, specifically recommend Baltic Watches's HMS 001 model, which Proia says is "vintage inspired and takes its design cues from mid-century watches," making it "perfect for those who have an old soul." The mechanical watch comes in six colors, and its look dates back to men's watches from the 1940s and 1950s, according to Massena, who says it offers a "great introduction to what watch collecting is all about without breaking the bank."
Photo: retailer
Violet-Vianello told us about this more affordable Seiko diver's watch, which he says has been "the focus" of Seiko diver's collectors in recent years. The mechanical watch is a great choice, he says, for any watch enthusiast who "just wants to strap something on and not have to worry about it."
The
best
under-$300
men's
watches
Photo: retailer
For those who aren't as interested in the diver's look, Seiko's equally well-crafted SRPE55 (the latest edition to its 5 Sports line) comes recommended by three experts, including Powell, who calls it "an awesome watch for someone who loves the look of classic luxury watches but isn't quite ready to pull the trigger on one." He thinks the "handsome steel and black" watch is "perfect for all seasons," noting that even though it's not a diver's watch, it can still function as far as 100 meters below water. Wind adds that this watch is "capable and stylish enough to be worn every day," telling us it would be a "wonderful entry into the world of automatic tool watches" (or (mechanical watches you don't need to wind yourself). It has a third fan in Kirkland, who says he'd recommend it to anyone who wants Seiko's quality but in the form of a sleeker watch than its diver's.
Photo: retailer
The reissued Timex Marlin also came recommended to us by multiple experts, one of whom told us about this slightly more expensive Snoopy version (you'll find the more affordable standard version below). Massena, who recommended it, tells us this is a "reissue of a very classic watch that was made in the 1960s" and that it's exceptionally affordable for an automatic watch. As to why Massena prefers the Marlin that features Snoopy as a flying ace: "This is the watch Don Draper would wear in 2020," he declares.
Photo: retailer
For a relatively affordable watch from a less-well-known brand, Wind suggests this Dan Henry chronograph, telling us that its dial is "so beautifully crafted it could be on a watch that costs $100,000." Inspired by steel chronographs from the 1930s, he says the watch is "incredibly sophisticated and eye-catching." Chronograph watches typically feature faces with additional, smaller subdials that, like a stopwatch, can track elapsed time by seconds, minutes, and hours, depending on the manufacturer's preferences. They also have additional buttons on the side to stop and start those dials. A note that this is the first watch to appear on our list that isn't entirely mechanical (so you will need to replace a battery at some point in the future). But given the number of quartz watches — which are powered by an electronic battery rather than a spring movement — to come on this list, it's clear that they can be just as respected as any watch with automatic movement.
Photo: retailer
Wind tells us that when Swatch launched in the 1980s, it put Switzerland's watchmakers back in business during the so-called "quartz crisis" by pairing Swiss manufacturing with the new, more affordable technology consumers were starting to prefer. "By making battery-powered watches, they helped to save the Swiss watch industry," he says. While Swatch stuck to the same battery-powered models for decades, our experts say it has recently given itself some room to experiment, resulting in new timepieces that have delighted many a collector. More than one of those timepieces come from Swatch's Sistem51 series, which Wind describes as "an interesting and notable endeavor to create robotic-made, sealed, mechanical watches by a company known for making battery-powered watches." Wind's favorite Sistem51 watch is the Knight, which is encased in durable steel (most of the other watches in the line, including a less expensive one mentioned below, are made of plastic). He adds that its one-tone color makes it "perfect for someone with a more monochromatic wardrobe."
The
best
under-$200
men's
watches
Photo: retailer
If Snoopy's not your style, Timex's standard reissued Marlin watch comes recommended by Violet-Vianello, who calls it a "well-thought-out homage to the 1960s — an idolized period of watch design — by an American manufacturer that has put its name on watches for almost 80 years." He adds that "with its sunburst dial, retro numerals, and manually wound caliber, this model incorporates much of the satisfaction of owning a vintage piece — with none of the hassle." James Stacey, another Hodinkee editor, recommended this watch to us years ago. With the Marlin, he says, "you're getting a classic style that plays into Timex's history as an original manufacturer in the States, but you're also getting a proper mechanical hand-wound movement, which is typically not accessible at this price."