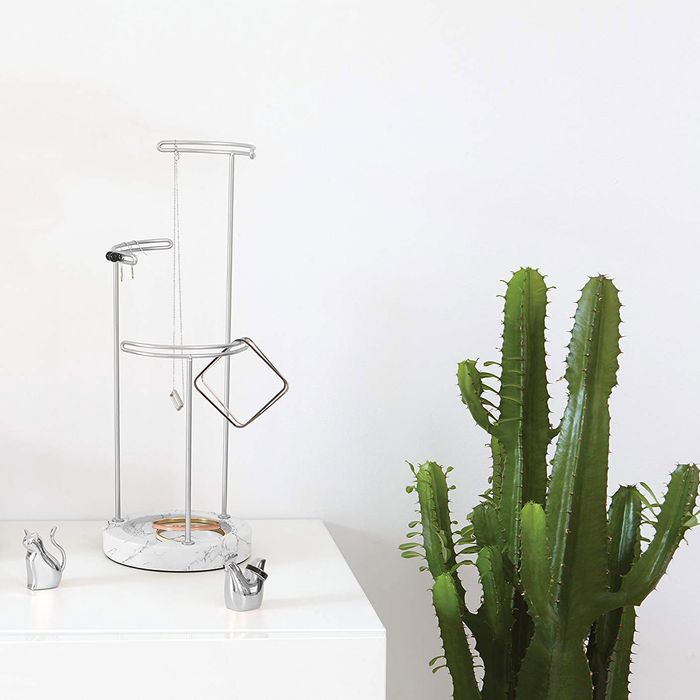 Photo: courtesy of the Retailer
Here at the Strategist, we like to think of ourselves as crazy (in the good way) about the stuff we buy, but as much as we'd like to, we can't try everything. Which is why we have People's Choice, in which we find the best-reviewed products and single out the most convincing ones. (You can learn more about our rating system and how we pick each item here.)
And while we've written about lots of organizers before — including makeup organizers, underwear organizers, and trunk organizers — here, we've rounded up the best jewelry organizer, as praised by the most enthusiastic reviewers on Amazon.
Best-rated (and least expensive) jewelry organizer
Jewelry-lovers complained about twisted and tangled jewelry before finding this hanging organizer. "What a stress relief not having to dig for a pair of earrings or untangle necklaces from a box. This is neat and easy," writes one reviewer. Many just appreciate that it also allows them to see everything in their collection. One reviewer says her jewelry is now "easy and accessible to get to," adding, "I'm wearing jewelry that I haven't seen in years because it was wrapped up in felt bags. The organizer is simple and keeps jewelry from tangling." And dozens more call this a space-saver, including one who also calls this "a life saver." She adds, "I've struggled for years to find a jewelry organizing solution that was easy, convenient, involved little to no space, and still allowed me to easily pick out an item to wear. This is perfect" Many reviewers do warn that this is not a travel-sized organizer, though one writes, "I don't know if I would travel with it, can't imagine needing that many accessories for a trip, but if I needed to, I think it would be fine."
And now for some micro-picks for every type of jewelry organizer you might be looking for.
Best hanging jewelry organizer
The simplicity of this hanging organizer blew reviewers away. One calls it "so simple yet amazing" and writes, "I can see all my jewelry at once. I probably fit seventy or more pairs of earrings, bracelets, and pendants. They are easy to grab and put back." She warns that it's not the most attractive organizer: "If you have a very fancy room, it might not match, but for the rest of us it is amazing, practical and if you travel, you could probably just fold it and put it in your suitcase." One more says, "I live and breathe by this hanger." And as she explains, "Bottom pockets hold bigger items, and the double sided nature of the thing is splendid. Also, whatever fabric they used to make it is SO durable." Another reviewer says that this makes getting dressed and accessorizing easy: "Now, when I want to find the perfect jewelry for an outfit, it's all hanging right there taking up less space than a dress in my closet."
Best three-tier necklace organizer
"For the first time ever, my jewelry is completely organized and easily accessible in a fairly compact area," writes one reviewer. She thinks the main perk of this three-tiered organizer is that she "no longer has to search through a jumbled box for a particular item or untangle a mass of chains. The top rack is high enough for my longest chains, every item is visible, and I can quickly find what I'm looking for." Many more appreciate the three different tiers, which one reviewer describes as "perfect for my longer and shorter necklaces. The shortest one in front is great for displaying my bracelets that I also collect." Aside from the amount of space that's saved, reviewers love the sleek design. "It looks even more elegant in person," says one reviewer who also writes, "The gold doesn't look tacky at all." Even after five months, one reviewer writes, "It's as sturdy as ever."
Best three-tier earring organizer
While this three-tier organizer can easily hold necklaces too, reviewers say the slotted racks make this organizer ideal for earrings. One reviewer only wears hanging earrings and says "those store perfectly on it." She notes that the size is deceiving in the photos because at first she "was nervous with only three stands that it wouldn't store everything I have," but adds, "it stores so much. It arrived taller and wider than I imagined. It's like a piece of artwork in my bathroom, to be honest." And she's not the only one who calls it "art." Another reviewer says it "looks like a piece of art" because it's "both elegant and minimal," but the stand out feature is how sturdy it is. She writes, "It does not topple over with the weight of jewelry." Another chose this model specifically because "it can hold earrings just as easily as necklaces and bracelets," which isn't often the case with these hanging organizers.
Best two-tiered jewelry organizer
Customers who don't have the space for a three-tier jewelry stand chose this smaller two-tier model from AmazonBasics. "This takes up much less room and a multi-tiered velvet bar display," writes one reviewer who bought this for her watches and necklaces. Another says that even with just the two tiers "there is more room to hang the necklaces" than she would get keeping them in a drawer. She also appreciates that she "can see them at a glance." And one more reviewer likes the "little dish at the bottom" because she can keep "rings and a couple of my favorite pairs of earrings."