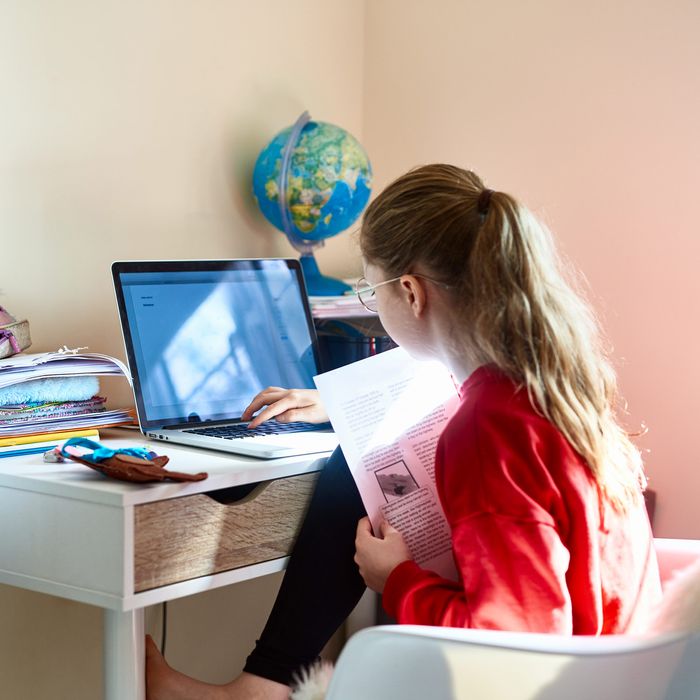 Photo: 10'000 Hours/Getty Images
A large percentage of students are starting the school year the same way they ended it — via computer screen. And most of them aren't too pleased about it. They miss their friends and the routine of normal school, plus they get Zoom fatigue (just like the rest of us). All of this makes motivating them to give their all in virtual school one of the biggest hurdles parents and teachers face. We talked to 11 experienced educators and parents of kids from kindergartners to middle-schoolers for tips on how to make virtual learning more fun and engaging. "Make it a bigger deal this year," suggests Diana Singer, a former teacher and education specialist in Greenwich, Connecticut. If you're a parent, Singer advises setting aside a special time to buy new school supplies or decorate a designated work space with your child. "Students become much more engaged and excited if they can make their own decisions about how to set up their desk or workstation," she says.
Nearly everyone we talked to mentioned creating a dedicated work space for kids to help them concentrate and feel excited about school. The same is important for teachers, too. This spring, second-grade teacher Ian Dudley set up his virtual classroom with a colorful blanket and a bookshelf behind him. On the shelf he put trinkets from his brick-and-mortar classroom and books that he and his students read throughout the year. "Consistency is really important," he says. "It's like the sitcom or Mr. Rogers phenomenon. I think it's comforting to have them see me always in the same space." Below, 15 things to help teachers and parents get their kids motivated and engaged in remote learning.
Scavenger hunts and movement breaks
To keep young students actively involved while they're learning remotely, Nancy Penchev, an instructional-technology teacher at Scheck Hillel Community School, likes offering fun challenges for kids to pursue at home. For example, to learn about measurement, Penchev had kids participate in a measurement scavenger hunt (three other teachers we talked with also suggested scavenger hunts). "I spin a wheel of measurements from five centimeters to 100 centimeters, and kids run around their house or apartment finding things that meet each length." This dry-erase wheel lets teachers design custom interactive activities with their students, like a scavenger hunt or random movement breaks with jumping jacks, running in place, or silly dances to keep their brains fresh.
Music
In addition to teaching, Dudley is a musician, and he likes to bring his passion for music into his classroom. One way he does that remotely is by playing music for his students while they're in the waiting room before a Zoom starts. "I have a little keyboard that makes it easy and fun to broadcast music to them in the waiting room," he says, noting that three or four minutes can feel like a very long time for a 7- or 8-year-old and that the music seems to keep them from getting frustrated while they wait. It also makes it more likely that they will arrive in a good mood. If you don't have keyboard skills like Dudley, you can play music in the waiting room via Spotify, Apple Music, or whatever app you like. Janet Ferone, an educator for more than 30 years in Boston public schools who is now a consultant and teacher trainer, suggests crowdsourcing songs to give kids a sense of ownership. "Asking students to supply song suggestions for a class playlist is a way to have students feel like they have a voice, and the music will be more to their liking," she says.
Osmo
Penchev uses the Osmo Projector app integrated with Zoom to show students how she writes out calculations and notes on her desktop in real time, which is like writing on a whiteboard in class. Using Osmo, she can also demo card games, dice games, and fractions. Like a document camera, the Osmo Projector app allows students to see what's on her real-life desktop. Penchev says many fellow teachers started using it because it facilitates student interaction and engagement. Kids can also use Osmo at home with an iPad to play hands-on educational games and practice drawing.
USB microscope
"We play a game where you guess what is being magnified, and that translates really well to virtual learning," says Dudley, who recommends a handy little USB microscope for teachers looking for ways to make science lessons fun over Zoom.
Bitmoji
Bitmoji, the personalized-emoji app, has become increasingly popular among elementary- and middle-school teachers as a way to interact with students and make remote learning more fun. Rebekah Kim, an eighth-grade ELA teacher at D. Russell Parks Junior High in Fullerton, California, uses Bitmoji and Bitmoji classrooms — you can build an exact replica of your real-life classroom in the app — to build relationships with her students. "I use my interactive Bitmoji classroom as a way for students to get to know me (hence my boba and swimming Bitmoji) and the content of my lessons," says Kim, who uses interactive links in her Bitmoji classroom to make her prerecorded asynchronous lessons more engaging.
"Dress up their desk," says Meredith Essalat, principal of a K–8 school in San Francisco and the author of The Overly Honest Teacher. Essalat says students need a quiet space in order to focus, one that feels like their favorite parts of school. She suggests having kids make and decorate a name tag for their desk, hang a calendar on a nearby wall, or add a physical timer or clock (especially an analog one) to help them stay on task, particularly if they're given a break or a quick moment to get water or a snack. This rainbow-colored clock helps kids practice telling time thanks to minute markers and other reminders. And the timer helps them count down to snack time with a disappearing red disk that gets smaller as time goes on.
Corkboard
Mom to two Alicia Hough, who works as a corporate-wellness expert at the Product Analyst, recommends hanging a corkboard next to kids' work areas so they can pin deadlines, requirements, and anything else they find important. This one from Ikea is half-corkboard, half-whiteboard so they can also jot down important messages, and it comes with a set of silly animal magnets.
Floor pillow
Not all kids do their best work sitting at a desk. Some may even prefer the floor. That's the case for mom of three Sharnique Washington's middle child, who's a fifth-grader. Washington picked up a cushy body pillow like this one to make the floor more comfortable and help with back support.
Pencil case
Washington says her kids get really excited about new school supplies — the cuter, the better. And they usually pick out pencil cases, markers, and notebooks from Yoobi, a school-supply company with a buy-one, give-one business model. "We do this every year because they make it easy to shop online or in Amazon, Target, and Urban Outfitters. It helps get the kids excited about going back to school while we also do our part to give back to students in need," says Washington.
Light-up gaming keyboard
"One product that has made remote learning more fun for our daughter is her keyboard," says Alice Anderson, founder and creator of Mommy to Mom. She purchased a gaming keyboard, mouse, and headset combo for her. "The keyboard lights up, and you can change the colors from solid to rainbow," Anderson says.
Headphones
Four of the people we talked to, including Washington, Essalat, and Anderson, mentioned the importance of a comfortable pair of good-quality headphones. Jacob Cohen, a second-grade teacher in Brooklyn, says if there are distractions at home or kids are working in a shared space, headphones will help them focus. "If they're cool looking and comfortable, it will entice kids to wear them," he says. Buddy Phones were recommended to us by Dr. Darius Kohan, director of otology and neurotology at Lenox Hill Hospital, as part of a roundup of the best headphones for kids. This pair comes in six different brightly colored themes, from a bumblebee to a robot to a unicorn.
GoNoodle
Nearly everyone we spoke to mentioned the importance of kids' taking breaks to move their bodies. Kaleigh Rohner, a second-grade special-education teacher at a charter school in Brooklyn, says, "My students also LOVE GoNoodle, a website that provides follow-along movement breaks and dance routines, which are essential for movement breaks throughout the day."
Nearpod
Three of the teachers we spoke to recommend Nearpod for interactive lessons with middle- and high-school students. Ferone, Essalat, and Emily Atkinson, a high-school special-education teacher at KIPP Academy Lynn Collegiate High School in Nashville, like that it allows for group collaboration and social interaction. "Kids can answer questions, engage in polls, post in a discussion board, and more," says Atkinson, who notes that it's much more engaging than sharing a screen with slides. "There's also a feature that allows students to submit a voice recording rather than typing out their answers, which is really great for my kids who struggle with written expression."
The Strategist is designed to surface the most useful, expert recommendations for things to buy across the vast e-commerce landscape. Some of our latest conquests include the best acne treatments, rolling luggage, pillows for side sleepers, natural anxiety remedies, and bath towels. We update links when possible, but note that deals can expire and all prices are subject to change.