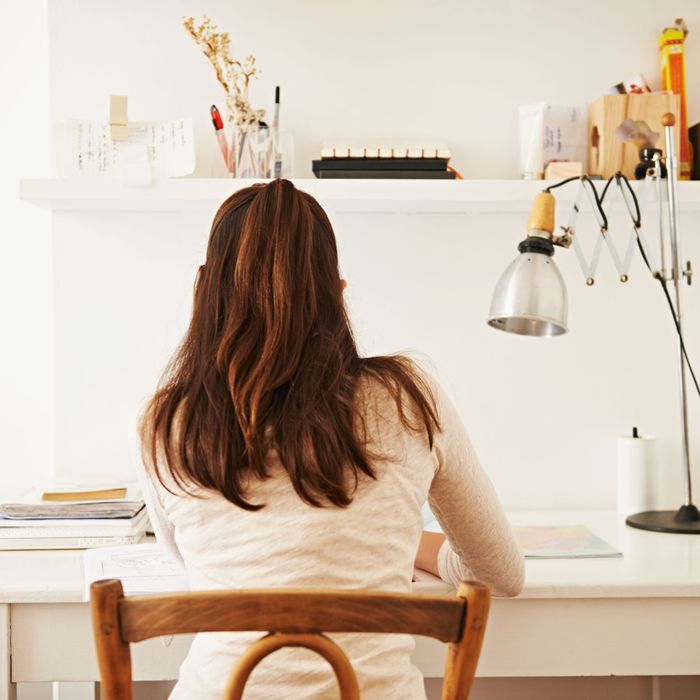 Photo: Getty/Getty Images
Back in March and April, many of us assumed remote learning would be temporary, so we finished the semester doing homework from the couch and logging on to Zoom while still in bed — myself included. But I, like millions of other students, will be doing school from home once again this fall. After my district made the official announcement last month, I decided it was time to eke out a more productive learning environment at home, and across the country, other teens are doing the same thing, whether they're preparing for full-time school from home, like me, or learning remotely a few days a week.
I reached out to seven students — some of whom I know personally, and some of whom I follow on social media — to find out how they've turned their own bedrooms into full-fledged study spaces. From Bluetooth doodads that'll turn your phone into a virtual classroom to handy textbook stands to cut note-taking time in half, here's everything you need to have a great school year at home — even if you're short on space or money.
Tech accessories
Staring at a screen all day long during remote learning can take a toll on the eyes (and the grades). Seventeen-year-old Pratika Katiyar recommends investing in a large monitor to ease eye strain and make concentrating easier. "I just throw up my classes on the monitor, and it allows me to take notes or do homework, all with easy connectivity to my laptop," she says. Despite the Acer monitor being a bit pricey, Katiyar has found that it's "functionality and efficiency definitely pays off in the long run."
A shiny new laptop is perhaps the most common back-to-school purchase this year. And though many younger students have school-issued devices, they're often small iPads or old laptops; meanwhile, nearly all college students are tasked with supplying their own computers. Nineteen-year-old Madilyn Miller says she splurged on a new MacBook for fall, and to go with it, invested in this case. She's "absolutely in love with the floral design," she says. "It's a clear hard case that easily snaps onto the top and bottom of your laptop for maximum protection."
When a laptop isn't available — or she just doesn't feel like opening it up — 17-year-old Lexi logs on to school via her iPhone or iPad. For faster typing on a handheld device, Lexi relies on this FELiCON Wireless Bluetooth Keyboard, a quarantine purchase she's found "surprisingly helpful." The FELiCon keyboard is designed to feel like a typewriter and will connect to up to ten meters away.
When Lexi's using her wireless keyboard and iPhone, she likes to have a mouse close by, to click through her assignments. She recommends Logitech's Bluetooth Mouse, which is "compact and easy to navigate on the screen," she says.
Since she finds herself sitting at her desk a lot, 17-year-old Kamri Noel McKnight bought this Bright Stone stand so she can have easy access to her phone while working. It works for Zoom classes, if you don't have an iPad or laptop on hand, or you can play videos while doing homework on your other device. "I definitely use it for watching (maybe too much) Netflix!" McKnight says, adding that "with school being based at home, this phone stand is awesome for FaceTiming my friends."
Cords getting tangled up all the time is a struggle no one wants to face, but it can be impossible to avoid when you're working on multiple devices at a time. "I've used these for a couple years now, and it's a purchase I haven't ever regretted," McKnight says, adding that the cable clips have helped her become more productive and organized.
For Zoom classes or listening to music during study sessions, everyone agrees that AirPods are the way to go. McKnight says she did "a lot of research for the best AirPod case," looking for something that wouldn't slip off and would keep her AirPods protected even if she dropped them. She settled on a case from Brooklyn & Bailey, a shop that her sisters own. "They are so cute!" McKnight says.
Desk accessories
"This bookholder changed my life," says Sophie Beasley, 16. After being frustrated that she had to look down every time she tried to write or type notes, Beasley bought this handy book stand. She says she's already noticed that she spends much less time note-taking — and though it's made for books, this reading stand works for iPads and e-readers too.
A whiteboard is a classic classroom item, but with remote learning, McKnight bought her very own miniature version. The best part? "The transparency of this whiteboard tablet," she says, adding that she relies on the Gartner Studios tablet to write "notes, important memos, dates I need to remember, or even just as scratch paper when working through a math class," all while keeping desk clutter at bay.
Photo: retailer
One of the most frustrating things about back-to-school season is that there are so many papers to keep track of: permission forms, order forms, schedules, homework, and more. To keep track of all these, Beasley bought this BluePower file organizer that features 12 pockets for every class or extracurricular in your life. "I've noticed that it's much easier to find the papers I need," Beasley says.