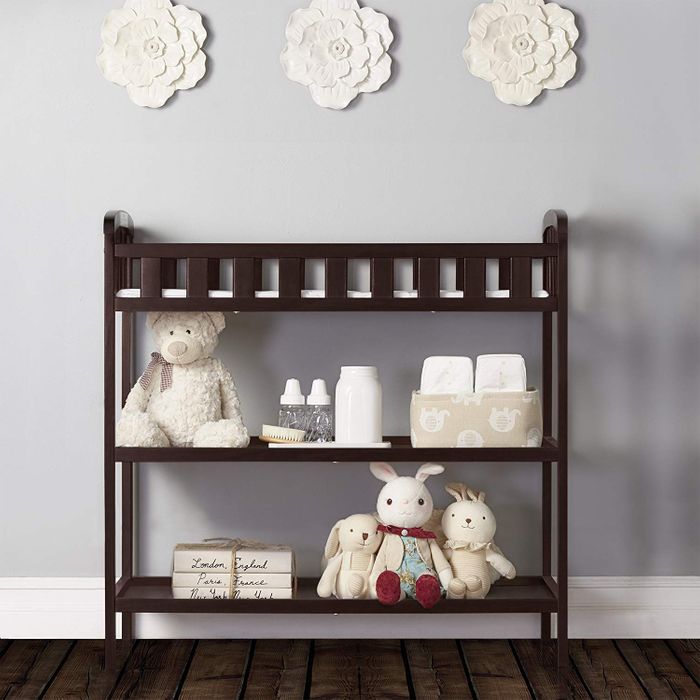 Photo: Courtesy of the retailer
Here at the Strategist, we like to think of ourselves as crazy (in the good way) about the stuff we buy, but as much as we'd like to, we can't try everything. Which is why we have People's Choice, in which we find the best-reviewed products and single out the most convincing ones. (You can learn more about our rating system and how we pick each item here.)
And while we've written about lots nursery goods — including the best cribs, the best mobiles, and the best cheap (but expensive-looking) nursery décor — here, we've rounded up the best changing tables, as praised by the most enthusiastic reviewers on Amazon. 
Best-rated changing table
As one reviewer concisely puts it, this changing table is "Easy to put together, looks stylish, lots of room for storage." One reviewer who describes themselves as "a very type A person" "researched for weeks on which nursery furniture to purchase." They found this one to be "easy to assemble and is great for storage and changing." Another says the "shelving space is quite ample" and that they "can fit 3 medium baskets on a shelf and I also have room for sheets, pads, towels and swaddles storage." "Sturdy" is a word commonly used to describe this changing table. "It's very sturdy," one user writes. "My baby is 10 months and we still change her on it." Another says there is "still plenty room left" for her five-month-old who is in the 99 percentile for height. One thing hundreds of reviewers call out is the height of this changing table, and many warn potential customers to consider it: "The only problem is it is rather short — works for me at 5'6" but not so well for hubs who is 6'4"."
Best-rated (less expensive) changing table
"This is so much better than buying a changing table," one satisfied reviewer writes. "Last thing I wanted was another piece of furniture that would only be used for a short period of time. This is a great alternative and goes onto the dresser perfectly. When we are done using it, we can simply remove it, and TA-DA!" And lots of other reviewers appreciate that this changing kit is space-saving, as well as money-saving, like another who writes,"It was easy to assemble it, and when he outgrows it we can easily remove it." Another reviewer adds, "Plus it has not scratched our dresser top (I've been checking) as that was my only concern." And that's not the only wary customer who was converted after using this changing table. "I have never used one of these (only the standard changing table) and was concerned with how sturdy it would be," they admit, adding, "It screws into the back of the dresser so it isn't sliding all over the place."
And now for some micro-picks for every type of baby changing table you might be looking for.
Best tall changing table
"The height is just right for me to change the baby without breaking my back," one reviewer writes of this changing table. Another says, "Height wise, it works well for both myself and my husband — I'm 5'4 and he is 6'2"," while another notes, "The height is ergonomic for her grandparents as well." One even says, "The Delta changing stand at a perfect height for my wife who had a C-section and close to perfect for me, as I suffer from chronic back issues." Reviewers also give this changing table marks for its additional storage. There is "plenty of space to store extra diapers, wipes, clothes, nursing pads and anything else you need handy," says one reviewer. Another concludes, "When all is said and done, it is a great height, seems spacious up top for a growing baby, and has plenty of shelf space underneath for all the baby products you'll use."
Best changing table with wheels
"This is pretty much the only changing table on the market that has wheels," one reviewer points out, calling them "extremely convenient. In fact not having wheels defeats the whole purpose of a changing table for me. You can easily wheel it around having everything you need next to you nicely organized and without the need to run back to the nursery for every single diaper change or for a burp cloth or a swaddle, etc." And those wheels are a big selling point for many other reviewers, including one parent of twins who writes, "We roll it right by the sink so I can lay them on it to dress them right after their bath." a huge selling point for many other reviewers, too. "I find it extremely convenient. I Reviewers also appreciate the additional storage. One was even able to fit "two months' supply of diapers, a dozen containers of wipes, a wipe dispenser, a tub of triple diaper cream, a stack of cloth diapers, changing cloths, a stack of washcloths, a tub of baby Vicks, and several containers of diaper cream on the shelves underneath." Many recommend buying a new changing pad as the one that comes with this is thin, but one user who agrees still thinks there are some upsides. "It is not a thick pad — it is only about an inch thick, but it's waterproof and easy to clean."
Best-looking changing table