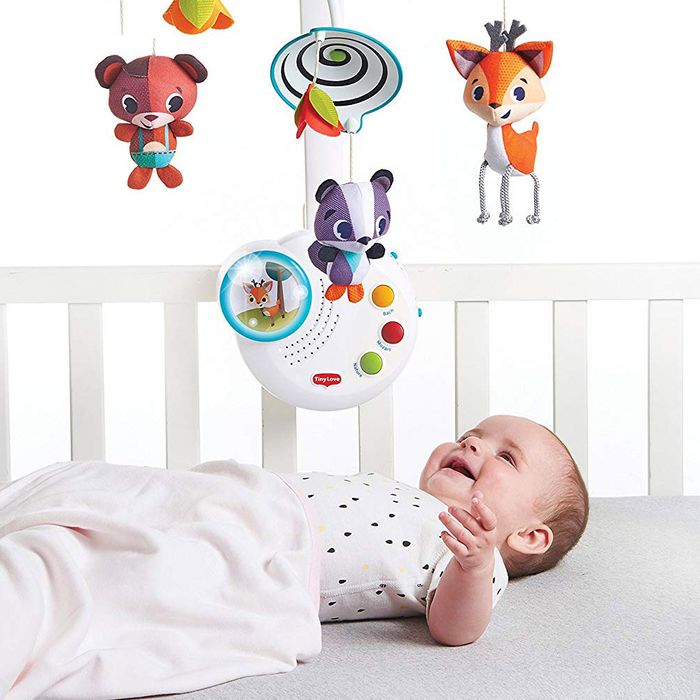 Photo: Courtesy of retailer.
Here at the Strategist, we like to think of ourselves as crazy (in the good way) about the stuff we buy, but as much as we'd like to, we can't try everything. Which is why we have People's Choice, in which we find the best-reviewed products and single out the most convincing ones. (You can learn more about our rating system and how we pick each item here.)
And while we've written about the best baby gear before — including the best baby cribs, the best baby bathtubs, and even the best baby monitors — here we've rounded up the best baby mobiles as praised by the most enthusiastic reviewers on Amazon.
Best-rated baby mobile
With over 2,000 reviews, this Tiny Love Meadow mobile is one of the most universally loved on Amazon, and dozens of reviewers say it's especially excellent for long car rides and walks. "This is one of my favorite things I've gotten for my son. So far, it has provided my 5.5-month-old HOURS of fun," writes one reviewer, adding that it's compatible with most everything. "I've used this on a Britax infant bucket seat, a Diono Radian car seat, and two strollers. And so far, I haven't had a problem attaching it to anything. Highly recommend this over any other toy bar." "I would have paid $200 for this thing!" another parent raves. "It has helped save my sanity. We are on our second car-seat-hating kiddo, and both kids decided car rides weren't so bad once this toy was introduced … It will be a go-to shower gift from now on. Every family needs one!"
Best-rated (less expensive) baby mobile
Many reviewers bought this affordable mobile to use in a stroller and while traveling. "Love this little mobile. It's fairly small, so we can take it anywhere. My kiddo was instantly interested in the black-and-white shapes at 3 months. Now at 5 months, we have moved to the colored disks, and he loves it still," writes one parent. Reviewers also find this mobile ideal for newborns: "This travel mobile is a MUST for any parent with a newborn! It's the only thing that kept our newborn from crying during travels. Great for development and entertaining baby." Another reviewer adds, "This mobile is awesome! My son LOVES it and can literally stare at it for an hour. It's made of thick paper, but we haven't had any issues with tearing or wear. I throw it in the diaper bag for long trips. Wonderful travel product!"
And now some micro-picks for every type of baby mobile you might be looking for.
Best early-development baby mobile
"We've been using this same mobile for over a decade. It's been a favorite around our house through all seven of our babies," writes one satisfied parent. Another calls this developmental mobile the "best baby mobile you can buy for your baby. It includes the black-and-white [pictures], movement and sound. Very stimulating for my baby girl — she loves it and will stay focused and happy for the entire 20 minutes." A third reviewer adds, "Our newborn LOVES this! He has enjoyed it since birth. The contrasting colors intrigue him, the cute toys keep it cute and fun, and the classical music is there to help his tiny, developing mind! Even has a little light on it! Has multiple settings and even turns itself off so it doesn't kill the battery. Great purchase!"
Best musical baby mobile
Compared with other musical mobiles, this one features an extended playing time, a variety of musical genres, and good volume control, according to satisfied customers. "This mobile is the best for a number of reasons. First, it plays for about 45 minutes continuously, which is great. Second, it has several different types of music (lullabies, nature sounds, classical, etc.), and each track is pretty generous in terms of length," writes one parent. "Finally, I love it because it completely engages my daughter when it's on. (There is volume control and a button to fast-forward through songs — it's also really easy to put up and take down, and we do so several times a day)." And kids love it just as much as parents do: "My main disappointment about this product was not having assembled and installed it sooner. It is one of the few things that I can sit/lay my daughter down alone with and she plays for enough time for me to do anything. She adores the movement, the sounds, the light," writes one mom.
Best baby mobile for car seats
The Take-Along mobile gets top marks for how easily it attaches to cribs, carriers, and strollers, with dozens of reviewers calling it a "lifesaver." One writes, "Easy to move just about anywhere in the house. Has a few different attachments that make it easy to find somewhere to attach it to, so you can easily take it with you everywhere baby goes. My baby loves staring at this mobile; it keeps him entertained long enough so that I can actually get some things done around the house, finally!" Another reviewer with a 3-month-old writes, "My son loves this mobile! Super-easy to assemble and attach to various baby products like the crib, bassinet, and rocker. I love that it has both colors and black-and-white contrast images and the option for it to rotate with or without music."
Best customizable baby mobile