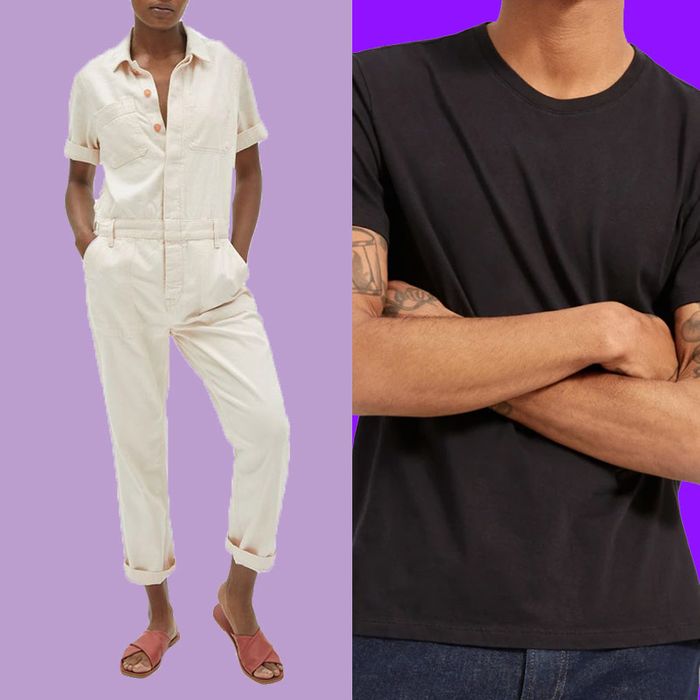 Anyone who has shopped at a retailer with few physical storefronts to browse knows it can be hard to figure out where to begin. There are dozens upon dozens of options that all seem as worthy as the next, but the reality is that products from any given brand are not all created equal. When you shop as regularly as we do, you learn that many brands just do some things better than they do other things. Everlane, we've found, is one of those brands — with its various fabrications (Clean Silk! Washable Silk! GoWeave!), its inventory of subdued and just-stretchy-enough basics needs to be carefully combed to find standouts like (actually) butt-flattering jeans, loafers that won't cut your feet, and crewneck T-shirts worth buying in bulk. To help you narrow down which staples to add to your cart, below, we've rounded up all the Everlane stuff our writers and editors — as well as novelists, fashion designers, and new moms — have recommended on the Strategist.
For everyone
According to Strategist writer Tembe Denton-Hurst, Everlane's fabric face masks "feel like I'm covering my face in an ultrasoft T-shirt." She adds that "the ear loops are made from cloth too, which makes for a comfortable fit even after hours of wear." The fit is so comfortable, she promises, "I forget I'm wearing this mask sometimes, which is a testament to its breathability." Connay Bratton, a special-education music teacher in Queens, is another fan of these masks, telling us she planned to keep them in her kit of PPE for school. "I like how it fits my entire mouth and chin area and doesn't slip," she says.
For women
"The shirt flatters all bodies I've seen it on," according to contributor Lindsay Weber, who told us that people always ask her where she bought this when she wears it. "I get compliments. Almost always," Weber adds of what she calls the Perfect Shirt. (Caps hers.) It has another fan in contributor Robin Reetz, one of three "Everlaneologists" — or folks who've shopped the brand for at least three years — whom we spoke to about the best things to buy (and what to skip). She bought hers in 2016 and, three years later, told us, "The silk shirt has held up great. Silk is probably what Everlane does best."
We've been calling this V-neck Everlane tee the best white T-shirt to wear with a necklace ever since one cool woman told us it's exactly that: "I wear a lot of necklaces, and the depth of this V on this one shows them off." Made from lightweight Supima cotton, the tee hits just at the hip with a fit that we've described as "not cropped, but not too long."
The Air Cami is another standout from Everlane, according to Reetz, who promises the neckline is "super flattering" on all body types. "I've got a smaller frame with a larger bust, but I've seen it on friends with various chest sizes, and although the fit of course varies, it always looks flattering."
Reetz is also fan of Everlane's tees; one of her favorites is this crewneck style that has some texture in the form of subtle ribbing. She adds that it has "a good boxy fit, which the brand does well."
Another of Reetz's favorite tees is this scoop-neck style with three-quarter-length sleeves that's made from the same micro-ribbed fabric. "I think it has the ideal sleeve length — they end right above the elbow — a perfect rib, and is supersoft and comfy," she says.
Our second Everlaneologist, Elizabeth DuBois, a strategic account manager at Justworks, loves Everlane's long-sleeve Pima Micro Rib tees, calling them "a staple I own in black, gray, and white. " While they offer more coverage, she says they're versatile enough to wear year-round. "I'll wear one on its own in warm weather or as an under layer in colder months."
Fashion blogger and Lemon Perfect social-media editor Aniyah Morinia told us "this cashmere polo screams 'elevated errand run.'" Its lack of buttons only "adds to the effortless look," she says, noting the polo "can be worn with just about any bottoms."
Strategist audience development manager Mia Leimkuhler, the third of our Everlaneologists, told us that "when the temperature drops, I practically live in my Oversized Alpaca Crew sweater." (She's one of several Strategist staffers who own it.) Adds Leimkuhler: "It's lightweight but still really warm, and the slightly fluffy texture reminds me of the angora sweaters my mom used to wear."
While Reetz and others have praised Everlane's silk, when the brand released a collection of washable silk clothes, Strategist writer Hilary Reid put these two tops to the test to see how they hold up after some wear and washes. "Durable is an accurate word for these," says Reid. "The material of the shirts almost reminded me of flannel: It's thick, hangs in a slightly heavy way on the body, and was actually kind of cozy, which is not a term I would usually associate with a silk blouse." She compares the button-down Relaxed Shirt to "Equipment's cult-y silk shirt," but says both styles are "extremely practical; fairly simple and clean-cut in design, they felt appropriate for a business-casual dress code." As for how they handled a wash, Reid writes, "Both tops were a little stiff when they came out; the matte silk had almost a sporty nylon feeling to it. That said, the stiffness actually made the shirts look crisp and not wrinkled."
Strategist senior editor Casey Lewis says that this tank "reminds me of a sleeveless version of the Agnès B's snap cardigan," thanks to its button-front design. While stock is dwindling as we move out of tank season, there are a handful of sizes left in both white and a mustardy color called Green Opal.
We've heard about more than a few pairs of Everlane jeans that women swear by, and the High-Rise Skinnies are among the most recommended of the bunch. TyLynn Nguyen, the designer, founder, and creative director of her eponymous clothing label calls them "stretchy, comfortable, chic, and cozy" adding that they are "perfect for a